This recipe has been featured in a post on The Recipe Girl blog: Best Cookbooks of 2010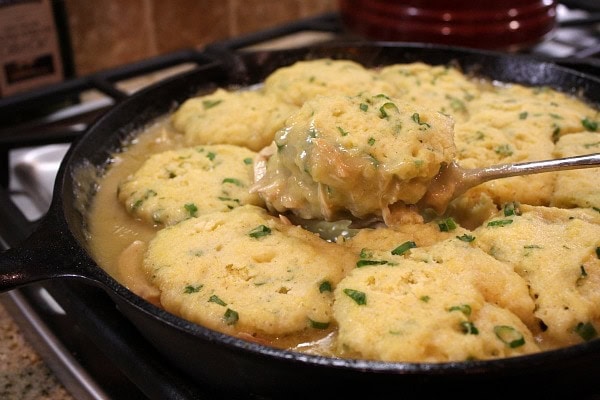 Chicken Salsa- Verde
From Pam Anderson's Perfect One-Dish Dinners cookbook, this recipe is warm, family-friendly, comfort food. Our family gave it an enthusiastic thumbs-up.
Yield:
6 servings
Prep Time: 30 min
Cook Time: 30 min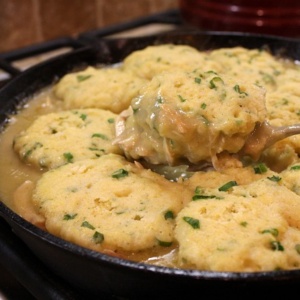 Ingredients:

CHICKEN:
4 Tablespoons butter
1/2 cup all-purpose flour
1 (14.5 ounce) can chicken broth
1 1/2 cups salsa verde (green salsa)
1/2 cup green taco sauce
1 (5 ounce) can evaporated milk
1 rotisserie chicken, meat pulled off the bone & shredded into chunks (6 cups)

DUMPLINGS:
1 cup whole milk
3 Tablespoons unsalted butter
1 1/2 cups all-purpose flour
1/2 cup cornmeal
1 Tablespoon baking powder
3/4 teaspoon salt
1/4 cup thinly sliced green onions (+ green tops)
1/4 cup chopped fresh cilantro

Instructions:

1. Prepare chicken: Heat butter over medium-high heat in a large, deep ovenproof skillet (or a 5-6 quart Dutch oven). Whisk in flour to make a paste. In a medium bowl, mix broth, salsa & sauce, and evaporated milk; whisk into the pan. Bring to a simmer, whisking occasionally, until sauce thickens. Stir in chicken, heat through, and cover to keep warm. Meanwhile, adjust oven rack to lower-middle position and heat oven to 400 degrees F.

2. Prepare dumplings: In a small saucepan, heat milk and butter until just about to simmer. In a medium bowl, stir together flour, cornmeal, baking powder, salt, green onions and cilantro. Stir in the warmed milk mixture. Scoop rounded spoonfuls of the dough and drop into the chicken mixture. Return chicken to a simmer over medium-high heat. Cover and transfer pan to oven and bake until dumplings are cooked through, 15 to 20 minutes.

Tips:

*It's completely up to you how spicy you'd like to make this recipe- choosing mild or medium-spiced salsa will determine that.