A RecipeGirl household favorite for many, many years now… This recipe is gluten-free adaptable– please see notes below the recipe.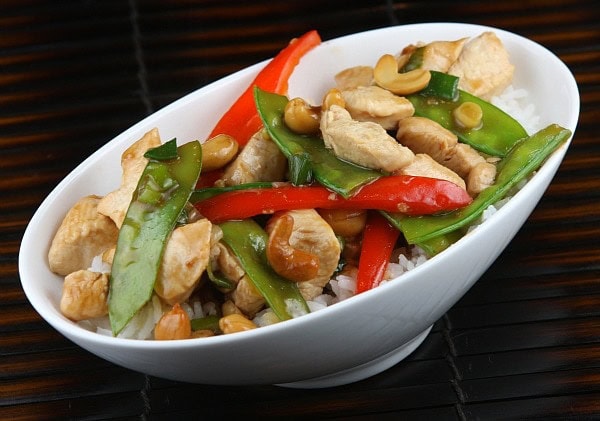 Garlic Chicken Stir Fry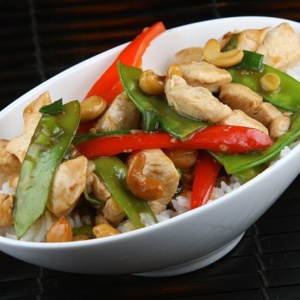 Yield:
4 servings
Prep Time: 15 min
Cook Time: 10 min
Ingredients:
3 Tablespoons canola or vegetable oil
1 pound boneless chicken breasts, cut into bite-sized pieces
4 cloves garlic, minced
1 large red or green bell pepper, seeded & chopped
4 ounces snow peas
1/4 cup cashews
1/4 cup green onions, sliced
1/2 cup low-sodium chicken broth
2 Tablespoons soy sauce
1 Tablespoon cornstarch
1/2 teaspoon ground ginger
hot cooked rice, optional
Directions:
1. In large skillet, heat 2 Tablespoons oil over medium-high heat. Add chicken and garlic. Stir fry 3 minutes or until chicken turns white. Add remaining oil, pepper, snow peas, cashews, and green onion. Stir fry 1 minute.
2. In small bowl, stir chicken broth, soy sauce, cornstarch and ginger until smooth. Stir into chicken mixture. Bring to a boil over medium heat while stirring. Boil 1 minute, or until mixture thickens a bit.
3. Serve over hot cooked rice.
Tips:
*If preparing this recipe as GLUTEN FREE, just be sure to use GF soy sauce and GF chicken broth.
*Try adding additional vegetables such as zucchini or mushrooms.
Nutrition:
Nutritional Information per serving:
Serving size: 1/4 of the recipe (without rice)
Calories per serving: 206
Fat per serving: 14.5g
Saturated Fat per serving: 2g
Sugar per serving: 2g
Fiber per serving: 2.5g
Protein per serving: 8.5g
Cholesterol per serving: 10mg
Carbohydrates per serving: 12g
WW POINTS per serving:
Points Plus Program: 6 Old Points Program: 6