A nice, light version of the Chinese food classic:  Cashew Chicken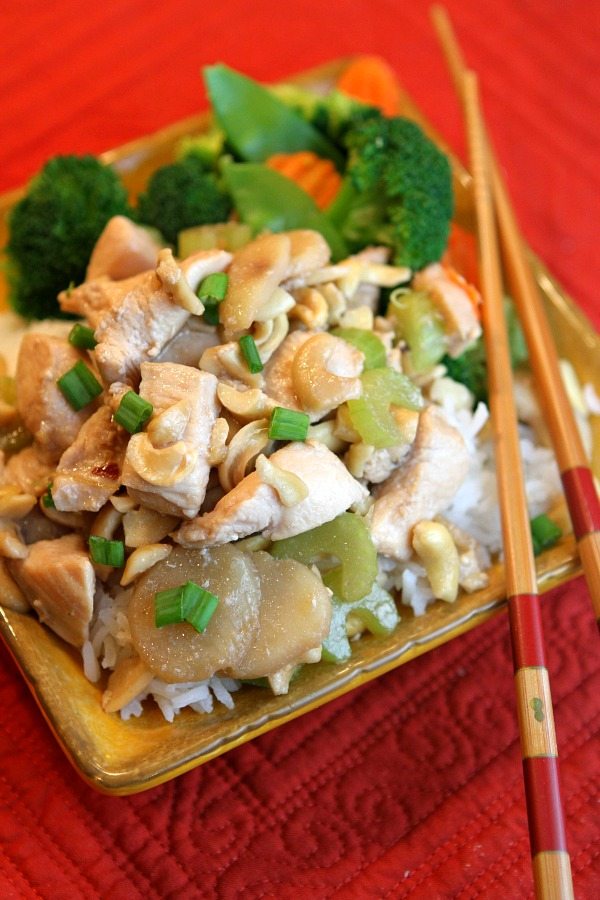 Cashew Chicken
Yield:
4 to 6 servings
Prep Time: 25 min + marinating time
Cook Time: 10 min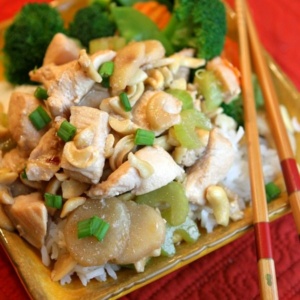 Ingredients:

2 tablespoons soy sauce, divided
2 tablespoons dry sherry
1 large egg white
pinch of salt
1 teaspoon cornstarch, divided
4 large skinless, boneless breasts
1/2 cup sliced celery
1/4 cup chicken broth
1/4 cup vegetable oil
1 tablespoon minced fresh ginger
1/2 cup sliced water chestnuts
1/4 cup raw cashews
hot cooked rice, for serving

Instructions:

1. In medium bowl, combine 1 Tablespoon soy sauce with sherry, egg white, salt and 1/2 teaspoon cornstarch; blend thoroughly. Cut chicken into 1/4-inch cubes and toss in marinade to coat. Set aside to marinate for 30 minutes (and up to several hours in the refrigerator). Combine broth and remaining soy sauce and cornstarch in a small bowl. Mix well and set aside.

2. Heat wok or large fry pan to medium heat and add oil. Drain chicken marinade. Fry chicken just until firm, about 45 seconds. Remove and drain on paper towels.

3. Remove all but 1 tablespoon oil from pan. Increase heat to medium high. Add ginger and stir fry until fragrant. Add celery and water chestnuts. Stir fry 1 minute; add chicken and cashews and cook until chicken is done, about 2 minutes more. Stir broth to dissolve cornstarch, and add to pan. Cook over high heat until sauce thickens.

4. Serve on top of hot cooked rice.

Tips:

*If you are preparing this recipe as gluten-free, just be sure to use brands of soy sauce and chicken broth that are known to be GF.
More classic Chinese food recipes you may enjoy:
Best Orange Chicken Recipe by No Recipes
Honey- Walnut Shrimp by RecipeGirl
30-Minute Mongolian Beef by Just a Taste
Kung Pao Chicken by RecipeGirl
Sweet and Sour Pork by Rasa Malaysia