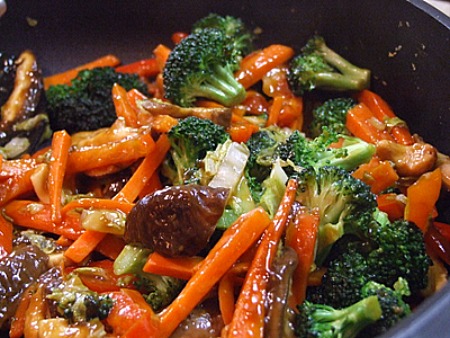 Yield: 4 servings
Prep Time: 15 min
Cook Time: 5 min
Asian Vegetable Stir Fry
We absolutely love this dish when we're looking for something light and healthy for dinner. I serve it up with a little bit of grilled chicken for a complete meal.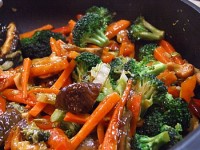 Ingredients:
1 Tablespoon sesame oil
1 Tablespoon water
1 cup broccoli florets
1/2 large red bell pepper, sliced into strips
1 clove garlic, minced
1 teaspoon fresh ginger, minced
3/4 cup julienned carrots
6 fresh shiitake mushrooms, sliced into slivers
1/3 cup cashews
1 cup bok choy or Napa cabbage, shredded
3 Tablespoons fat free chicken broth (Vegans- use Veg broth instead)
3 Tablespoons low-sodium soy sauce
1 Tablespoon cornstarch
Directions:
1. In a large skillet or wok, combine oil, water, broccoli, bell pepper, garlic and ginger. Cook on medium heat for 1 minute. Add carrots, mushrooms, cashews and cabbage and stir fry for 2 minutes.
2. Whisk together broth, soy sauce and cornstarch; add to vegetable mixture and stir fry for 2 minutes.
3. Serve alone or over rice or noodles.
Tips:
*This may be a side dish or a main dish served over noodles.
*Reduce fat/calories by using less oil.
*If preparing this as a gluten free dish, be sure to use a brand of soy sauce that is designated as GF.
Nutritional Information per serving:
Serving size: 1/4 of the dish
Calories per serving: 141
Fat per serving: 9g
Saturated Fat per serving: 1.57g
Sugar per serving: 3.84g
Fiber per serving: 2.31g
Protein per serving: 4.35g
Carbohydrates per serving: 13.24g
WW POINTS per serving (divided into 4 servings):
Points Plus Program: 4 Old Points Program: 4
8 Responses to "Asian Vegetable Stir-Fry"
Leave a Comment