This side dish is a colorful medley of three different types of green peas… Three Pea Stir Fry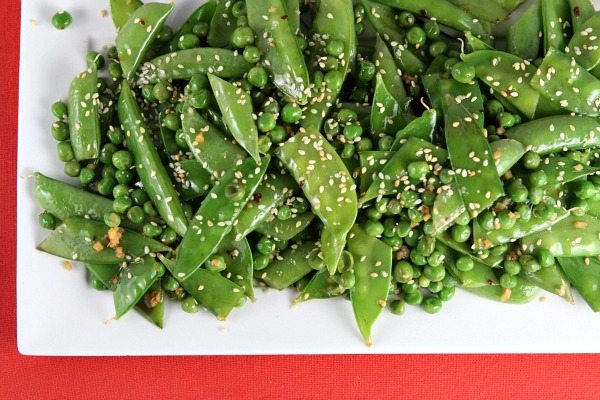 I need more vegetables in my life!  I think every once in a while, I just need to say that out loud (or at least on the internet) 🙂
I'm such a boring dinner-maker sometimes– keeping it simple with a protein, salad and maybe rice or something like that.  I'm hoping to turn into SuperMom very soon and make a fabulous main dish and equally interesting side dishes for dinner every night.  Ha!  Yeah, that's never going to happen.
But this Three Pea Stir Fry is one side dish that I'll be repeating.  I loved that it has three different textures, and it is so darn colorful, too!
My husband and I were completely crazy about all of the peas in this dish- snow peas, sugar snap peas and… peas!  My son tried to be picky and picked through to search for the peas only.  What is it with kids, anyway?  They act like you're torturing them when you ask them to try not-so-familiar vegetables.
If I had this whole parenting thing to do all over again, I'd give my very small child all kinds of vegetables ALL THE TIME.  I guess most of them don't really realize what they're missing until they get older.
In this dish, the peas are lightly stir fried in sesame oil and are flavored with garlic, ginger, soy sauce and a splash of red pepper.  Then it's finished off with a sprinkle of toasted sesame seeds.  It makes for a great side dish to an Asian meal.
Three Pea Stir Fry
Yield:
4 servings
Prep Time: 15 minutes
Cook Time: 10 minutes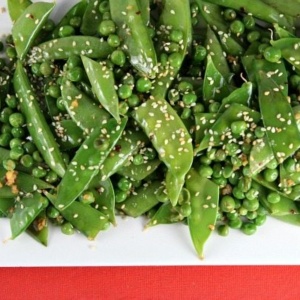 Ingredients:

1 tablespoon vegetable oil
1 large garlic clove, minced
1 tablespoon finely chopped peeled fresh ginger
1/8 to 1/4 teaspoon dried hot red pepper flakes
6 ounces sugar snap peas, trimmed & cut diagonally into 1-inch pieces
6 ounces snow peas, trimmed & cut diagonally into 1-inch pieces
1 cup frozen green peas
1 teaspoon soy sauce
1 teaspoon Asian sesame oil
1 tablespoon sesame seeds, toasted

Instructions:

Heat oil in 12-inch nonstick skillet over moderately high heat until hot but not smoking, then stir-fry garlic, ginger and red pepper flakes until fragrant, about 1 minute. Add sugar snaps and snow peas and stir-fry until crisp-tender, about 3 minutes. Add frozen peas and stir-fry until hot, about 2 minutes. Remove from heat, then stir in soy sauce and sesame oil.
To serve, sprinkle with sesame seeds and salt.

Tips:

If preparing this recipe as GLUTEN FREE, just make sure that you are using a brand of soy sauce that is designated as GF.

Nutrition:

Nutrition Facts- Amount Per Serving (peas divided into 4 equal portions): Calories 137, Total Fat 6g, Sat Fat 0.64g, Sodium 88.88mg, Potassium 265mg, Carbohydrates 15.5g, Dietary Fiber 5g, Sugar 6.12g, Net Carbs 10.35g, Protein 6g
Weight Watchers POINTS: Freestyle SmartPoints: 2, SmartPoints: 3, Points Plus: 3, Old Points Program: 4

SOURCE:

RecipeGirl.com (via

Gourmet

)
Here are a few more Asian vegetable side dishes you may enjoy: