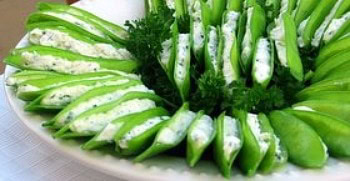 Crab and Cream Cheese Stuffed Snow Peas
These are always a huge hit with both adults & kids- perfect for a summer backyard barbecue, but they're also impressive at a cocktail party!
Yield:
48 appetizers
Prep Time: 1 hr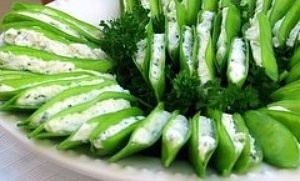 Ingredients:

48 snow peas
1 (8 ounce) package cream cheese, at room temperature
1/4 cup finely chopped parsley
1/2 pound crab meat, crumbled finely
1 clove garlic, minced
1/2 teaspoon worcestershire sauce (+ more to taste)
salt and pepper, to taste

Instructions:

1. Blanch peas in large pot of rapidly boiling water for 30 seconds. Remove from heat immediately and cool down with cold water. Drain and set aside.

2. Blend the rest of the ingredients in a medium bowl until smooth.

3. With a paring knife, split snow peas along curved side of each pea. Fill each snow pea with the cream cheese mixture using a pastry bag tip with a fairly wide opening.

4. Chill for at least an hour before serving. They are an easier appetizer to serve when the filling has had a chance to become firm.

Tips:

*It's ok to use low fat cream cheese and canned crab.
*You can make the presentation of these look fantastic- use the peas to make a pretty design on a serving platter.
*Be sure to break up the crab into fine shreds. It tends to clump up and can clog the pastry tip. You can also use a plastic zip baggie and cut the corner to use as a pastry bag.