Here's an easy summer side dish recipe:  Lemony Stir Fried Sugar Snap Peas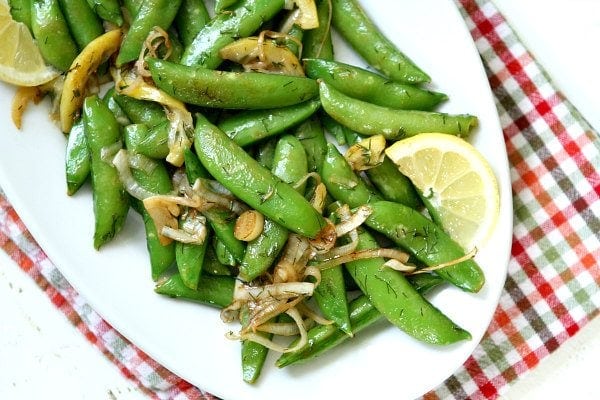 I know that summer isn't over yet- actually, it's kind of far from it.  But it feels a bit like summer is winding down at my house since school starts again (way too early!!) next week.
We had some long, fun vacations this summer, so I felt like a got a lot out of it… and we're continuing to sneak up to Tahoe to sit on the beach.  Summer is still here, by golly, so let's use up that beautiful summer produce!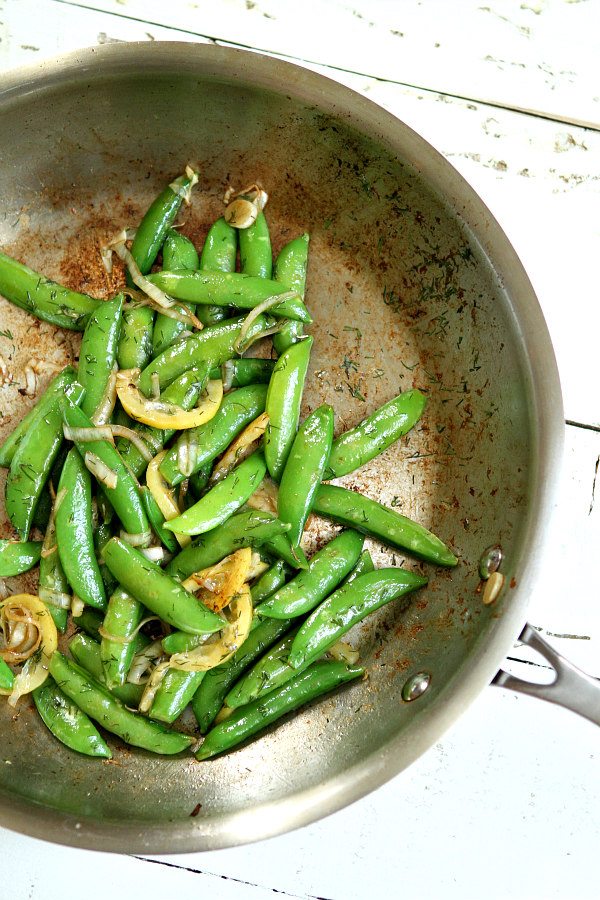 I'm always at a loss on what to make for side dishes at my house.  I severely DISLIKE being the one in charge of the menu 24/7.  I can't be creative all the time, so when I come across a lovely little veggie side dish recipe… I'm thrilled.
This is one of those lovelies.  It's simply stir-fried sugar snap peas with lemon, dill and some sauteed leeks.  It's the perfect sort of side dish to serve with grilled chicken or steak.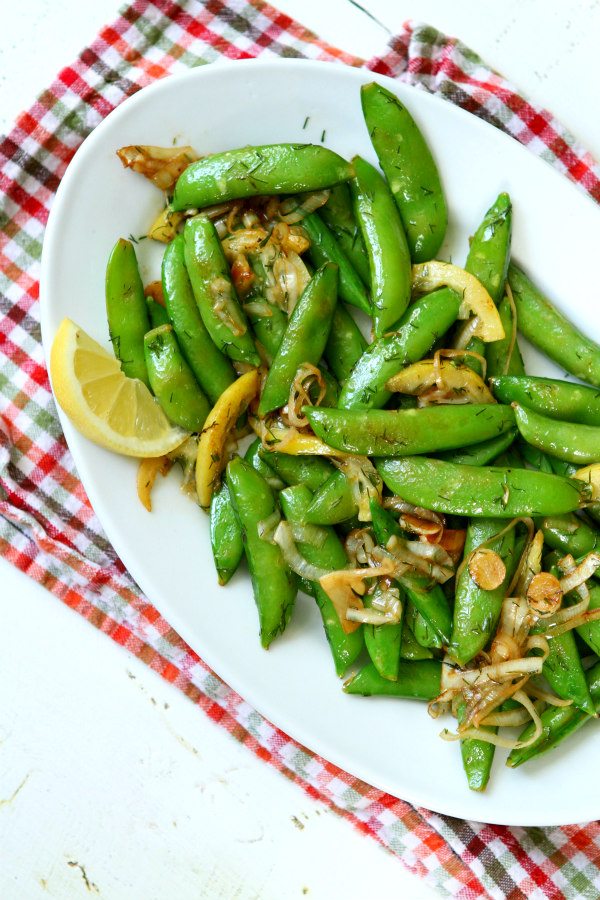 Those vacations I mentioned earlier on this post turned out to be rather indulgent.  And by indulgent, I mean that I pretty much ate whatever I wanted, dined out quite often, ate a lot of ice cream, and didn't get in daily workouts.
That's all changed now!  I'm challenging myself to stay healthy-focused for the next 30 days.  Recipes like this one will help!  Indulgence is fun, but getting rid of the excess… not so much!
Lemony Stir Fried Sugar Snap Peas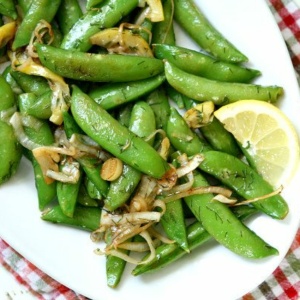 Yield:
4 servings
Prep Time:20 minutes
Cook Time:8 minutes
Ingredients:
1 tablespoon olive oil
1/4 lemon, cut into thin slices
2 1/2 cups sugar snap peas
1 leek, cleaned well and sliced thinly
1/2 tablespoon chopped fresh dill
salt and freshly ground black pepper, to taste
Directions:
In a large skillet, heat the olive oil over medium-high heat.  Add the lemon slices and cook for 3 to 4 minutes, until softened.  Remove the lemons from the pan and set aside.  They'll be very soft and will start to come apart.  That's ok!
Add the peas and leeks to the skillet; stir fry 3 to 4 minutes or until the pea pods are crisp tender.  Stir in the dill and the lemon slices  Season with salt and pepper and serve immediately.
Nutrition:
1 Weight Watchers Freestyle SmartPoint per serving (4 servings).
SOURCE:  RecipeGirl.com (adapted barely from Better Homes and Gardens)
Here are a few more recipes for sugar snap peas you might enjoy: