A nice, light, main-dish salad… perfect for warmer weather.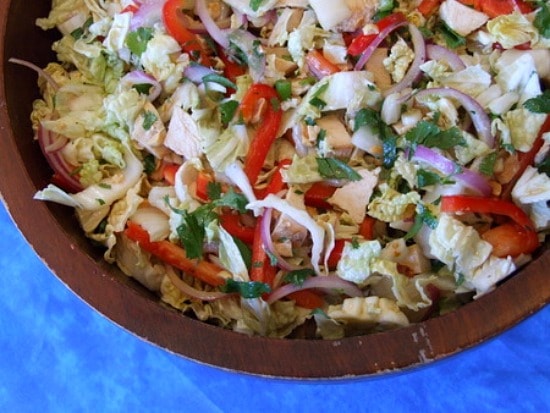 Asian Turkey Salad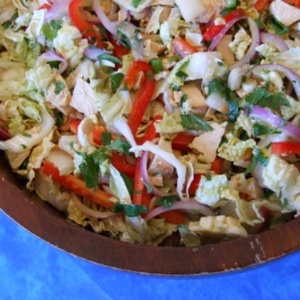 Yield:
4 servings
Prep Time:25 min
Ingredients:
DRESSING:
1/4 cup rice vinegar
1/4 cup vegetable broth
1 Tablespoon low-sodium soy sauce
2 teaspoons bottled minced fresh ginger (such as Spice World)
2 teaspoons lime juice
1 teaspoon minced garlic
1 teaspoon peanut oil
1 teaspoon sesame oil
1/2 teaspoon salt
1/2 teaspoon granulated sugar
1 serrano chile
SALAD:
4 cups thinly sliced Napa cabbage
3 cups shredded cooked turkey
1 cup red bell pepper strips (about 1 small pepper)
1/2 cup thinly sliced red onion
1/2 cup chopped fresh cilantro
1/4 cup sliced green onions
1 Tablespoon dry roasted peanuts, chopped
Directions:
1. To prepare salad dressing, place all dressing ingredients in a blender and process until smooth.
2. To prepare salad, combine the cabbage and remaining ingredients in a large bowl, and pour the dressing over the salad, tossing to coat.
Nutrition:
Nutritional Information per serving:
Serving size: 1/4th of the salad
Calories per serving: 263
Fat per serving: 9g
Saturated Fat per serving: 2.3g
Sugar per serving: 2.5g
Fiber per serving: 2g
Protein per serving: 34g
Cholesterol per serving: 80mg
Carbohydrates per serving: 17g
WW POINTS per serving:
Points Plus Program: 7 Old Points Program: 6.5