Total, delicious comfort food: Turkey Tetrazzini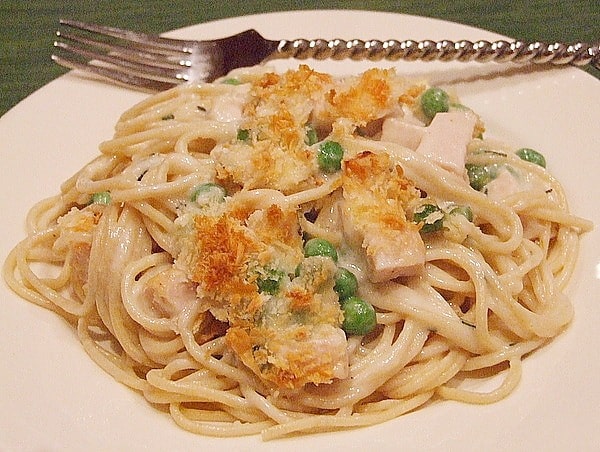 Turkey Tetrazzini
Yield:
8 servings
Prep Time: 40 min
Cook Time: 45 min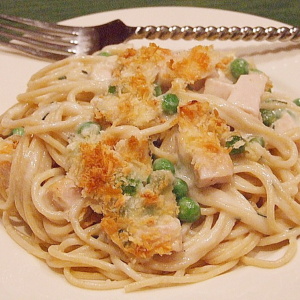 Ingredients:

2 1/2 teaspoons salt
12 ounces spaghetti
6 Tablespoons unsalted butter
6 Tablespoons all-purpose flour
3 1/2 cups turkey stock or low-sodium chicken broth
3/4 cup heavy cream
2 teaspoons minced fresh rosemary
1 Tablespoon freshly chopped thyme
1/4 teaspoon freshly grated nutmeg
freshly ground black pepper, to taste
3 1/2 cups 1/2-inch diced roast turkey
10 ounces frozen peas
1/2 cup dried breadcrumbs or panko
1/2 cup (2 ounces) freshly grated Parmesan cheese

Instructions:

1. Fill a large stockpot 3/4-full of water, cover, and bring to a boil. Add 2 teaspoons of the salt and the spaghetti and cook until al dente (cooked through but still slightly chewy), 8 to 10 minutes. Drain, rinse under cold water, and set aside.

2. Preheat oven to 375°F. Butter a 9x13-inch baking pan. In a medium sauté pan or skillet, melt the butter over a medium heat. Add the flour and cook, stirring, until faintly colored, about 2 minutes. Gradually whisk in the stock or broth until the sauce is smooth and thickened, 3 to 5 minutes. Whisk in the cream, then add the remaining 1/2 teaspoon salt, the rosemary, thyme, nutmeg, and pepper. Stir in the turkey and peas and heat through. Taste and adjust the seasonings, then remove from the heat.

3. Put pasta in the prepared dish and spoon the turkey mixture over it. In a small bowl, combine the bread crumbs and the Parmesan. Sprinkle evenly over the sauce. Bake, uncovered, until heated through and bubbly, about 20 minutes. Turn on the broiler and quickly brown the top of the casserole.

Tips:

*Make ahead: Let cool completely, cover, and refrigerate for up to 3 days, or freeze for up to 1 month.
*To reheat: If frozen, let thaw in refrigerator. Reheat in a preheated 350 degree oven until heated through.