So what's the story with Black Eyed Peas supposedly bringing good luck to all who eat them in the New Year anyways? I guess Black Eyed Peas are a Southern thing. This southern California girl had never actually (knowingly) tasted a black eyed pea before dinner last night, and I quite liked them. I put them in a Tex Mex Black Eyed Pea Casserole.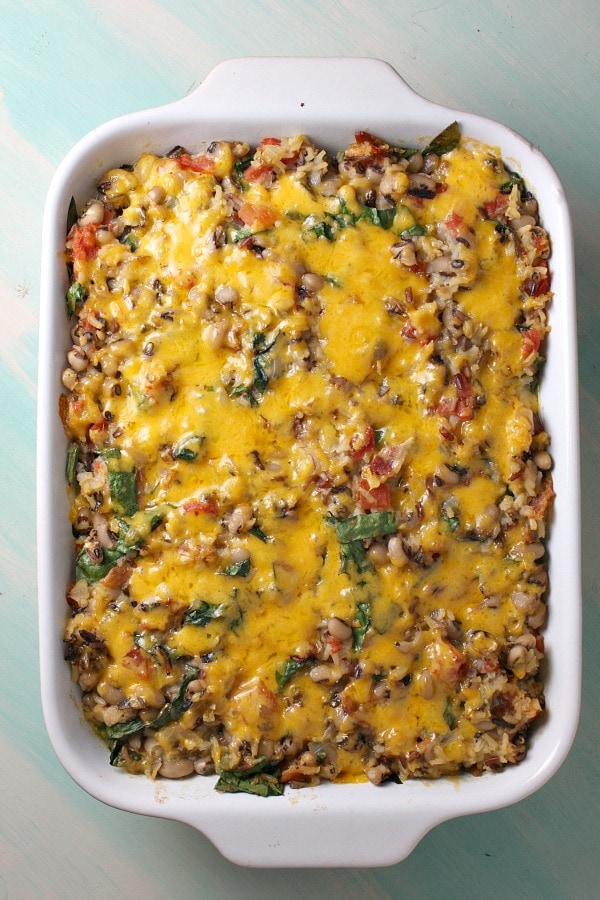 It's one last hurrah of a comfort-food dish before the New Year begins. And it's family- friendly too.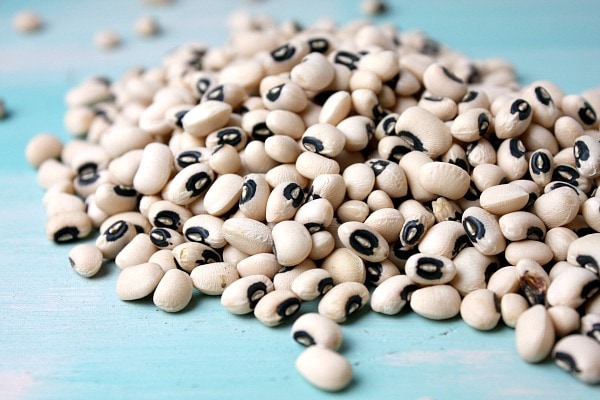 There they are in all their glory. Black Eyed Peas. They're purdy little things, aren't they? I suppose you could speed things up and use canned black eyed peas for this dish, but then it probably wouldn't be quite as good now, would it?
Why should you eat Black Eyed Peas on New Year's Day?
It started in the south, but eating black eyed peas on New Year's Day is thought to bring prosperity in the New Year. Dried black eyed peas swell when they cook (symbolizing prosperity), the spinach greens in the dish symbolize money, and the pork (bacon) in the dish symbolizes positive motion– because pigs root forward when they're foraging. It's a tradition to eat something with black eyed peas on New Year's Day- like Hoppin' John or this Black Eyed Pea Casserole!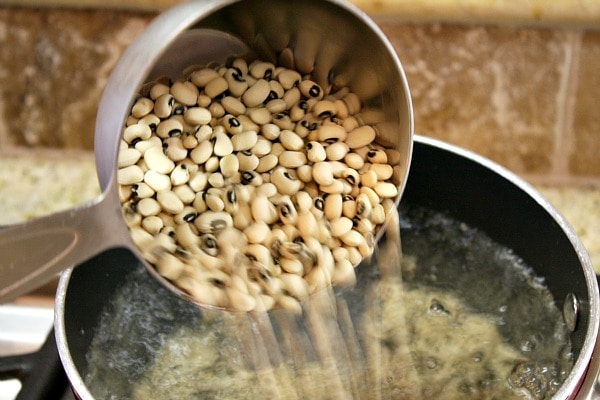 How to make Tex Mex Black Eyed Pea Casserole:
I read a lot about black eyed peas and how to prepare black eyed peas before I attempted this dish. Some folks soak them overnight. Some slow cook them. I went with the crowd that said that soaking wasn't needed. I rinsed them, and then I boiled them for about 30 minutes. That gave me a tender black eyed pea, which is what I was hoping for in this recipe. Easy "pea"sy.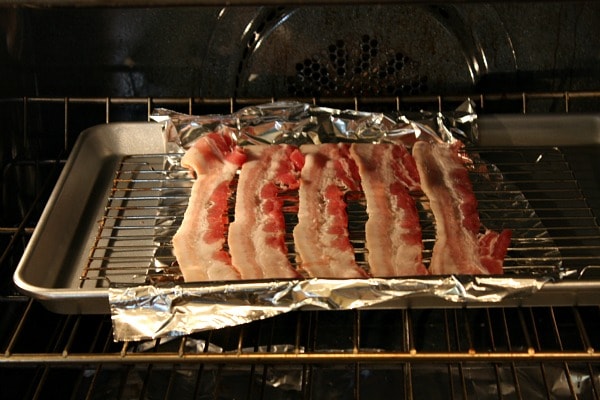 I add bacon to this recipe. It's totally optional, but it totally makes this recipe better. In fact, it makes all recipes better and I wish I had added more. But I understand if you're vegetarian and you'd like to leave it out. No wait, I don't really understand that… because how could *anyone* actually survive without bacon?? (but I respect your vegetarian decision in any case 😉 )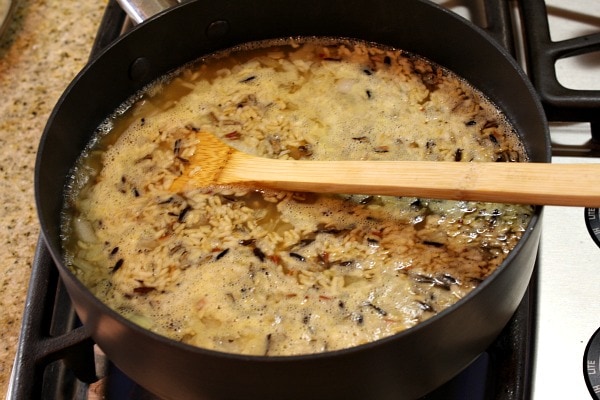 This is the 3rd thing you're going to do: prep the rice. In fact, you're doing all three of these things at once. The peas are boiling, the bacon is in the oven and the rice is simmering. It sounds like a lot, but it's not. It's all going at the same time. Onions and garlic are sautéed in a little olive oil, then add the rice, then broth, then simmer until the rice has (almost) absorbed the liquid.
It's best if you use a sort of rice that takes about 20 minutes to cook. If you want to use a rice with a longer cooking time, you're going to have to account for that and adjust as needed.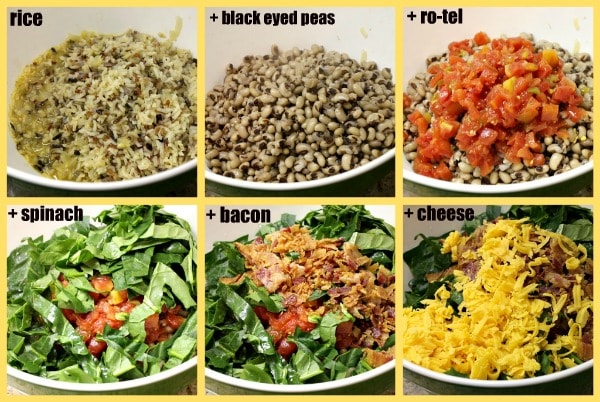 Then dump the almost-done rice in a bowl. Add tender- cooked black-eyed peas, a can of Ro-tel tomatoes, fresh spinach, BACON and cheese. Mix it up.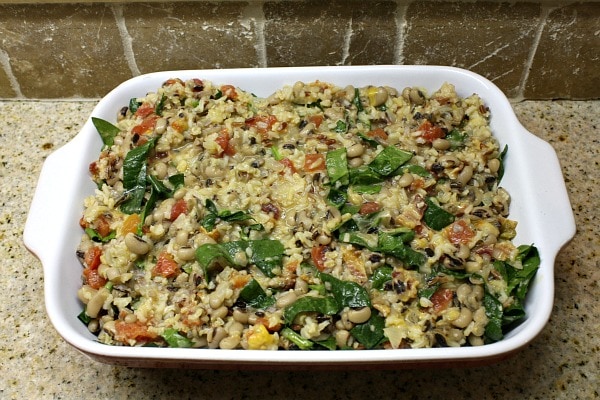 Spread it into a casserole dish and bake for 20 minutes. Add some more cheese on top and bake for 10 more minutes.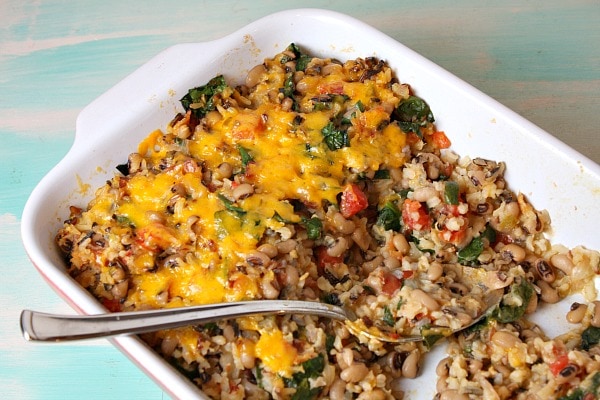 Ta Dah!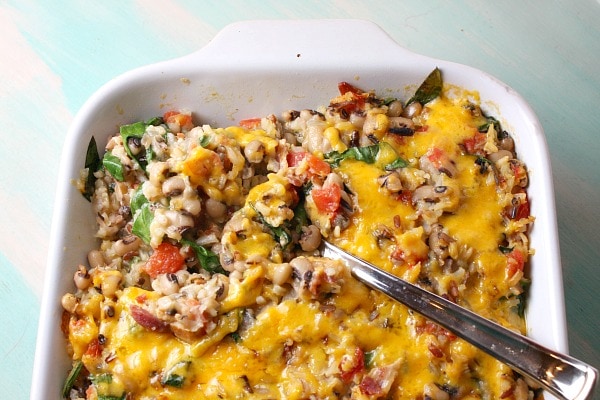 There's good 'ol down-home comfort right there.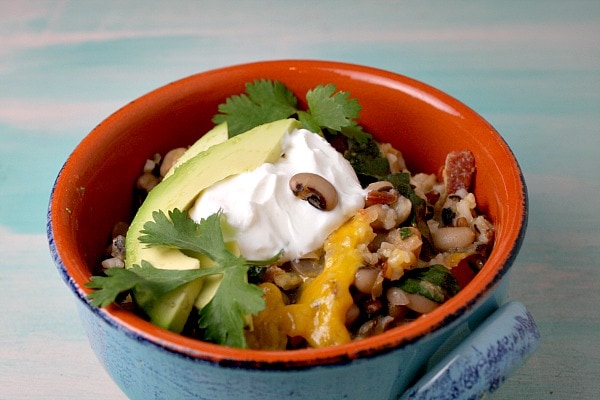 Add a little sour cream, cilantro and sliced avocado, and your dish is complete!
Oh, and about those black-eyed peas… tradition says that the peas brings prosperity to those who eat them on New Year's Day. I guess it's worth a shot, right?
A couple more recipes to make with black eyed peas is this delicious Cheesy Black Eyed Pea Dip or the classic Hoppin' John. They've been big time favorites to serve on New Year's Day while watching football games!
Tex Mex Black Eyed Pea Casserole
A very popular black eyed pea recipe to serve on New Year's Day for good luck!
Recipe Details
Ingredients
1½

cups

dried black eyed peas,

rinsed

5

slices (or more!)

bacon,

cooked & crumbled

1

tablespoon

olive oil

½

medium (1 cup)

chopped onion

2

medium

garlic cloves,

minced

1½

cups

rice

(one that can cook in 20 minutes)

3

cups

chicken or vegetable broth

½

teaspoon

ground cumin

½

teaspoon

salt

¼

teaspoon

freshly ground black pepper

One

10-ounce can

Rotel tomatoes with green chiles

3

cups

fresh spinach,

cut into strips

2

cups

grated sharp cheddar cheese,

divided

chopped cilantro, avocado & sour cream,

for serving (optional)
Instructions
Bring a medium pot of water to boil. Add the dried peas and boil for 30 minutes, or until tender (as tender as a canned bean would be). You don't want them to have much of a bite to them, but you don't want them mushy either. Drain the beans when you've got them where you want them.

In a deep medium skillet, heat the olive oil at medium heat. Add the onions and cook until softened, 3 to 4 minutes. Stir in the garlic, then rice, broth, cumin, salt and pepper. Bring to a boil, cover and cook for about 20 minutes (just until the rice has *almost* absorbed all of the liquid). Time will vary depending on the type of rice you choose to use.

Preheat the oven to 350℉. Scrape the rice into a large bowl. Add the peas, tomatoes, spinach, 1 cup of the cheese and bacon. Stir it all together and then scoop it into a 9x12-inch (or similarly sized) casserole dish. Bake, uncovered, for 20 minutes. Sprinkle remaining cheese on top and bake for an additional 10 minutes, just until the cheese is melted.

Serve in bowls topped with sour cream, fresh cilantro and sliced avocado (if desired).
Notes
*To convert to VEGAN: don't use bacon, use veggie broth instead of chicken broth, and Daiya shreds instead of cheddar. Add some chipotle chili pepper to add back some smokiness that the bacon would have provided (as well as a bit of a spicy kick).
*To convert to VEGETARIAN: don't use bacon, and use vegetable broth.
*Nutritional information does not include the optional toppings.
*If you are preparing this recipe as gluten free, just be sure to use brands of bacon and broth that are known to be GF.
*Quick and Easy tips: You can certainly try substituting canned black eyed peas for the boiled dried beans in this recipe, and you can purchase the already cooked bacon too.
*If you'd like to oven-fry your bacon-- it's so easy! Line a rimmed pan with foil. Lay your bacon strips on the foil. Place the bacon in a preheated 400 degree F. oven for 15 to 20 minutes, or until crisp (time will vary based on thickness of the bacon). Dab the bacon with paper towels to soak up any excess grease, and it's easy clean up too!
Nutrition
Serving:
1
serving
,
Calories:
585
kcal
,
Carbohydrates:
68
g
,
Protein:
26
g
,
Fat:
23
g
,
Saturated Fat:
10
g
,
Cholesterol:
51
mg
,
Sodium:
1040
mg
,
Potassium:
836
mg
,
Fiber:
6
g
,
Sugar:
5
g
,
Vitamin A:
1860
IU
,
Vitamin C:
11.2
mg
,
Calcium:
371
mg
,
Iron:
5.3
mg