Here's a recipe I used to make for my husband all the time when we first got married:  Tex Mex Chicken and Rice Casserole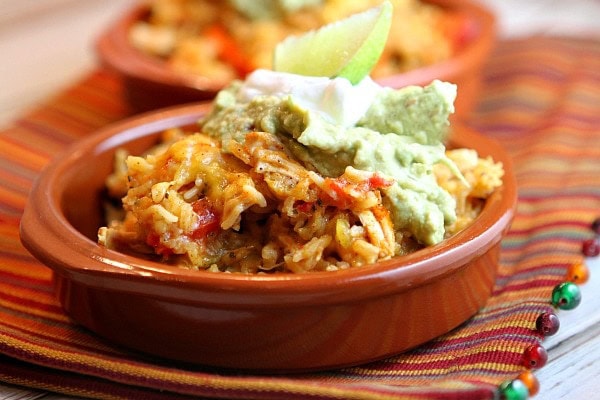 This recipe has been tucked away in my files for such a long time.  I don't think I've made it since about 2001!  We seriously loved this recipe so much when we were a young married couple.  It's so super simple to make, it's total comfort food, and the leftovers are terrific stuffed into a burrito.
I think my fondness for this recipe grew when I was pregnant with my son Brooks.  I wanted Mexican food and nothing else the entire 9 months.  Thank goodness we had a ton of little taco shops in San Diego, where we lived at the time.  My husband was sent to just about every one of them to grab dinner 3 to 4 nights a week!  On the occasion that I felt like cooking, I made this Tex Mex Chicken and Rice Casserole.
It's awesome topped with some easy-to-make guacamole and sour cream.  The recipe makes a lot, so you can eat leftovers for a couple of days.  Eating mega Mexican food while pregnant must have had its effect on baby… since my teenager loves this now too!
Tex Mex Chicken and Rice Casserole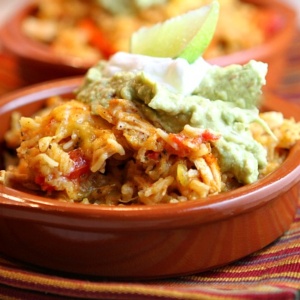 Sometimes I use brown rice for an added health boost.
Yield:
8 servings (1 cup)
Prep Time: 25 minutes
Cook Time: 50 minutes
Ingredients:
1 cup chopped onions
2 Tablespoons salted butter
One 8-ounce package chicken-flavored rice mix with vermicelli
1 cup long grain white rice
Two 14-ounce cans chicken broth
2 1/2 cups water
3 to 4 cups cooked, chopped chicken breasts
4 medium tomatoes, chopped
One 4-ounce can drained, diced green chiles
2 teaspoons dried basil, crushed
1 Tablespoon chili powder
1/2 teaspoon ground cumin
1/4 teaspoon pepper
1 cup shredded cheddar cheese
guacamole, sour cream and lime wedges, for serving (optional)
Directions:
In 3-quart saucepan, melt butter over medium heat and cook onion in the butter until tender (3 to 4 minutes). Stir in rice mix, seasoning packet and uncooked white rice. Cook and stir for 2 minutes more. Stir in broth and water. Bring to a boil; reduce heat. Cover; simmer 20 minutes (liquid will not be fully absorbed and the mixture will appear "soupy").
Preheat oven to 425 degrees F.
Transfer the mixture to a very large mixing bowl; stir in chicken, tomatoes, chiles, basil, chili powder, cumin and pepper.
Pour the mixture into a 3-quart casserole dish that has been sprayed with nonstick spray. Bake, covered, for 20 to 30 minutes. Uncover, sprinkle with cheese, and bake for 5 more minutes. Serve hot.  Top with guacamole and sour cream, if desired.  Pass lime wedges for squeezing too!
Nutrition:
*This casserole makes a lot.  Leftovers are great for burritos- add lettuce, freshly chopped tomato, etc.
SOURCE: RecipeGirl.com
More Tex Mex recipes you might enjoy: