Slow Cooker Carnitas Burritos are stuffed with brown rice and guacamole- plus a few more additional fixings that everyone loves.  These burritos are a big-time family favorite dinner recipe.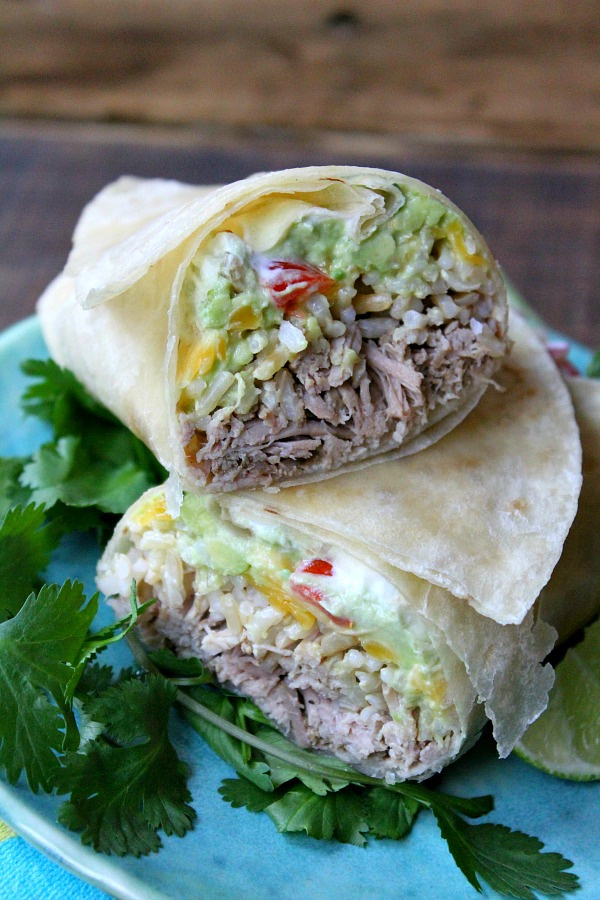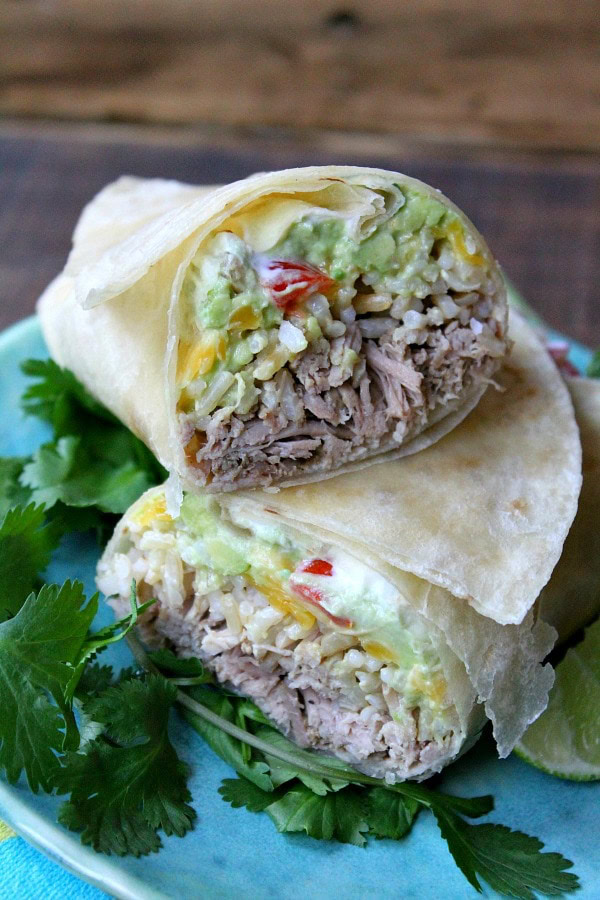 This recipe is totally hassle-free.  Your slow cooker will do the bulk of the work.  That's the beauty of a slow cooker- just let it cook all day, and dinner will be just about ready when your family is hungry and ready for dinner!  These burritos are great to make for dinner any night of the week.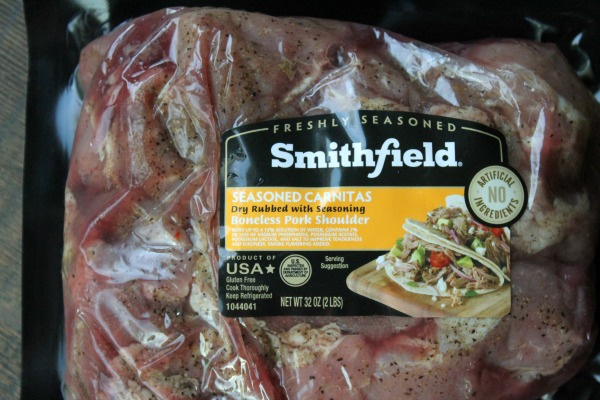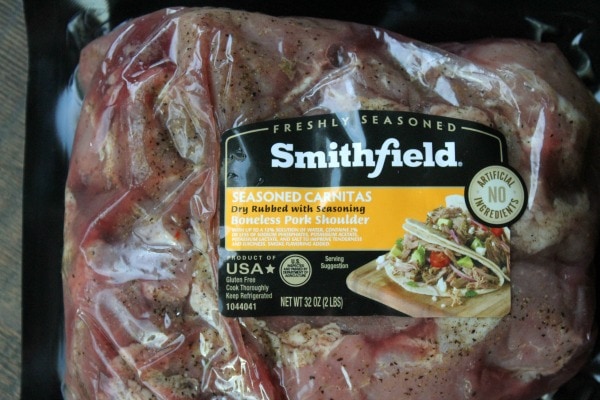 The recipe begins with Smithfield Boneless Pork Shoulder Seasoned Carnitas.  100% fresh pork is slow-marinated and perfectly seasoned.  I use Smithfield's already-marinated pork quite often because the flavors are always spot-on and so easy to make for dinner.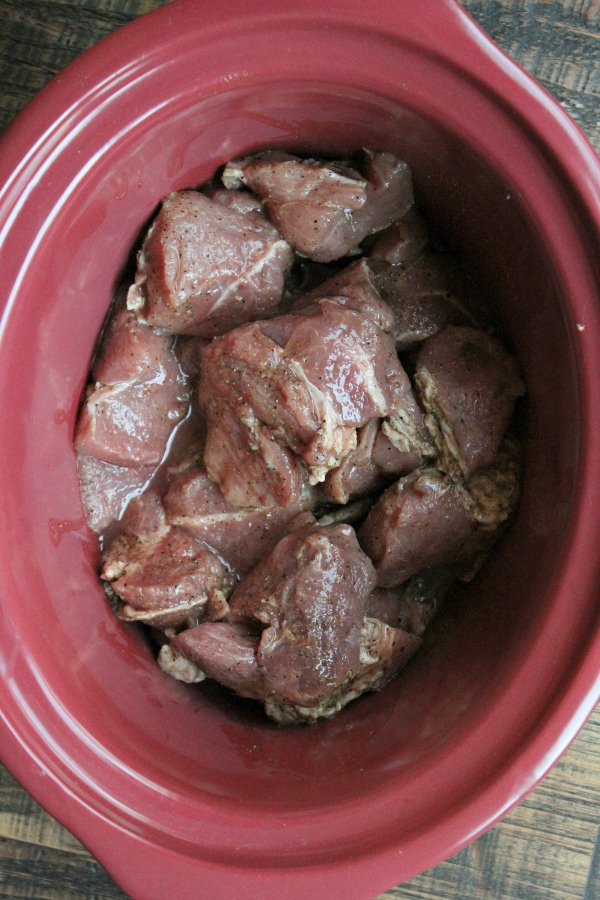 How do you make Slow Cooker Carnitas Burritos?
I'm so happy to share with you that this recipe is so super easy that your kids can even get it started without you!  Simply open the package of seasoned carnitas, place the pork pieces in a slow cooker, add 1 cup of water, and set the slow cooker on low for 6 to 8 hours.  That's it.  That's all the "cooking" you have to do besides getting some brown rice ready.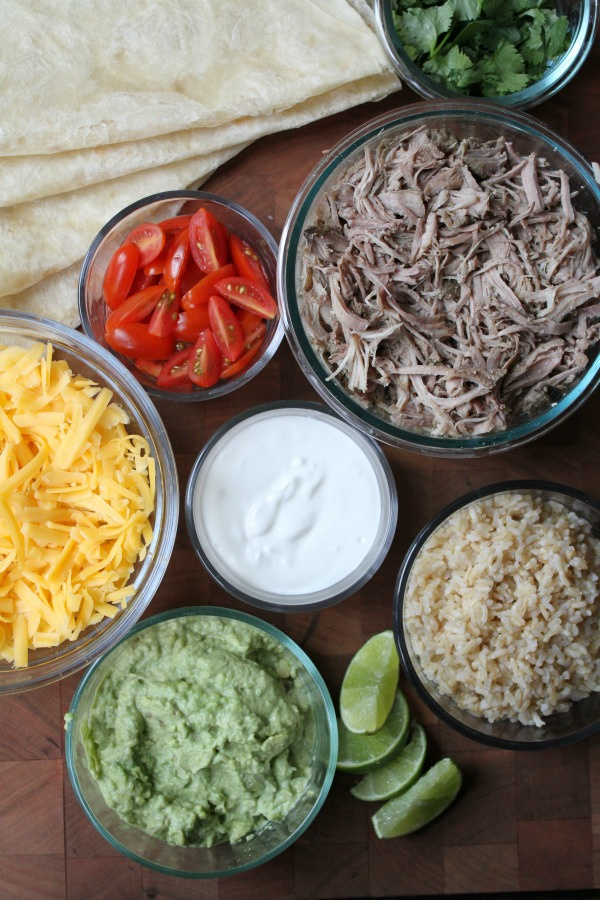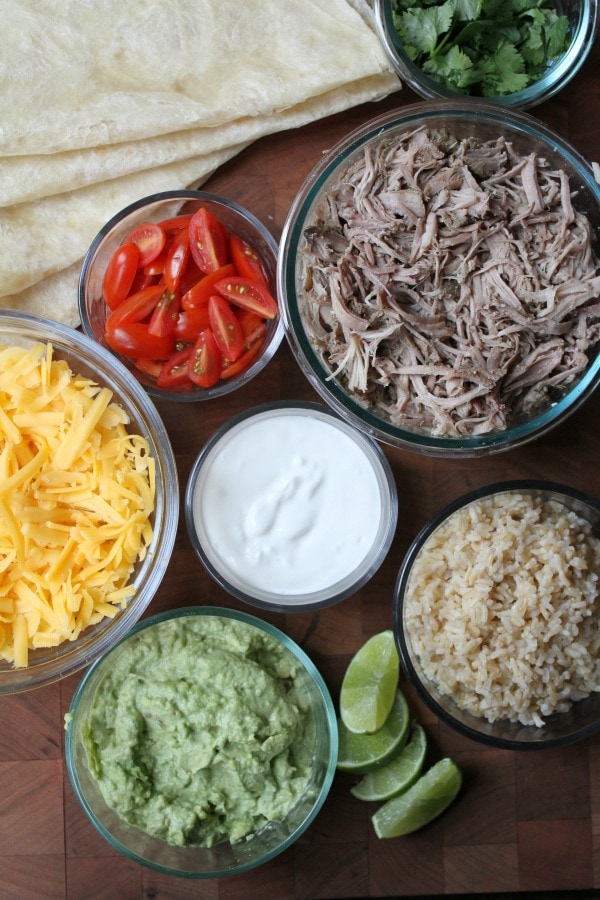 Once the pork is done cooking, remove it to a cutting board and shred it apart.  It will be tender as can be, and you will enjoy sampling it to discover how delicious it is!
Get all of your other desired ingredients ready.  I like to set this up as an assembly line so everyone in my family can stuff their own burritos according to the things they like best.  For the guacamole, you can save time buying store-bought guacamole… or you can make your own at home.  For the brown rice, I like to buy the quick-cooking "boil in a bag" brown rice for a quick and easy option.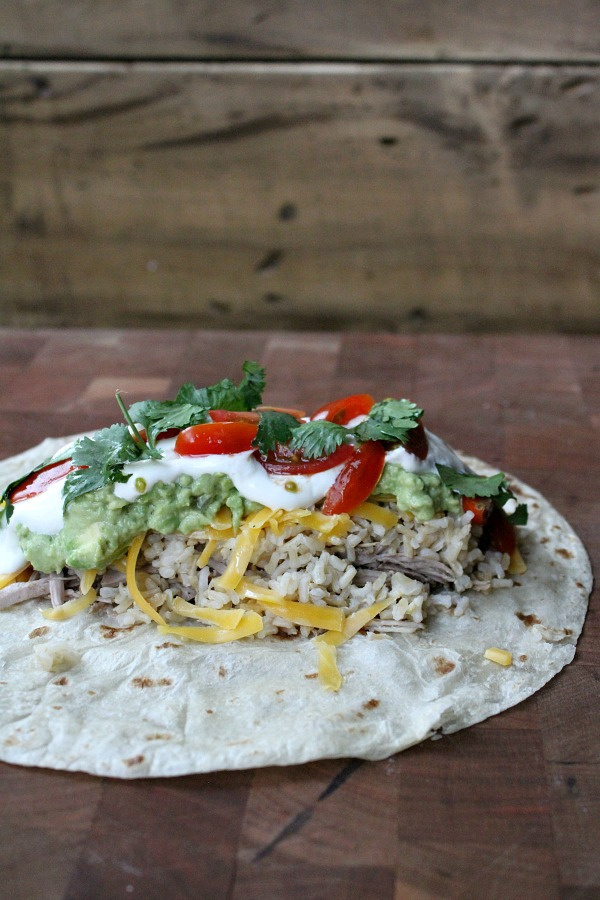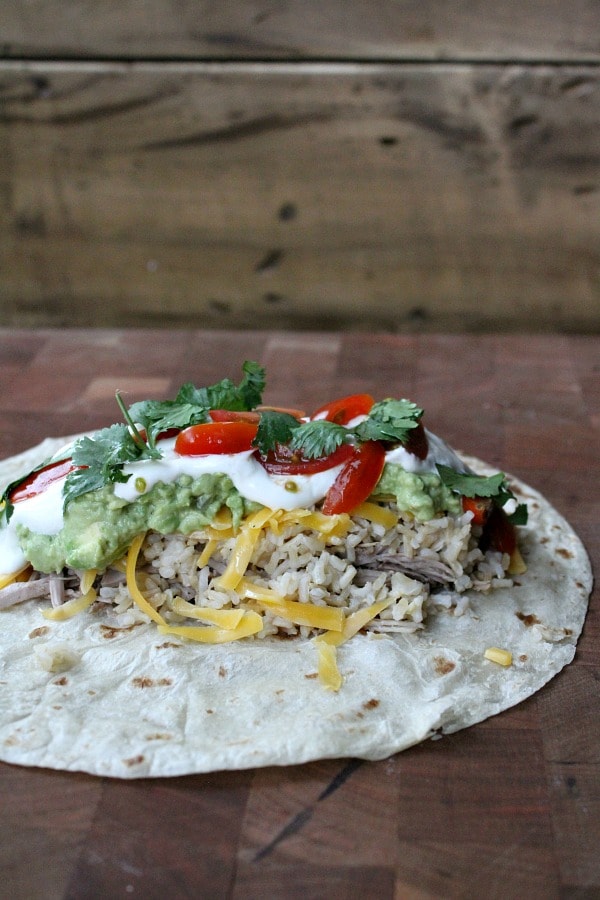 Pile your desired fixings onto a warmed burrito-sized flour tortilla, then wrap it up into a burrito!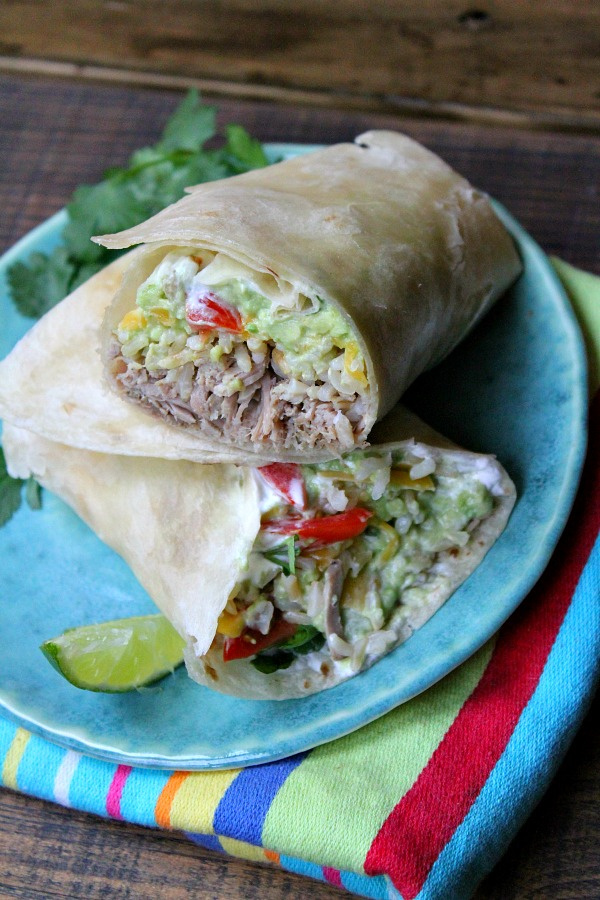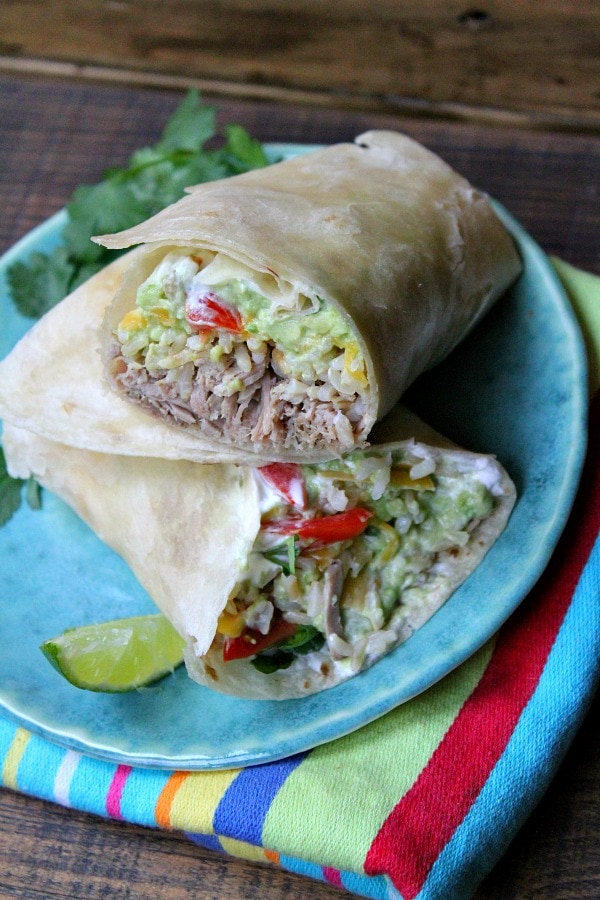 I suggest serving with a lime wedge or two.  It's nice to give it a little squeeze onto your burrito before you take a bite.  Enjoy!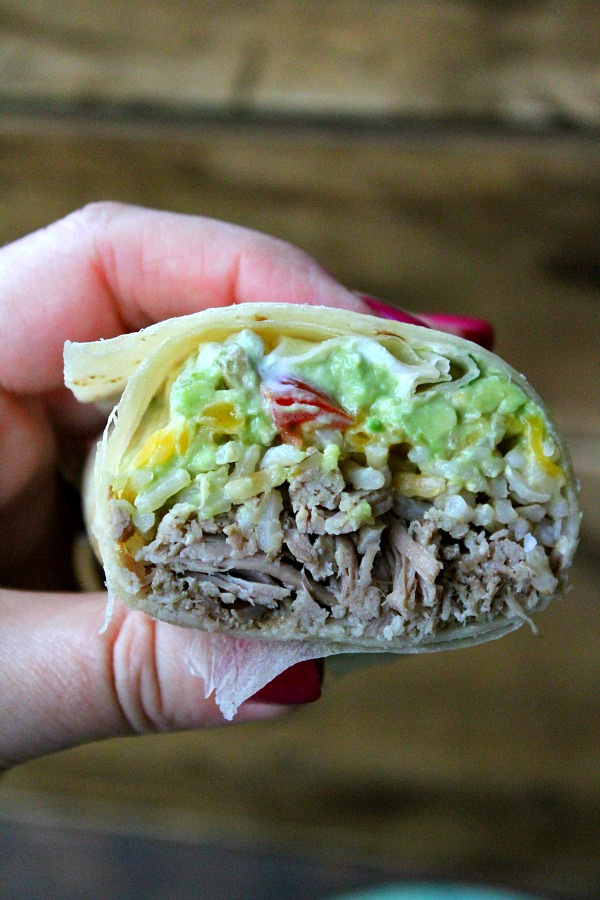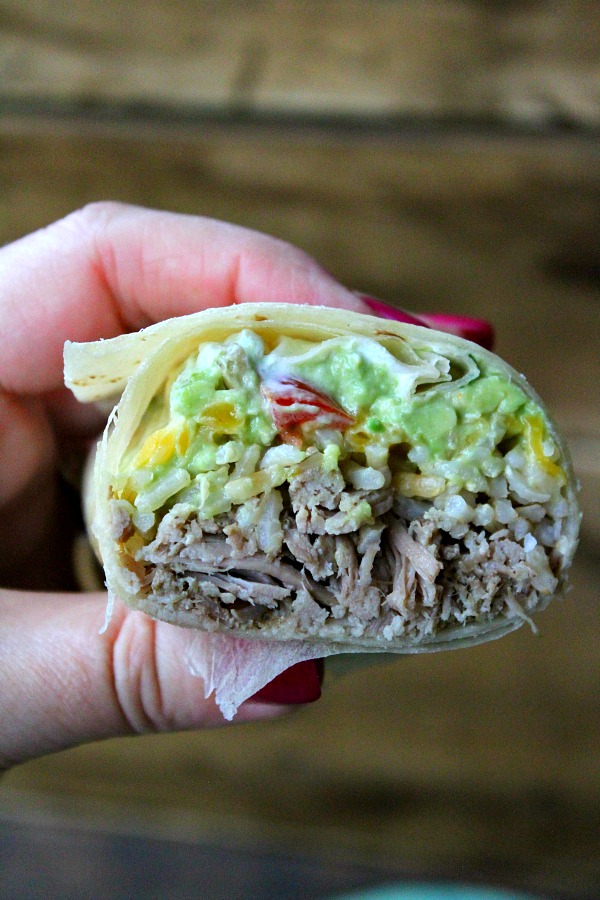 Smithfield Marinated Fresh Pork products are available at Walmart and select grocery stores/retailers nationwide.  For more product information and recipe inspiration, visit www.Smithfield.com.
If you love burritos, you may also enjoy:
Slow Cooker Carnitas Guacamole and Rice Burritos
These easy-to-make slow cooker burritos are a family favorite for dinner!
Recipe Details
Ingredients
32

ounces

Smithfield Boneless Pork Shoulder Seasoned Carnitas

6

burrito-sized

flour tortillas

2

cups

cooked brown rice

1 1/2

cups

shredded cheddar cheese

1

cup

chopped tomatoes

1

cup

guacamole

3/4

cup

sour cream

1/3

cup

chopped fresh cilantro

1

medium

lime, sliced
Instructions
Place the carnitas in a slow cooker. Add 1 cup of water, and cook on low heat for 6 to 8 hours.

When the carnitas are finished cooking, remove the meat to a cutting board and shred it apart.

To assemble the burritos: Warm the tortillas in the oven and place on a large cutting board. Divide the filling ingredients between the tortillas, then wrap the tortillas into burritos. Serve immediately with lime wedges.
Disclosure:  This post has been written in partnership with Smithfield to share their line of marinated pork.  This is a product that I know and use in my kitchen.  All opinions shared are my own.