This Slow Cooker Beef Burgundy makes for an easy weeknight dinner.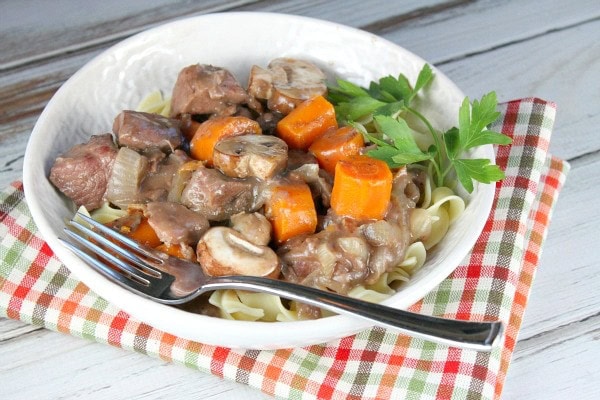 Beef burgundy was in our regular dinner rotation when I was growing up.  My Mom also made tacos, split pea soup, spaghetti, orange pork chops and pepper pot beef.  Beef burgundy was one of my favorites because I loved the sauce, the tender beef and the egg noodles it was served over.  This is an easy slow cooker version.  I love it because I often have no time to make dinner when it's dinnertime!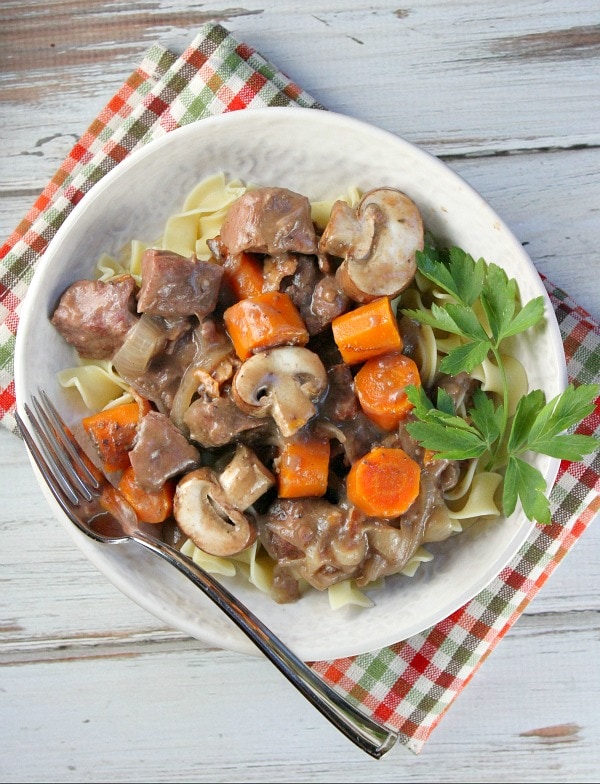 This recipe also works well with lamb stew meat.  My family likes it both ways.  I'm happy to add another good slow cooker recipe to the collection… since good slow cooker recipes are difficult to find!  Enjoy…
Slow Cooker Beef Burgundy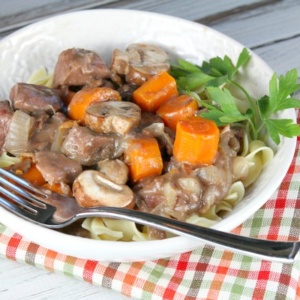 Yield:
8 servings
Prep Time: 30 minutes
Cook Time: 7 hours
Ingredients:
4 slices bacon
2 pounds beef stew meat, cut into 1 1/2-inch cubes
2 large carrots, cut into 1-inch chunks
1 medium onion, sliced
1/2 cup all-purpose flour
1/2 teaspoon dried marjoram leaves
1/4 teaspoon ground black pepper
1/4 teaspoon garlic powder
One 10 1/2-ounce can beef broth
1/2 cup burgundy or dry red wine
1 tablespoon worcestershire sauce
One 8-ounce package (3 cups) sliced fresh mushrooms
One 16-ounce package uncooked egg noodles
2 tablespoons chopped fresh parsley
Directions:
In a large skillet, cook bacon until crisp. Drain on paper towels; crumble. In 3 1/2 to 4-quart slow cooker, combine cooked bacon, beef, carrots, and onion.
In a small bowl, combine flour, marjoram, pepper and garlic powder. With wire whisk, stir in broth, wine and worcestershire sauce until smooth. Add to mixture in slow cooker; stir to combine.
Cover; cook on high setting for 1 hour.
Reduce heat to low setting; cook an additional 5 to 6 hours or until beef is tender.
Stir in mushrooms. Increase heat to high setting; cover and cook and additional 30 minutes or until mushrooms are tender. Meanwhile, cook noodles to desired doneness as directed on package. Drain.
Serve beef mixture over noodles; sprinkle with parsley.
Here are a few more slow cooker recipes you might enjoy: