Slow Cooker Chicken and Dumplings
Super easy Slow Cooker Chicken and Dumplings are the ultimate cold weather comfort food.  This recipe is filled with vegetables and chicken swimming in a light cream sauce, then topped with buttery biscuits creating a family favorite for years to come.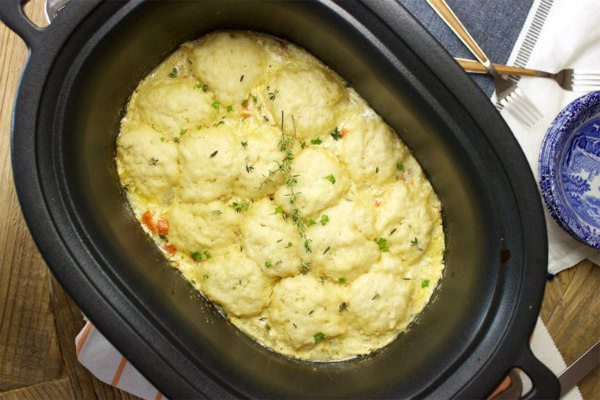 Finally, there's a chill in the air.  I love the summer but it just got so darn hot that I was counting the days until a little crisp fall temps arrived in my area.  And they're here…to stay….and I'm already craving all the comfort food.  It truly is the best way to enjoy the cooler weather.  That….and thick fluffy sweaters!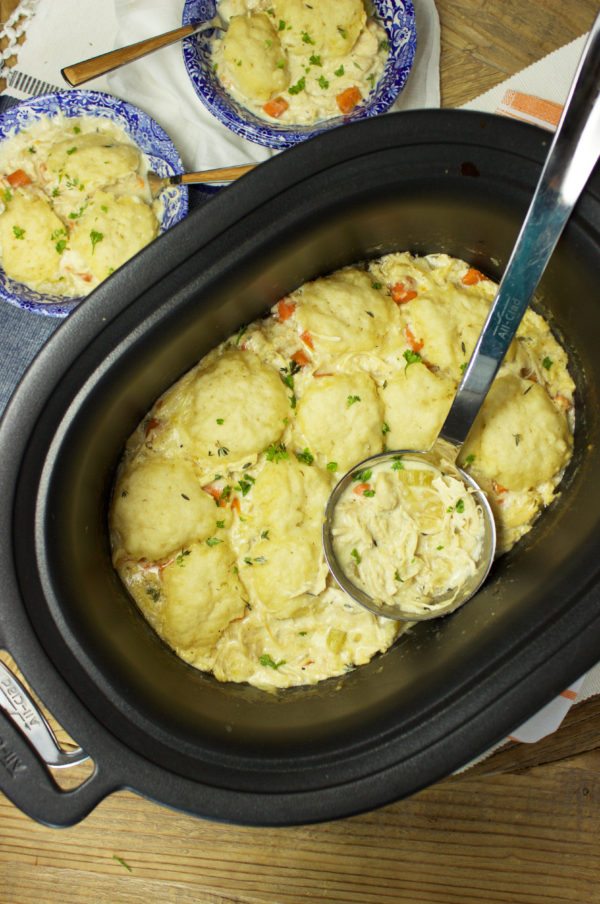 A lot of people are "dusting off" their slow cookers right about now but the truth is…mine's been working overtime all summer long.  It's just another tool in the kitchen that allows me to enjoy a hearty meal without spending tons of time hovering over my stove.  I can multi-task like a pro and look like I have my entire life pulled together….which is not entirely true.  But at the very least, my family has full bellies at the end of the day with a tasty home cooked meal that didn't take much effort at all. These Slow Cooker Chicken and Dumplings are a fantastic way to hunker down on a chilly night.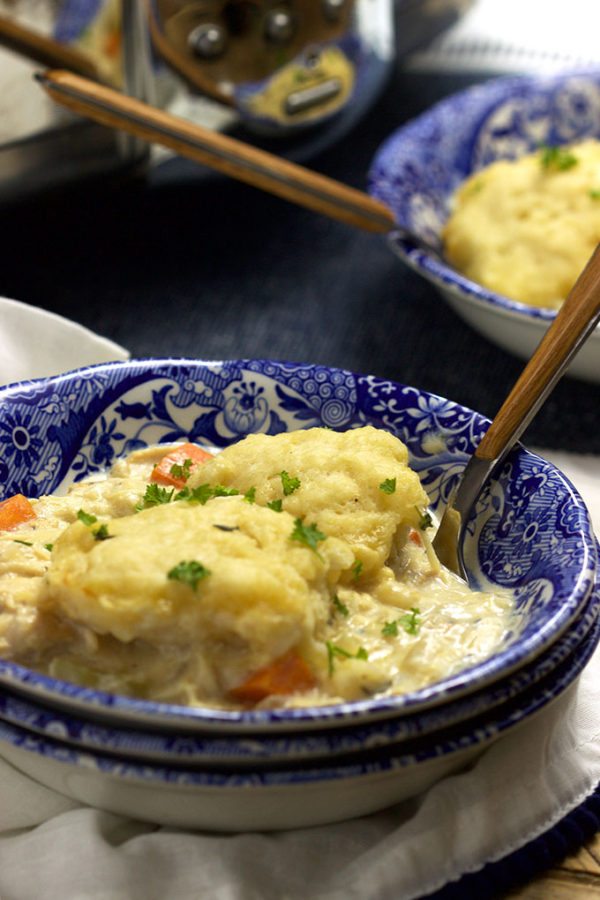 This recipe is so simple to make.  You simply layer your vegetables and chicken in your slow cooker then pour in the stock.  Cook for a few hours, then shred your chicken into bite-sized pieces before returning to the slow cooker to continue cooking. Stir in a bit of cream, top with your dumpling dough and cook for a little while longer.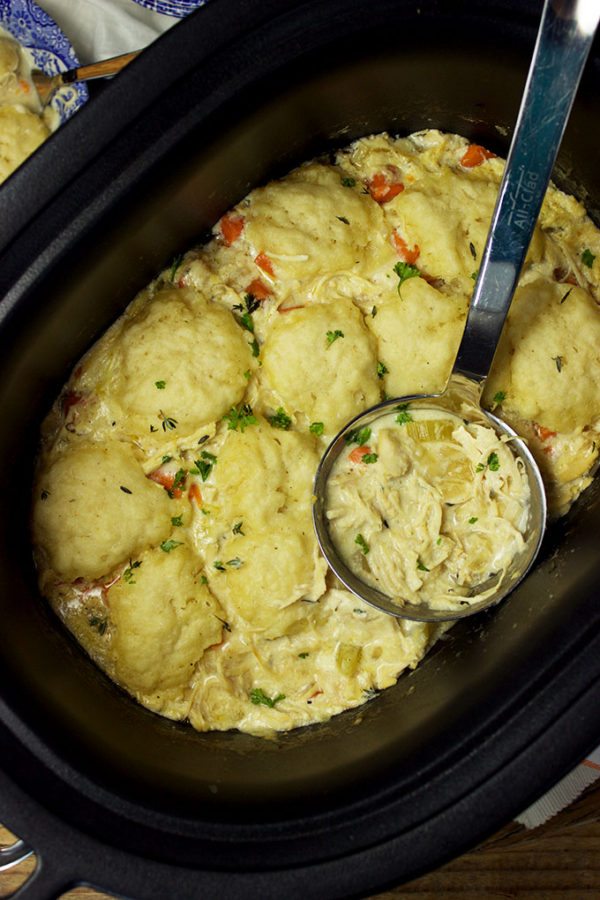 By the time dinner rolls around, you have a hearty one-pot dinner the whole family will be begging for every single week.
Yield: 6 servings
Prep Time: 15 minutes
Cook Time: 4 hours
Slow Cooker Chicken and Dumplings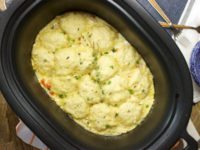 Ingredients:
1 1/2 cups chopped onion
1 cup chopped carrot
1/2 cup chopped celery
2 garlic cloves, peeled and crushed
3 boneless, skinless chicken breasts
2 cups low-sodium chicken stock
2 teaspoons fresh chopped thyme
1/2 teaspoon kosher salt
1/2 teaspoon fresh ground pepper
1 cup half and half
2 tablespoons cornstarch
1 cup all purpose flour
1 1/2 teaspoons baking powder
1/2 teaspoon garlic powder
1/2 teaspoon kosher salt
3 tablespoons cold salted butter, cut into small cubes
1/2 cup milk
1/4 cup chopped fresh parsley, for serving
Directions:
In the bottom of the slow cooker, layer the onions, carrot, celery and garlic cloves.  Place the chicken breasts on top of the vegetables and pour the stock over the chicken. Sprinkle the chicken with thyme, salt and pepper.
Place the lid on the slow cooker and cook for 3 hours on high or 6 hours on low.
Remove the chicken from the slow cooker and shred into bite-sized pieces with a fork. Return to the slow cooker.
Whisk the half and half together with the cornstarch. Pour the mixture into the slow cooker and stir to combine.
In a small bowl, combine the flour, baking powder, garlic powder and salt.  Work in the butter using your fingers until course crumbs begin to form.
Stir in the milk and combine well until a sticky dough begins to form.
Drop tablespoon sized dollops of dough over the stew in an even layer. Place the lid on the slow cooker and cook for 1 additional hour or until dumplings are cooked through.
Sprinkle with parsley and serve immediately.
SOURCE: RecipeGirl.com
Here are a few more slow cooker recipes you might enjoy:
Comments