Here's the latest dinner recipe we're crazy about at my house:  Slow Cooker Chicken Cacciatore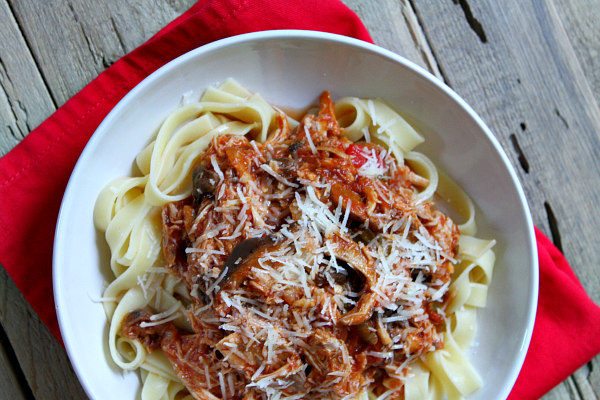 This slow cooker recipe makes a hearty chicken marinara sauce that is perfect for topping pasta, spaghetti squash or zucchini noodles.  Scroll all the way to the end of this post to print out the recipe.  Nutritional information and Weight Watchers points are included on this one.  If you're hoping to use zero points for this meal, you will need to put it on top of zoodles or spaghetti squash… or eat it on its own.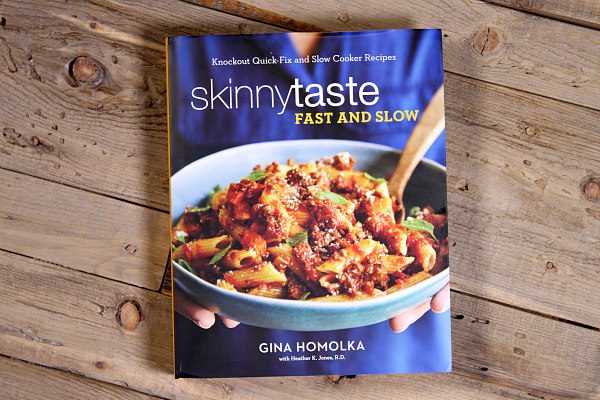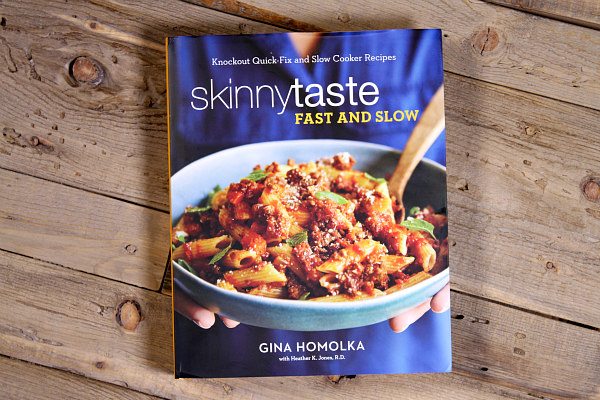 Today's recipe comes from my friend Gina's new cookbook:  Skinnytaste Fast and Slow: Knockout Quick-Fix and Slow Cooker Recipes by Gina Holmolka: Clarkson/Potter, 2016.  I was SO EXCITED to get this book in the mail the other day.  Gina put her heart and soul into this second book of hers, and every recipe conveys that.  140 recipes are included in the book– all either slow cooker or quick oven/stovetop recipes.  Here are some more recipes I've bookmarked to make later:  Banana-Almond Smoothie Bowl, Breakfast Banana Split, Slow Cooker Creamy Tomato Soup, Slow Cooker Chicken Taco Chili, Drunken Seafood Stew, Slow Cooker Hamburger Stroganoff, Cauliflower-Potato Tacos, Slow Cooker Stuffed Turkey Tenderloins with Gravy, Greek Chicken Sheet Pan Dinner, Fork and Knife Cheeseburgers, Slow Cooker Brisket with Onions, Baked Fish and Chips, Salad Pizza… oh my gosh… I could go on and on!  It's really a great cookbook.  There is nutritional information included for every recipe.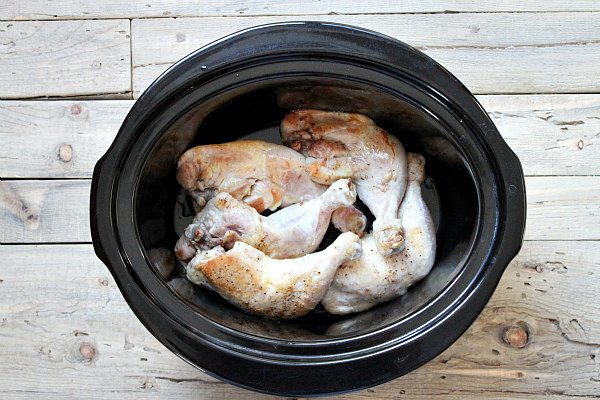 Gina's original recipe calls for bone-in skinless chicken thighs (bone-in means the chicken will stay nice and tender).  I had trouble finding bone-in thighs, so I used full chicken legs (drumstick + thigh) instead.  If you want this to be ZERO points, you will use chicken breast instead (see recipe below).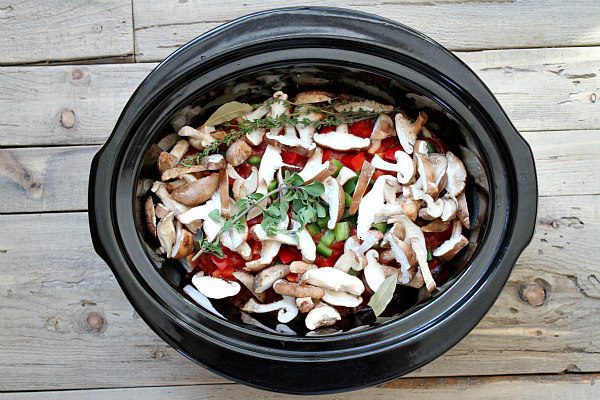 All kinds of goodies go into this one- onions, bell pepper, mushroom, tomato and spices.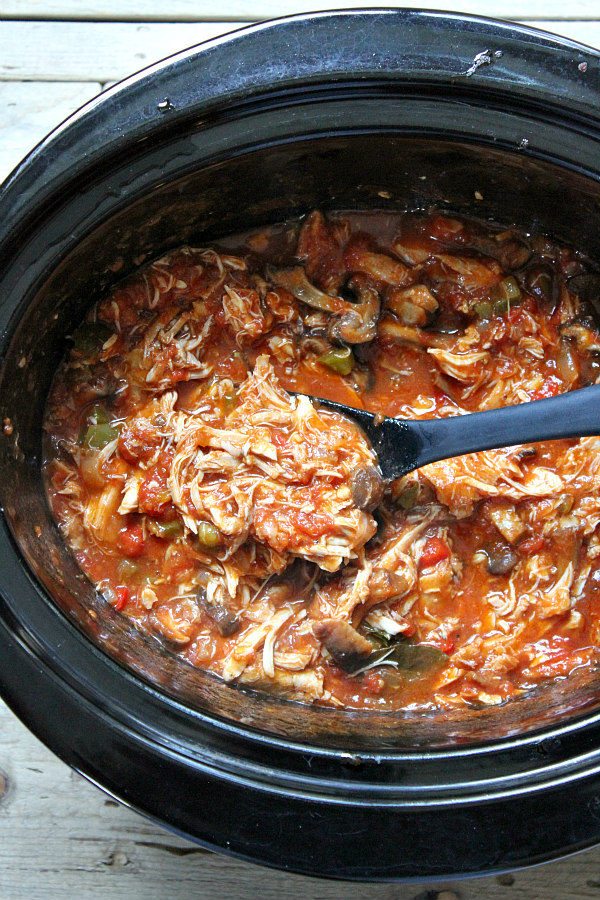 4 hours later, dinner looks like this.  The chicken is taken out, pulled apart, bones discarded and meat put back in.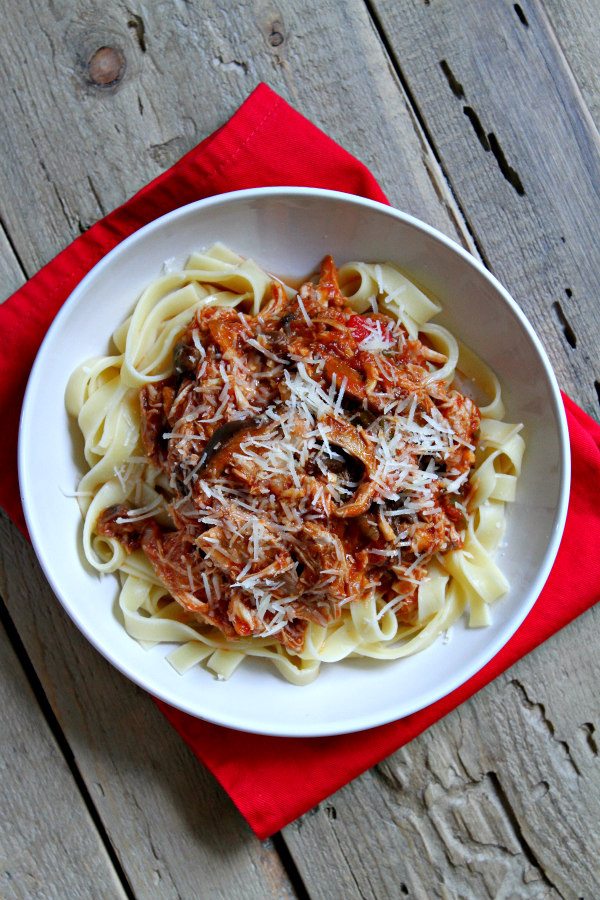 We loved this dish!  My son ate his chicken cacciatore over thick fettuccine noodles.  My husband and I (forever watching our waistlines) enjoyed ours over roasted spaghetti squash.  Both were delicious!
Check out another recipe from this book on RecipeBoy.com today >> Slow Cooker Mashed Potatoes!
Slow Cooker Chicken Cacciatore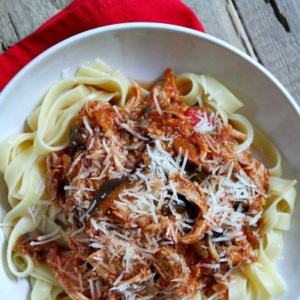 Yield:
8 servings
Prep Time:30 minutes
Cook Time:4 to 5 hours
Ingredients:
8 bone-in, skinless chicken thighs (about 5-ounces each), fat trimmed- in the photos for this recipe, you'll notice that I actually used 5 full chicken legs (drumstick and thigh) instead  -- NOTE: if you're preparing this recipe as ZERO points, you will need to use boneless, skinless chicken breast instead- 1 1/2 to 2 pounds
3/4 teaspoon kosher salt
freshly ground black pepper
cooking spray
5 garlic cloves, finely chopped
1/2 large onion, chopped
1 28-ounce can crushed tomatoes
1/2 medium red bell pepper, chopped
1/2 medium green bell pepper, chopped
4 ounce sliced shiitake mushrooms
1 sprig of fresh thyme
1 sprig of fresh oregano
1 bay leaf
1 tablespoon chopped fresh parsley (I omitted this)
freshly grated Parmesan cheese, for serving (optional)
Directions:
Season the chicken with salt and pepper to taste.  Heat a large nonstick skillet over medium-high heat.  Coat with cooking spray, add the chicken, and cook until browned- 2 to 3 minutes per side.  Transfer to your slow cooker.  If you're using chicken breast, you can skip this step and put the chicken directly into the slow cooker (with salt and pepper).  I recommend 6 hours in the slow cooker on low (2 to 3 hours high), if using breasts.
Reduce the heat under the skillet to medium and coat with more cooking spray.  Add the garlic and onion and cook, stirring, until soft- 3 to 4 minutes.  Transfer to the slow cooker and add the tomatoes, bell peppers, mushrooms, thyme, oregano and bay leaf.  Stir to combine.
Cover and cook on high for 4 hours or on low for 8 hours.
Discard the bay leaf and transfer the chicken to a large plate.  Pull the chicken meat from the bones (discard the bones), shred the meat, and return it to the sauce.  Stir in the parsley (if using).  If desired, serve topped with Parmesan cheese.
Tips:
If you are preparing this recipe as gluten-free, just be sure to use a brand of tomatoes that is known to be GF.
Nutrition:
Nutritional information per serving: Calories: 220, Fat: 6g, Sat Fat: 1.5g, Cholesterol: 123mg, Sodium: 319mg, Carbohydrates: 10g, Fiber: 2g, Sugar: 6g, Protein: 31g
Weight Watchers POINTS:  Freestyle SmartPoints: 0 (but only if you use chicken breast instead of thighs), Original SmartPoints: 3, PointsPlus: 5, Old Program: 5
Here are a few more slow cooker recipes you might enjoy:
Disclosure:  There are Amazon affiliate links included within this post.