One of the most delicious chicken recipes ever: Chicken with Mustard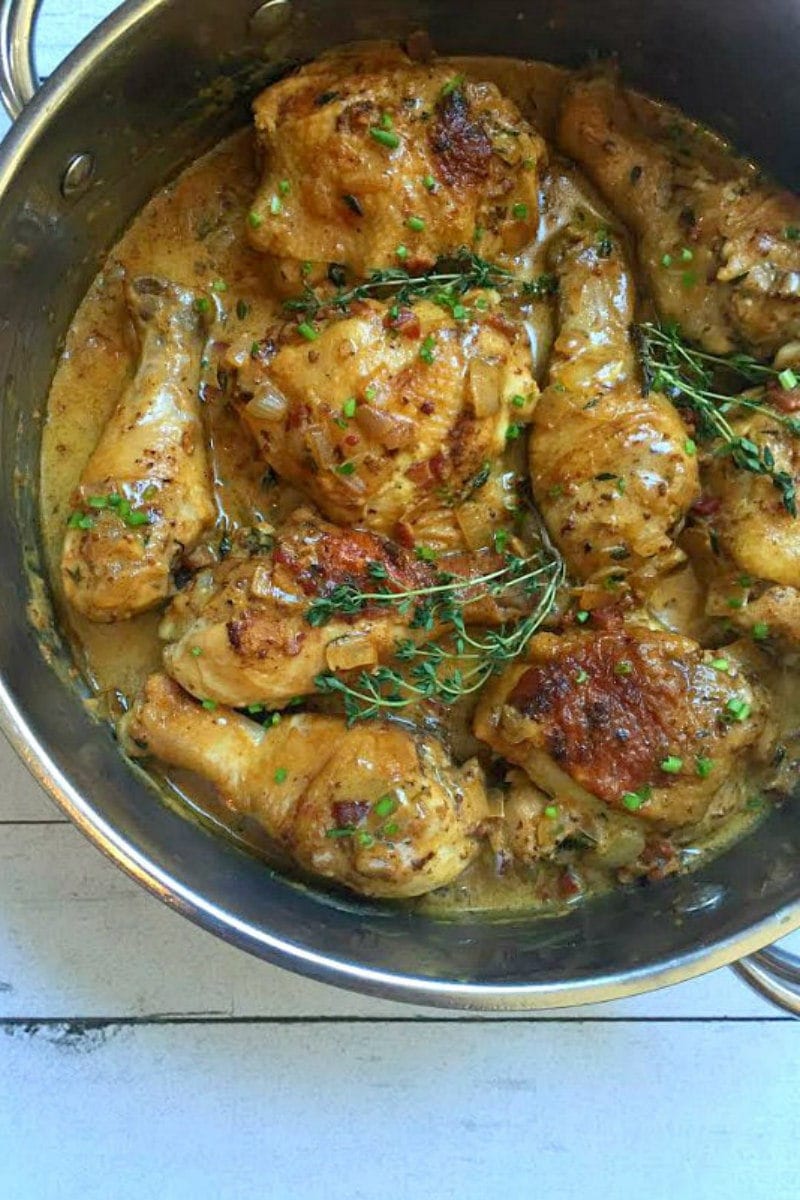 Chicken with Mustard
I picked up this recipe on a whim and began making it one afternoon for a weeknight dinner. Chicken with Mustard isn't really isn't a "weeknight dinner" kind of recipe- it's far more special than that. It's not that it's difficult to make or too fancy or anything like that. The completed dish turns out to be one of the most amazing chicken dishes that you've ever tasted. This is chicken doused with Dijon mustard and cooked with white wine, bacon and onions. The dish is finished off with a little bit of cream. And the result is a delightful and delicious surprise.
Since I first made Chicken with Mustard in 2015, I've made it many times since. I've enjoyed it again and again with my family, and I love to make it for guests because it's always a big hit.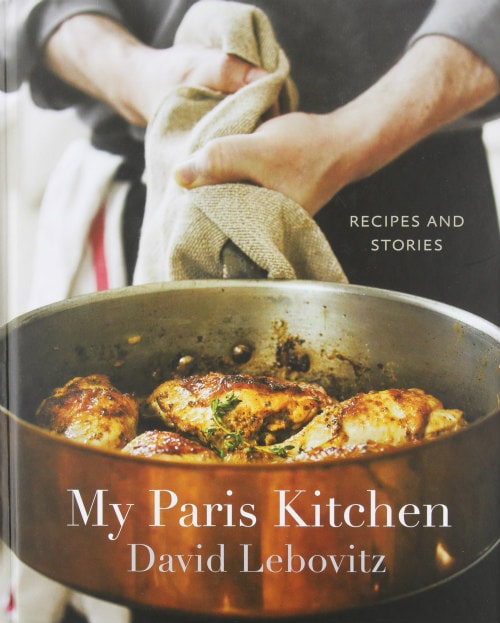 Cookbook review: My Paris Kitchen
This recipe comes from My Paris Kitchen: Recipes and Stories by David Lebovitz. David has lived in Paris for about 10 years now, immersing himself in their culinary culture. In this book, he shares 100 sweet and savory recipes that reflect the way modern Parisians eat today. I love the way David writes his cookbooks– every recipe is rich with an introductory, educational story, and his charming personality shines through in his writing too. It's a beautiful cookbook to add to your collection.
I highly suggest that you start with this Chicken with Mustard recipe. Here are a few more recipes that have caught my eye: Beet Hummus, Spiced Meatballs with Sriracha Sauce, Vegetable Soup with Basil Puree, Leeks with Mustard-Bacon Vinaigrette, Cheese- Bacon & Arugula Souffle, Ham- Blue Cheese & Pear Quiche, Caramel Pork Ribs, Lemon- Pistachio Israeli Couscous, French fries, Salted Butter- Caramel Chocolate Mousse, Chocolate- Dulce de Leche Tart and French cheesecake. Those sure aren't your everyday recipes, are they? This is one special book.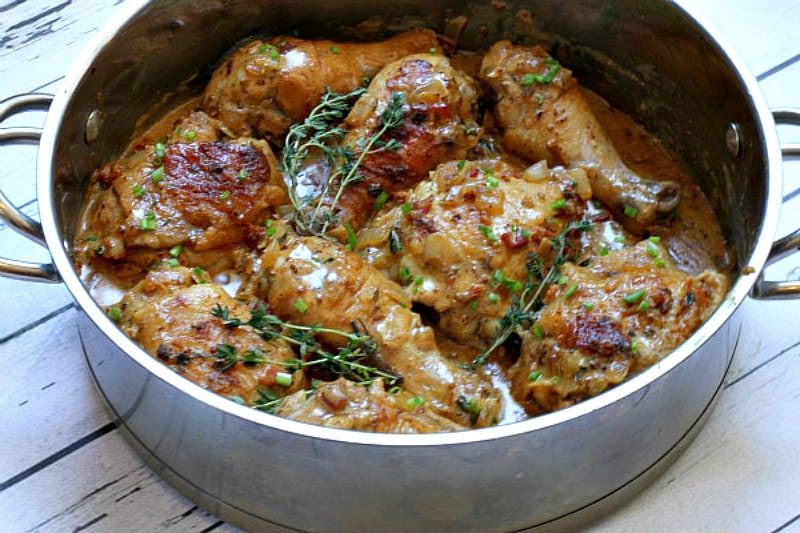 I've met David a few times and consider him a friend. We were at the same resort together in Mexico many years back, and I remember feeling so lucky to have been seated next to him at dinner. He was so down-to-earth and friendly, and we chatted a lot about blogging. We've kept in touch over the years, have run into each other at the occasional food conference, and we met for a glass of wine in Paris once. He's a good guy- a very talented chef and writer. I know that when I pick up a recipe to try from David Lebovitz, it's going to be a good one!
I recommend making Chicken with Mustard for a special occasion- it's that good. My family was blown away when I prepared this for a weeknight dinner. It felt special enough to serve at a dinner party. And it's a recipe to make again and again.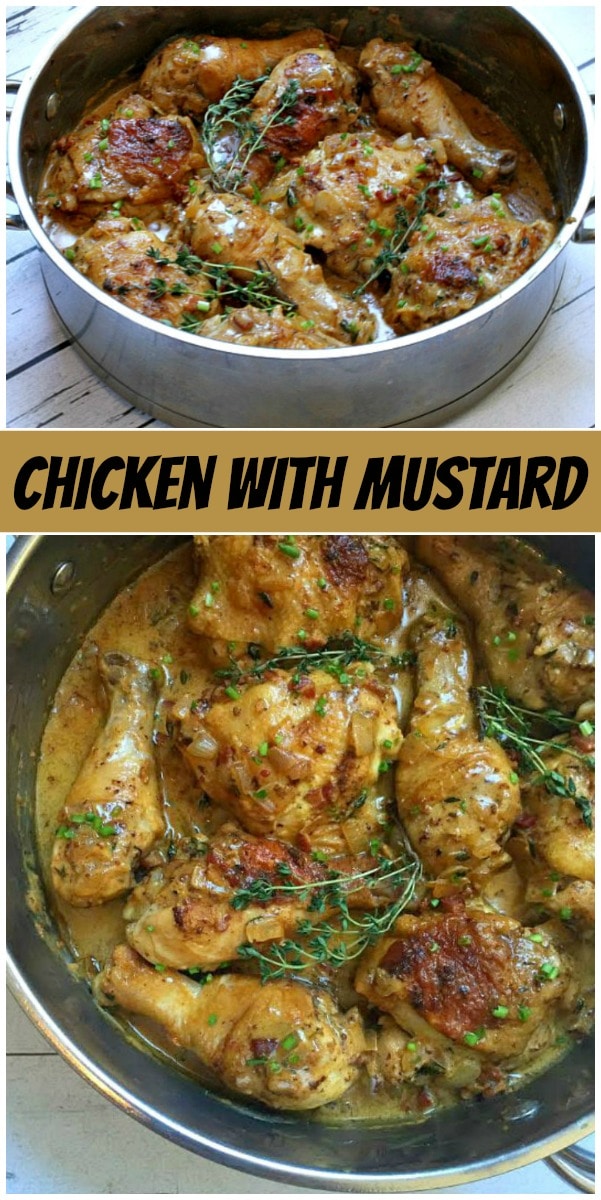 Here are a few more chicken recipes you might enjoy:
Chicken with Mustard
A restaurant-quality chicken recipe!
Recipe Details
Ingredients
CHICKEN:
1/2

cup

Dijon mustard

1/4

teaspoon

sweet or smoked paprika

freshly ground black pepper

3/4

teaspoon

sea salt or kosher salt

4

chicken thighs

4

chicken legs

1

cup

diced thick-cut bacon

1

small

onion,

peeled and finely diced

1

teaspoon

fresh thyme leaves

1

cup

white wine
SAUCE:
3

tablespoons

Dijon mustard

3

tablespoons

heavy cream or crème fraîche

1

tablespoon

whole grain mustard or whole mustard seeds

chopped parsley or chives,

for garnish (optional)
Instructions
PREPARE THE CHICKEN:
In a large bowl, combine the Dijon mustard with the paprika, a few grinds of pepper and the salt.  Add the chicken pieces to the mustard mixture and toss to combine.  Be sure to lift up the skin and rub the mustard mixture underneath. You can also choose to remove the skin and use skinless chicken.

Heat a large skillet or Dutch oven over medium-high heat and add the bacon.  Cook the bacon, stirring often, until it is browned and crisp.  Remove the bacon from the pan and drain on paper towels.  Leave about 1 tablespoon of bacon fat in the pan and discard the rest.  Add the onion to the bacon fat and cook for about 5 minutes, until soft and translucent.  Stir in the thyme, and let cook for another few minutes, and then scrape the cooked onion into a bowl.

If the pan is too dry, add a little olive oil to the pan and place the chicken pieces in the pan in a single layer (cook in two batches if they don't all fit). Cook over medium-high heat, browning the chicken pieces well on one side, then flip them over and brown them on the other side.  It's important to get the chicken nicely colored as the coloring- as well as the darkened bits on the bottom of the pan, called the fond- will give the finished sauce its delicious flavor.

Remove the chicken pieces and put them in the bowl with the onions.  Add the wine to the hot pan, scraping the darkened bits off the bottom with your spoon.  Return the chicken pieces to the pan along with the bacon and onions.  Cover and cook over low to medium heat, turning the chicken in the sauce a few times during cooking, until the chicken is cooked through, about 15 minutes.  Check doneness by sticking a knife into the meat next to the thigh bone; if it's red, continue cooking for a few more minutes.
ADD THE SAUCE:
In a small bowl, whisk together the two mustards and the cream. Remove the pot from the heat and stir in the sauce. If the sauce has reduced and is quite thick, you can thin it with a little warm water.  Sprinkle chopped parsley over the top and serve.
Nutrition
Serving:
1
serving
,
Calories:
649
kcal
,
Carbohydrates:
7
g
,
Protein:
54
g
,
Fat:
39
g
,
Saturated Fat:
13
g
,
Cholesterol:
269
mg
,
Sodium:
1574
mg
,
Potassium:
800
mg
,
Fiber:
2
g
,
Sugar:
2
g
,
Vitamin A:
360
IU
,
Vitamin C:
3
mg
,
Calcium:
66
mg
,
Iron:
3
mg