Indian Butter Chicken Recipe
Try our easy, make-at-home version of the restaurant classic – Indian Butter Chicken Recipe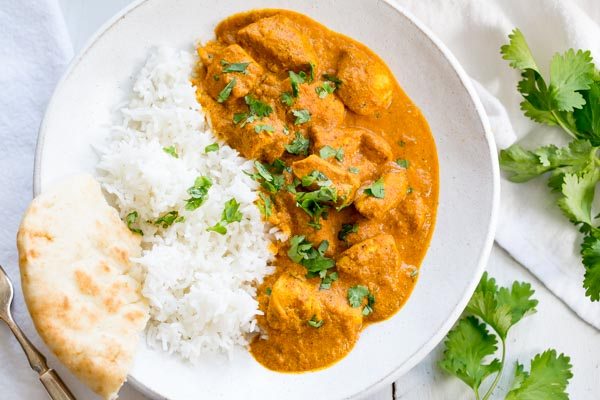 Indian Butter Chicken, also known as Chicken Makhani, is a classic, flavorful Indian dish. You control the heat so make it as spicy or mild as you want, but I say bring the heat! You can use boneless skinless chicken breasts or thighs in this dish, but for our table we prefer bite sized chunks of tender chicken breast.
To lighten the dish a little, we had great success substituting half-and-half for the cream, but feel free to use cream if prefer or have it on hand.
An Indian Butter Chicken recipe, Butter Chicken or Chicken Makhani can vary greatly from restaurant to restaurant, and region to region. Some are made with whole bone-in chicken thighs, but most experts agree the original recipe may have been created to use up leftover restaurant tandoori chicken. Tandoori chicken is an Indian delicacy, made by marinating chicken in a yogurt and spice mixture, then roasting in a clay oven. Since we don't have a cylindrical clay oven, we opted for an easy sautéed method featuring the same yogurt and spice marinated chicken.
We've added a little chili powder to give our recipe a smoky flavor like tandoori chicken may have, and of course cayenne for heat. If you happen to have Indian chili powder, which is pure ground chilies with no additives, I would use it and skip the cayenne in this recipe. Indian chili powder is more like cayenne, in flavor and heat, than standard chili powder.
We love the flavor of this tomato infused curry sauce, which is very similar to the other super popular Indian dish – Chicken Tikka Masala. As you may know, Chicken Tikka Masala is a British creation, while Butter Chicken is a dish from the Punjabi region of India. Butter Chicken tends to be less tomatoey and spicer than Chicken Tikka, and is often finished with a bit of butter melted into the sauce.
Chicken Tikka Masala may be made with less cream too, but both recipes include garam masala, fresh ginger, garlic and plenty of rich spices.
If you love tender chunks of marinated chicken, plenty of spice and a creamy hot sauce, then don't miss this company worthy dish! Serve with hot Basmati rice and Naan bread, and garnish with fresh cilantro for an incredible trip without leaving your kitchen!
Yield: 4 servings
Prep Time: 40 minutes
Cook Time: 30 minutes
Indian Butter Chicken Recipe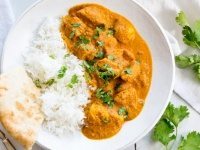 Ingredients:
For the Marinade:
7 ounces full-fat plain Greek yogurt (about 1 cup)
1 tablespoon lemon juice
2 teaspoons ground turmeric
2 teaspoons garam masala
1 teaspoon ground cumin
2 cloves garlic, minced
1 tablespoon fresh ginger, grated
2 pounds boneless, skinless chicken breasts or thighs, cut into bite-sized chunks
For the sauce:
1 tablespoon unsalted butter
1 tablespoon vegetable oil
1/2 cup onion, finely chopped
1 large clove garlic, minced
1 tablespoon fresh ginger, grated
1 teaspoon ground garam masala
1/2 teaspoon chili powder
1/4 teaspoon ground cayenne pepper
1/4 teaspoon salt (more or less to taste)
8 ounces tomato sauce (low sodium) or puree
2 tablespoons tomato paste
1 cup half-and-half
2 tablespoons unsalted butter
For serving:
hot cooked rice
chopped cilantro leaves
Directions:
To make the marinade: Combine all the marinade ingredients in a glass bowl. Toss to combine, cover and refrigerate up to 24 hours.
To make the sauce:  Heat 1 tablespoon of butter and the vegetable oil in a large non-stick skillet over medium heat. Add the onion and sauté until softened, about 3 minutes. Add the garlic and ginger and cook, stirring constantly for about 1 minute or until fragrant. Add the garam masala, chili powder, cayenne and salt. Stir and cook until fragrant, about 30 seconds. Increase the heat to medium-high and add the marinated chicken pieces. Don't worry about scraping out any remaining marinade mixture - just discard. Sauté until the chicken is no longer pink on the outside, about 5 minutes.
Add the tomato sauce and tomato paste and simmer uncovered for 15 to 20 minutes, stirring occasionally until the chicken is cooked through. Reduce the heat, and add the half-and-half and remaining 2 tablespoons of butter, and warm gently until the butter is melted. Remove from the heat. Serve over hot rice and garnish with chopped cilantro if desired.
SOURCE: RecipeGirl.com
Here are a few more Indian inspired recipes you might enjoy: