A delicious twist on weeknight chicken: Chicken Breasts with Curried Apple Stuffing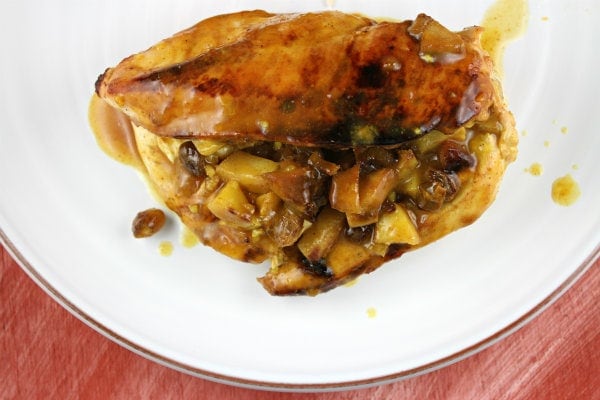 Chicken Breasts with Curried Apple Stuffing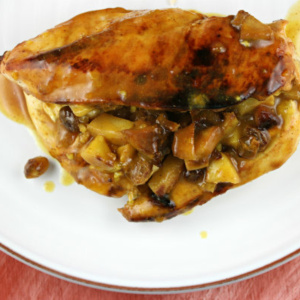 Yield:
4 servings
Prep Time:30 minutes
Cook Time:40 minutes
Ingredients:
2 teaspoons vegetable oil, divided
1/4 cup finely chopped onion
2 tablespoons finely chopped celery
1 3/4 cups peeled, chopped Granny Smith apple (about 3/4 pound)
1 3/4 teaspoons curry powder, divided
1/4 cup golden raisins
1/2 teaspoons minced garlic
1 10.5- ounce can low-salt chicken broth, divided
4 4-ounce skinless boneless chicken breasts
3/4 cup apple juice
1 clove garlic, minced
1 teaspoon cornstarch
1 teaspoon water
Directions:
Heat 1 teaspoon oil in a nonstick skillet over medium-high heat. Add onion and celery; sauté 5 minutes or until tender. Add apple and 1 teaspoon curry powder; sauté 3 minutes, or until apple is tender. Stir in raisins, 1/2 teaspoon minced garlic, and 1/3 cup broth; cook 4 minutes or until liquid almost evaporates. Spoon apple mixture into a small bowl; set aside.
Cut a horizontal slit through the thickest portion of each chicken breast half to form a pocket. Stuff about 1/4 cup apple mixture into each pocket.
Heat 1 teaspoon oil in skillet over medium-high heat. Add chicken, and cook 6 minutes on each side or until done. Remove chicken from skillet; set aside.
Add 3/4 teaspoon curry powder, remaining chicken broth, apple juice, and minced garlic clove to skillet. Bring to a boil; cook 5 minutes or until reduced to 1 cup.
Combine cornstarch and water; stir well. Add to broth mixture in skillet; stir with a whisk. Bring to a boil; cook, stirring constantly, 1 minute. Return chicken to skillet; cover and simmer 2 minutes or until heated. Serve sauce with chicken.
Tips:
If preparing this recipe as GLUTEN FREE, just be sure to use a brand of chicken broth that is designated as GF.
The apple-curry mixture is delicious. It's not a bad idea to double that part of the recipe and serve some on the side too!
Nutrition:
Nutritional Information per serving (Serving size:

1 breast half + 1/4 cup sauce) 

Calories:

238, 

Fat:

4g, 

Saturated Fat:

.61g, 

Sugar:

11.5g, 

Fiber:

2g, 

Protein:

28g, 

Cholesterol:

65.77mg, 

Carbohydrates:

23g

Weight Watchers POINTS: SmartPoints: 6, PointsPlus: 6, Old Points Program: 5