Delicious served up tucked inside flour tortillas with avocado, tomato and sour cream! This dish is gluten-free adaptable– please see notes below the recipe.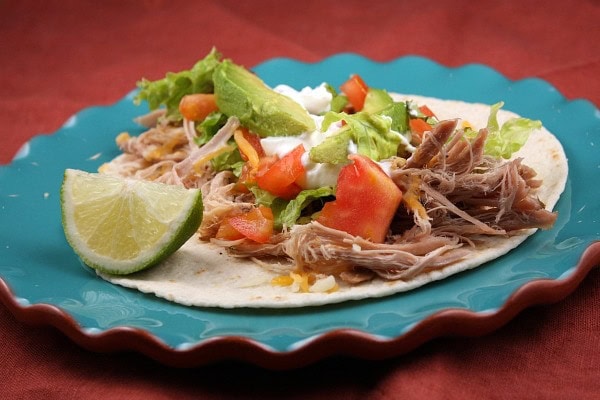 Carnitas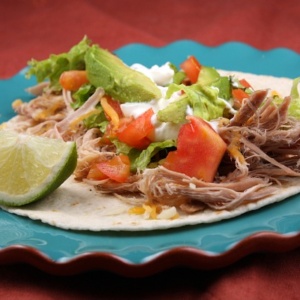 The pork turns out so moist. I cooked this overnight in a crockpot so it was ready to take for a lunch potluck the next day. Perfect!
Yield:
10 servings
Prep Time: 20 min
Cook Time: 6 hrs
Ingredients:
3 pounds bone-in pork roast (butt or shoulder)
water
1 large yellow onion, sliced
2 cloves garlic, peeled & smashed
1 Tablespoon dried oregano
1 Tablespoon ground cumin
garlic powder or salt to taste
For serving (optional):
flour or corn tortillas
Condiments: fresh cilantro, sliced onions, limes, salsa, sour cream, guacamole, tomato, cheese
Directions:
1. In the morning, place the pork in the crock pot and cover mostly with water. Add onions, garlic, oregano, and cumin into the water and around pork. Turn crock pot on HIGH for several hours (5-6), or cook on LOW for at least 8 hours. The meat should be tender and pull apart easily when done.
2. Just before serving, remove meat from crock pot with a slotted spoon and place in a foil lined pan. Meat should literally fall off the bone. Reserve some of the onions and discard water. Sprinkle the meat with garlic powder. Broil meat, fatty side up, for 5 more minutes so the meat is crispy on the outside. Watch so that it does not burn.
3. Remove from the broiler. Shred meat with two forks, discarding any fat that remains. Place in casserole dish and add reserved onions. Keep warm until ready to serve.
4. When ready to serve, place meat, tortillas and all condiments in bowls that can be self-served, either buffet style or on the table. Have the pork on its own, or tucked into tortillas with condiments.
Tips:
*Fresh tortillas are fun to use... find them in the dairy section of most markets. Cook the tortillas and keep them hot in a tortilla keeper. If preparing this recipe as GLUTEN FREE, just be sure to use GF corn tortillas.
*Leftover meat freezes well and is delicious served with barbecue sauce on buns.
Nutrition:
Nutritional Information per serving:
Serving size: meat only - divided into 10 servings
Calories per serving: 270
Fat per serving: 16g
Saturated Fat per serving: 5.5g
Sugar per serving: .5g
Fiber per serving: .5g
Protein per serving: 28g
Cholesterol per serving: 80mg
Carbohydrates per serving: 2g
WW POINTS per serving:
Points Plus Program: 7 Old Points Program: 7