I love this lighter recipe for Mu Shu Pork.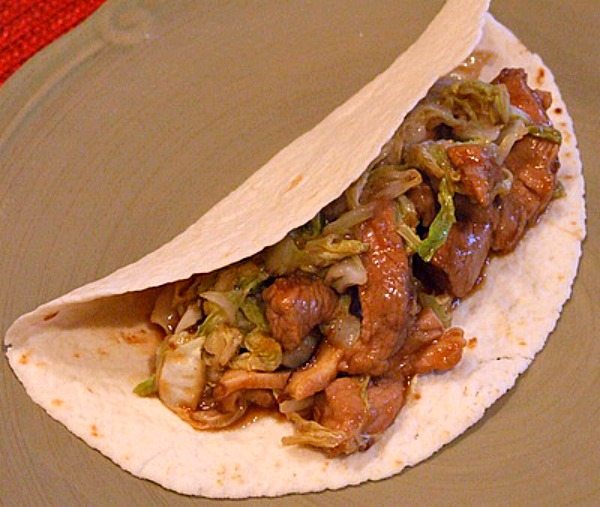 This is not your typical Mu Shu with the Chinese pancakes- this one is more like Mu Shu tacos!
Yield: 6 servings
Prep Time: 25 minutes
Cook Time: 12 minutes
Mu Shu Pork
Ingredients:
1 pound boneless pork tenderloin, trimmed of all visible fat, cut into thin strips
6 tablespoons dry sherry, divided
2 tablespoons + 2 teaspoons reduced-sodium soy sauce, divided
1 tablespoon + 1 teaspoon cornstarch, divided
1/2 teaspoon Asian (dark) sesame oil
1/4 cup hoisin sauce
Six 6-inch fat-free flour tortillas
1 tablespoon canola oil, divided
1/4 pound shiitake mushrooms, stemmed and thinly sliced
2 tablespoons minced peeled fresh ginger
3 cloves garlic, minced
12 ounces Chinese cabbage, thinly sliced
6 whole green onions, chopped
Directions:
Combine pork, 2 tablespoons of the sherry, 2 teaspoons of the soy sauce, 1 tablespoon cornstarch, and the sesame oil in a medium bowl; toss well to coat and set aside. Combine the remaining 4 tablespoons sherry, 2 tablespoons soy sauce, and 1 teaspoon cornstarch with the hoisin sauce in a small bowl; set aside.
Heat a nonstick wok or a large, deep skillet over medium-high heat until a drop of water sizzles. Swirl in 2 teaspoons of canola oil, then add the pork mixture. Stir-fry until just cooked through, 4 to 5 minutes; transfer to a plate. Swirl the remaining 1 teaspoon canola oil, then add the mushrooms, ginger and garlic. Stir-fry until softened, 3 to 4 minutes. Add the cabbage and 2 Tablespoons water; stir-fry until cabbage wilts and is crisp-tender, 2 to 3 minutes. Add scallions, pork and sherry mixture. Cook, stirring constantly, until the mixture boils and thickens, about 1 minute.
Wrap tortillas in a damp paper towel and microwave until hot.
Spoon about 2/3 cup of the pork mixture onto each tortilla, roll up and serve.
Nutritional Information per serving (Serving size:

1/6th of the recipe) 

Calories:

289, 

Fat:

8g, 

Saturated Fat:

1.5g, 

Sugar:

2.5g, 

Sodium:

636mg, 

Fiber:

1.75g, 

Protein:

21.5g, 

Cholesterol:

49.5mg, 

Carbohydrates:

29.5g

Weight Watchers POINTS per serving:  Freestyle SmartPoints: 6, Points Plus Program: 7, Old Points Program: 6
Comments