Easy, lighter version of the Asian take-out classic:  Sweet and Sour Pork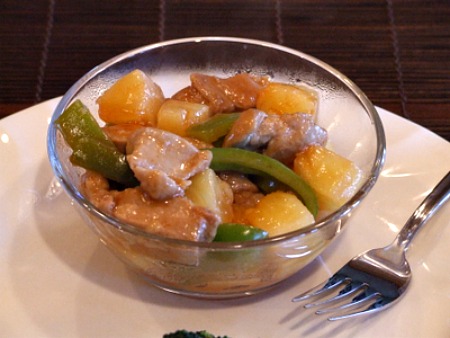 Sweet and Sour Pork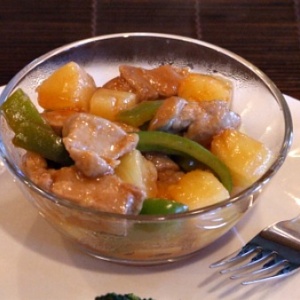 A very acceptable replacement for the full-fat version. Flavorful and filling, even without rice.
Yield:
4 servings
Prep Time:30 minutes
Cook Time:10 minutes
Ingredients:
1 pound pork tenderloin, trimmed of all visible fat, cut into 1/2-inch cubes
2 tablespoons cornstarch
1/3 cup water
1/4 cup rice vinegar
1/4 cup granulated white sugar
3 tablespoons ketchup
2 tablespoons low-sodium soy sauce
1 tablespoon canola oil
1 tablespoon minced peeled fresh ginger
2 cloves garlic, minced
1 medium green bell pepper, seeded and cut into 1/2-inch pieces
One 8-ounce can pineapple chunks in juice, drained
Directions:
Combine pork with 1 tablespoon cornstarch in a medium bowl; toss well to coat and set aside. Combine the remaining 1 tablespoon cornstarch, water, vinegar, sugar, ketchup, and soy sauce in a small bowl; set aside.
Heat a nonstick wok or large, deep skillet over medium-high heat until a drop of water sizzles. Swirl in the oil, then add the pork. Stir-fry until almost cooked through, 2 to 3 minutes. Add ginger and garlic. Stir-fry until fragrant, about 30 seconds. Add bell pepper and pineapple; stir fry until crisp-tender, about 3 minutes. Add vinegar mixture and cook, stirring constantly, until the mixture boils and thickens and the pork is just cooked through, 1 to 2 minutes.
Tips:
This recipe is gluten-free adaptable- just be sure to use brands of ketchup, soy sauce and pineapple that are GF.
Nutrition:
Nutritional information per serving (Serving size:

1 cup) 

Calories

285, 

Fat

7.5g, 

Saturated Fat

1.6g, 

Sugar

21g, 

Fiber

1.5g, 

Protein

25g, 

Cholesterol

73.75mg, 

Carbohydrates

35.5g

Weight Watchers POINTS:  Freestyle SmartPoints: 7, SmartPoints:  7, Points Plus Program: 8, Old Points Program: 6