One of my favorite hearty appetizers are these Classic Egg Rolls. Nothing fancy, but just good filling ingredients, seasoned well, and fried in crispy egg roll wrappers!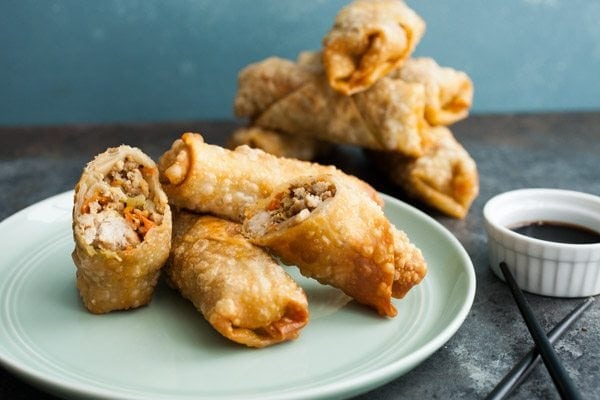 For me, the egg roll is right on the line between appetizer and meal. These hearty pork and cabbage filled rolls can feed a crowd as a sturdy appetizer, but pile 3 to 4 of them on a plate and they make for a pretty great meal on their own.
Learn how to make these and you can always be minutes away from perfect, classic egg rolls. I bet you can even beat the take out delivery!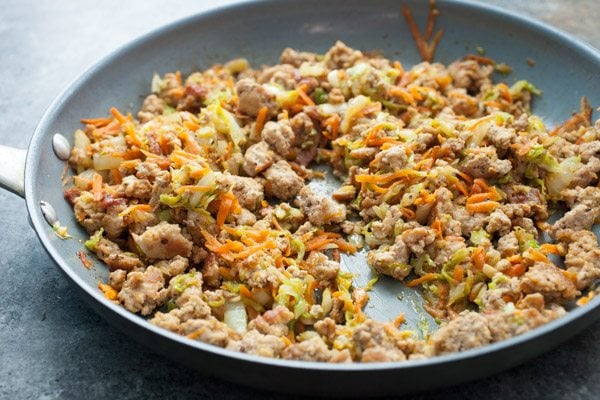 The filling for this recipe is nothing fancy. I like to use ground pork, browned and seasoned with soy sauce and black pepper and then stir-fried lightly with cabbage, carrots, and garlic.
Once the filling is cooked, taste it and adjust the seasoning to your liking, but let it cool to room temperature before you try to make the rolls.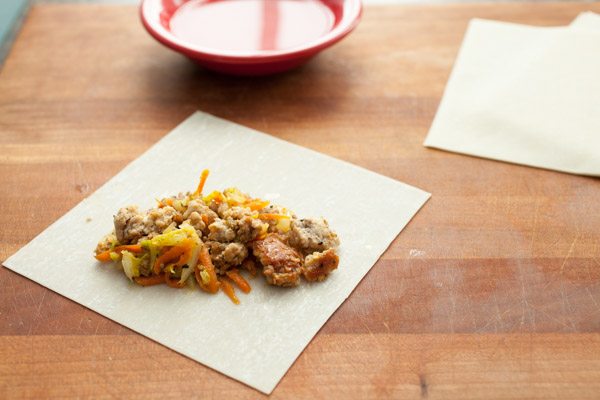 I think the square egg roll wrappers are easier to work with, although the round ones will work also.
Add 2 to 3 tablespoons of filling to center of a wrapper and brush the edges with water. Then fold over the ends and roll it into a tight cylinder.
Fry the egg rolls in a shallow skillet of oil for 2 to 3 minutes per side until they are brown and crispy.
Perfection!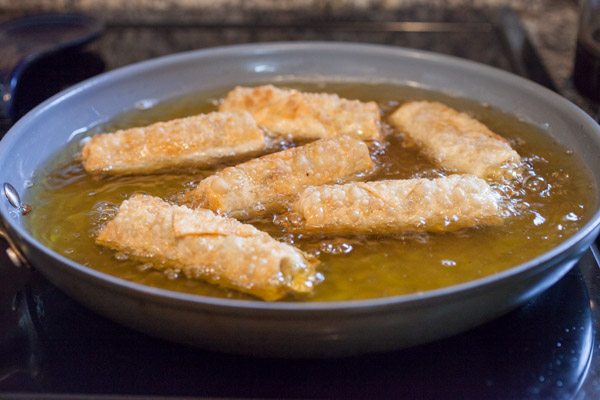 Let the cooked egg rolls drain on a few paper towels and serve them with soy sauce for dipping. I like to slice mine on a diagonal for easier dipping!
Try these out the next time you're craving egg rolls, which is probably right now!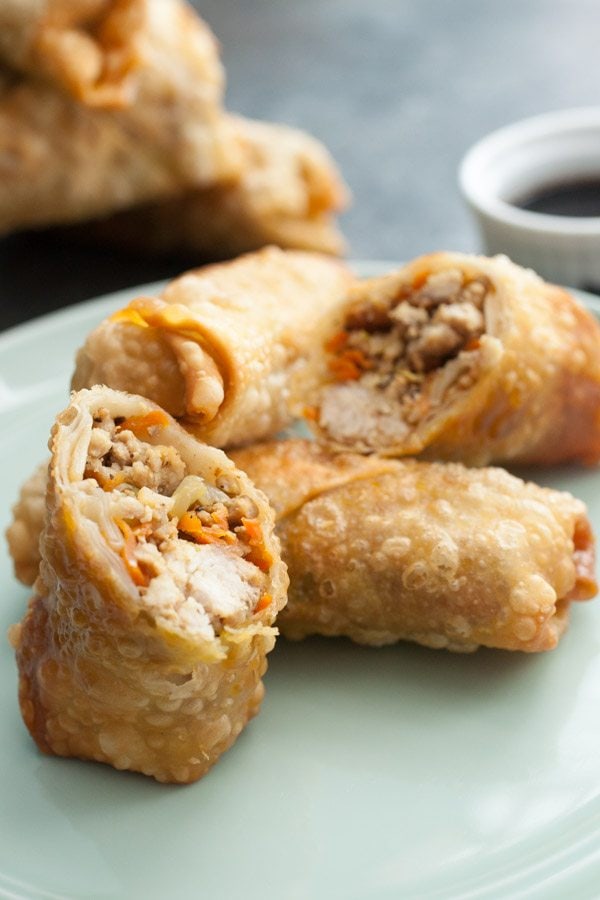 Classic Egg Rolls
Yield:
Makes 10-12 egg rolls
Prep Time: 45 minutes
Cook Time: 15 minutes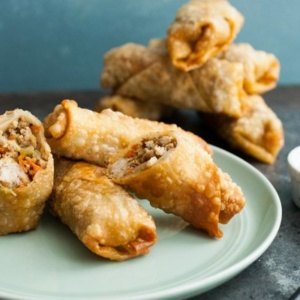 Ingredients:

1 pound ground pork
1 tablespoon canola or vegetable oil
1 teaspoon black pepper
1 tablespoon soy sauce
2 cups shredded Napa cabbage
2 carrots, peeled and grated
3 cloves garlic, minced
Egg roll wrappers
1 quart vegetable oil, for frying
Soy sauce, for dipping

Instructions:

In a large skillet over medium heat, add ground pork and 1 tablespoon canola oil. Cook the pork, breaking it up as it cooks, until it's browned in spots and cooked through. Season pork with soy sauce and black pepper.
Add shredded cabbage and carrots to the skillet and stir to combine. Add garlic and cook for 2 to 3 minutes until veggies start to wilt. Remove mixture from heat and let cool to room temperature.
To make an egg roll, place 2 to 3 tablespoons of filling in the center of an egg roll wrapper. Brush the outside of the wrapper with water. Fold the ends over the and roll the egg roll into a tight cylinder. Repeat until you run out of filling. You should get 10 to 12 egg rolls.
When ready to cook, heat oil in a heavy pot or cast iron skillet over medium heat. If you want to test if the oil is ready, place in an extra egg roll wrapper to see if it fries and bubbles.
Fry egg rolls for 2 to 3 minutes per side, working in batches, until the egg rolls are browned and crispy. Remove and let drain on a few paper towels. Serve egg rolls while warm with soy sauce!
SOURCE: RecipeGirl.com
Here are a few other appetizers you might enjoy: