Here's a most delicious main-dish salad recipe: Asian Chicken Salad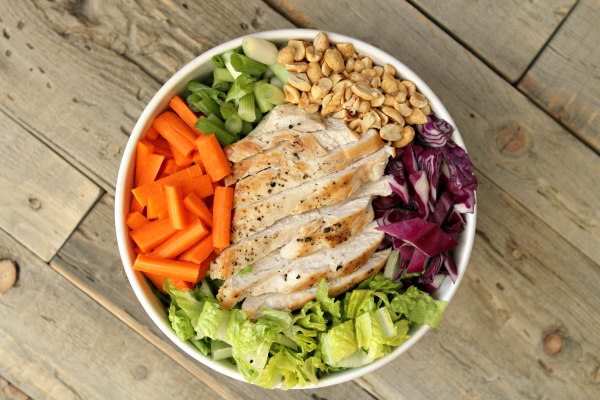 I am thrilled to be sharing this salad recipe with you today because it has the most amazing, addicting salad dressing recipe to go with it.  This salad is all about the dressing!  It's a peanut buttery dressing that goes perfectly with the chicken.  I just wanted to keep sticking my finger in the dressing and tasting it.  Yum!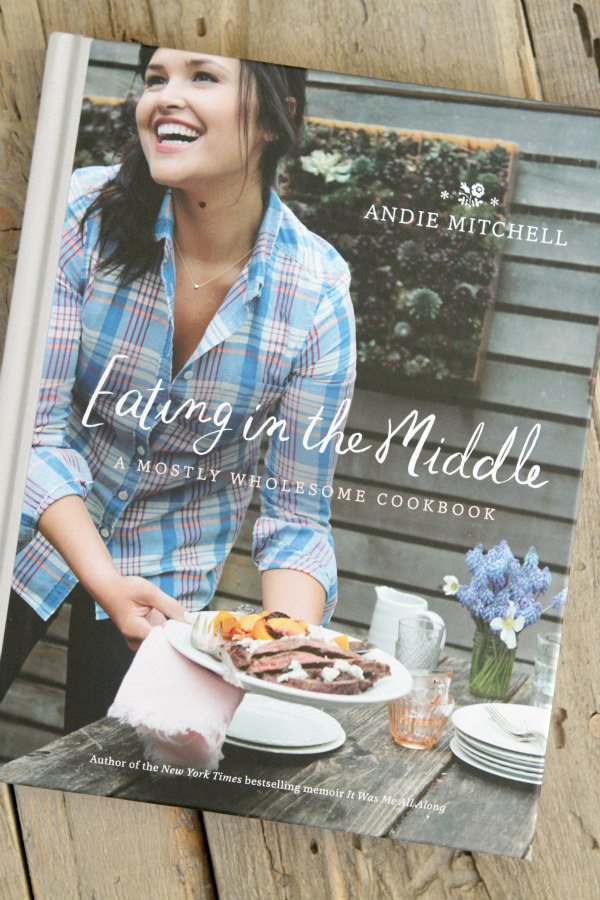 This recipe comes from the fabulous new cookbook from my friend Andie Mitchell:  Eating in the Middle: A Mostly Wholesome Cookbook.  Andie's New York Times bestseller: It Was Me All Along chronicled her struggles with obesity, losing weight and finding balance.  This is her first cookbook- sharing with readers the dishes that helped her reach her goals and maintain her new size.  I love that Andie cooks like normal people do (or should!)  She cooks mostly healthy meals… and includes some indulgences too.  It's the only way to live!!
Here are some recipes I've tagged to make from the book:  Baked Banana Bread Doughnuts, Sweet Potato Hash, Tuna- Orzo Salad with Parmesan and Basil, Petite Lasagnas, Smashed Roasted Garlic Potatoes, Cauliflower with Bacon, Jerk Shrimp Salad with Mango and Avocado, Creamy Farro with White Beans & Kale, Lemon Roasted Chicken with Moroccan Couscous, Lemon Cream Risotto, Gooey Chocolate Chip Pie and Coconut Oatmeal Cookies with Caramel Drizzle.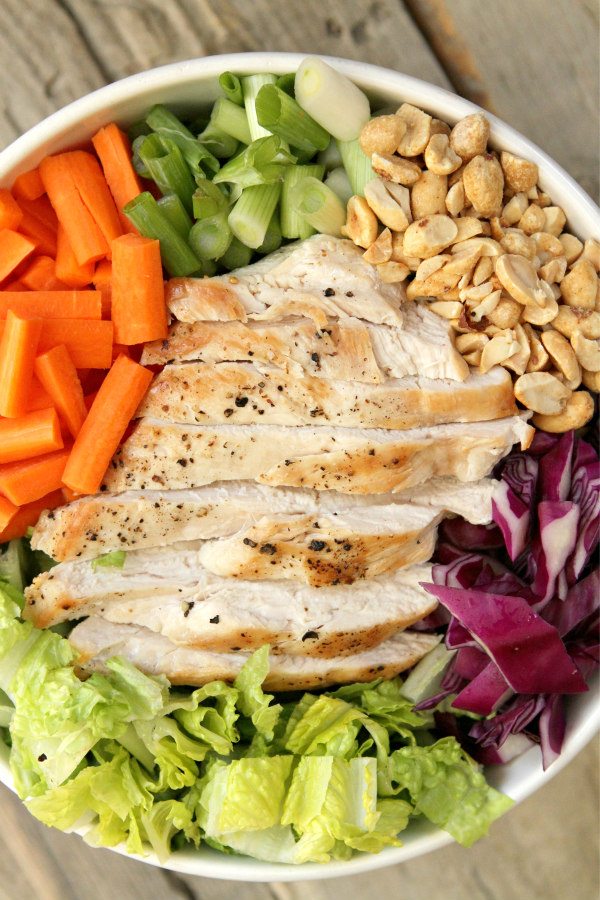 A salad packed with protein is my absolute favorite thing to eat for lunch.  It's filling and healthy, and it gets me through the rest of the day without feeling like I need to munch on everything in sight.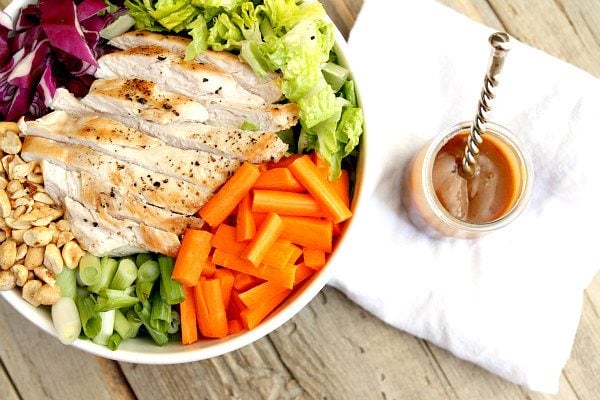 And there is that peanut buttery salad dressing I crave so much.  It coats the lettuce and other salad goodies perfectly and provides such a delicious flavor to the salad.
This is my kinda lunch recipe … and I'd actual love it for dinner any day of the week.  You can bet that I'll be researching more ways to use that oh-so-good salad dressing too!
Asian Chicken Salad
Yield:
4 servings
Prep Time: 30 minutes
Cook Time: 15 minutes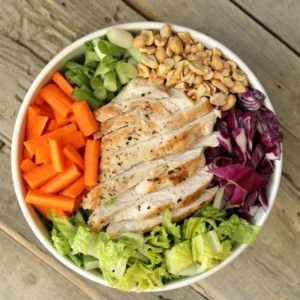 Ingredients:

Dressing:

1/4 cup creamy natural peanut butter
2 tablespoons honey
1 tablespoon low-sodium soy sauce
juice of 1/2 lime
pinch of cayenne pepper

Salad:

1 pound boneless skinless chicken breasts
1/4 teaspoon salt
1/4 teaspoon freshly ground black pepper
2 teaspoons extra virgin olive oil
2 romaine lettuce hearts, chopped (about 6 cups)
2 cups finely shredded red cabbage (about 1/4 head)
2 large carrots, cut into matchsticks (about 1 cup)
3 scallions, white and light green parts, chopped (about 1 cup)
1/2 cup chopped unsalted peanuts
1 lime quartered, for serving

Instructions:

For the dressing:  In a small bowl, whisk together the peanut butter, honey , soy sauce, lime juice and cayenne until smooth.  It's okay to add a little bit of water to thin it out, if needed.
For the salad:  season the chicken breasts with the salt and pepper.  In a 12-inch nonstick skillet, heat the oil over medium-high heat.  Add the chicken and cook until golden brown and cooked through, about 8 minutes per side.  Transfer to a plate and let cool before slicing into thin strips.
In a large bowl, toss the romaine, cabbage, carrots and scallions.  Add the sliced chicken, drizzle the dressing over the top, and toss gently to coat.  If the dressing is too thick, it's okay to thin it out with a little bit of water... or you can heat it in the microwave to serve as a hot dressing.
To serve, divide the salad among 4 plates or bowls, sprinkle with the chopped peanuts, and garnish with lime quarters.

Nutrition:

9 Weight Watchers Freestyle SmartPoints per serving (4 servings)
If you are preparing this recipe as GLUTEN-FREE, just be sure to use brands of peanut butter and soy sauce that are known to be GF.

SOURCE:

 RecipeGirl.com (shared with permission from

Eating in the Middle

by Andie Mitchell: Clarkson Potter/Publishers 2016))
Here are a few more of Andie's recipes you might enjoy:
Disclosure:  There are Amazon affiliate links included in this post.