Maple Glazed Pork Tenderloin is a sweet glazed ultra tender cut of pork that will leave your dinner guests ranting and raving over your skills in the kitchen.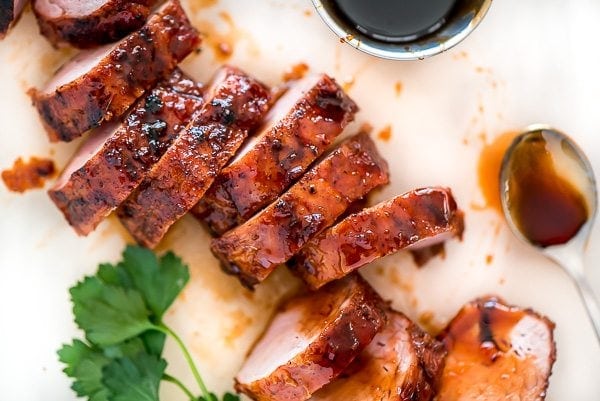 We're not huge pork fans but when we have it, we like it super tender cooked in the slow cooker, or we go for a cut that's already tender like in this Maple Glazed Pork Tenderloin. And it's even more delicious because it's coated in layers of sugar. My sweet tooth was sure loving this meal!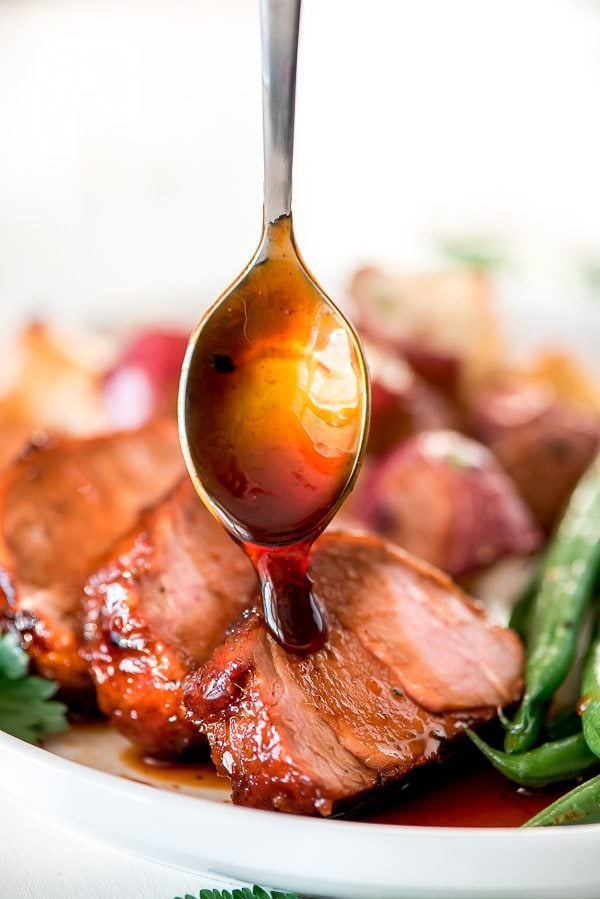 How is this amazing pork tenderloin made? First, it's coated in a light layer of cornstarch, sugar, salt, and pepper. After that, you sear it on all sides to keep the juice in and give it a beautiful browned crust.
Then you place it on a rack within a baking pan. A rack isn't totally necessary so if you don't have one, just set it directly on the pan. Before popping the loins in the oven, you baste them with a mixture of maple syrup, molasses, balsamic vinegar, paprika, and fresh ginger. So so good!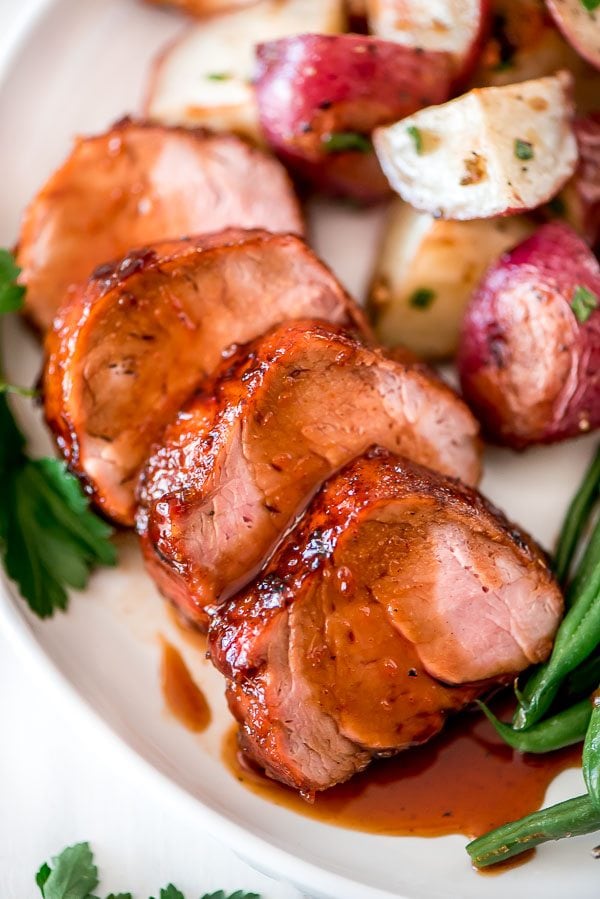 It's my philosophy to "triple dip" or "triple baste" my meat, especially when using a sweet sauce so that you get as much stuck to the outside as possible. So after the pork cooks in the oven for while, you then pull it out and add more of the sweet glaze. You repeat this a couple more times until you're out of sauce and the pork is up to temperature- at least 145 degrees F. I prefer mine closer to 155.
Once done, it's important to let the pork rest so that it doesn't lose its juices when you cut into it. Then slice and serve the pork with more of the maple sauce you reserved. Oh man, it this scrumptious!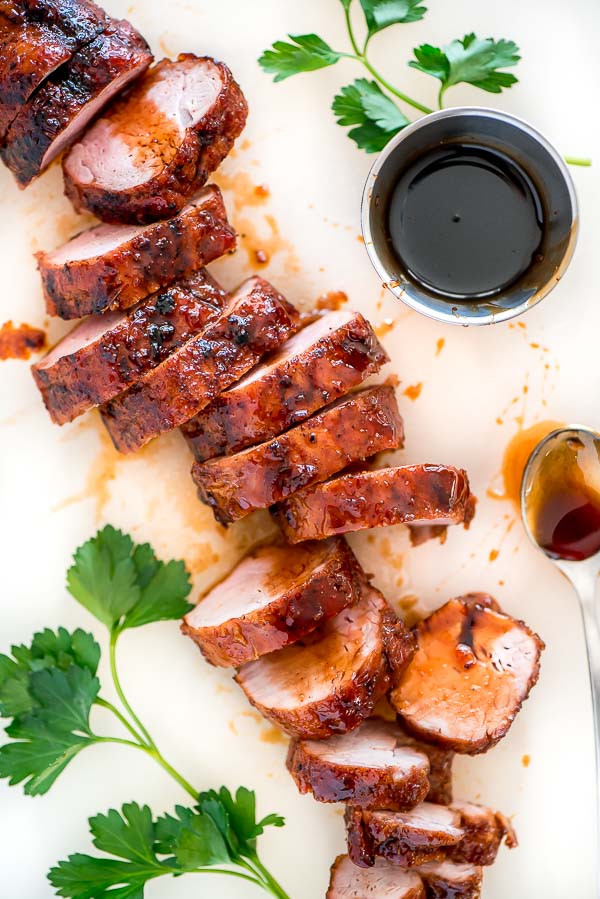 Since the pork has enough sweetness, I decided to serve it with roasted garlic potatoes and steamed green beans. The sweet and salty combo was perfect and the neutral beans were a nice balance to the strong flavors of the pork and the potatoes. Serve this meal to your next dinner guests and they'll be begging to come back again.
Maple Glazed Pork Tenderloin
A sweet glazed ultra tender cut of pork that's perfect for a weeknight dinner or entertaining.
Recipe Details
Ingredients
7

tablespoons

maple syrup,

divided

¼

cup

molasses

2

tablespoons

balsamic vinegar

1

teaspoon

grated fresh ginger

¼

teaspoon

paprika

3

tablespoons

cornstarch

1½

tablespoons

granulated white sugar

2

teaspoons

salt

1½

teaspoons

black pepper

2

tablespoons

vegetable oil

Two

1 to 1½ pound

pork tenderloins
Instructions
Preheat the oven to 375 degrees F. Line a pan with foil and place a cooking rack on top. Set aside.

Mix ¼ cup maple syrup, molasses, vinegar, ginger and paprika together in a liquid measuring cup and set aside.

Line another baking sheet with foil (for easy clean up) and add cornstarch, sugar, salt, and pepper to the middle of the pan, mix it together and spread it out. Pour oil in a large non-stick skillet and heat over medium-high heat.

Pat the tenderloins dry with a paper towel and then dredge in the cornstarch mixture. Shake off excess and then place in the heated pan. Repeat with the other loin and place an inch apart from the other loin. Sear on all sides (about 8 to 10 minutes).

Place tenderloins on rack. Pour off any fat in the skillet and then add the syrup mix and cook for 3 minutes while stirring and scraping the bottom of the pan. Turn off heat. Remove 3 tablespoons of the sauce from the pan and set aside. Brush the tenderloins with a tablespoon (each) of the glaze left in the pan. Place in the oven for 15 minutes, remove, and baste again. Repeat basting every 4 minutes (about 2 to 3 times) until the internal temperature of the thickest part is at least 145 degrees. (I like mine at 150-155 F) Remove from oven and let rest 10 minutes.

While the pork rests, mix the remaining 3 tablespoons of maple syrup with the syrup mixture you reserved. Brush 1 tablespoon onto loins, slice, and serve with remaining sauce for drizzling over.
Nutrition
Serving:
1
serving
,
Calories:
383
kcal
,
Carbohydrates:
34
g
,
Protein:
40
g
,
Fat:
9
g
,
Saturated Fat:
2
g
,
Polyunsaturated Fat:
3
g
,
Monounsaturated Fat:
3
g
,
Trans Fat:
0.1
g
,
Cholesterol:
123
mg
,
Sodium:
884
mg
,
Potassium:
1028
mg
,
Fiber:
0.2
g
,
Sugar:
28
g
,
Vitamin A:
44
IU
,
Vitamin C:
0.02
mg
,
Calcium:
68
mg
,
Iron:
3
mg
Here are a few more pork recipes you might enjoy: