One of my favorite things to make for dinner:  Sweet and Spicy Pork Tenderloin Recipe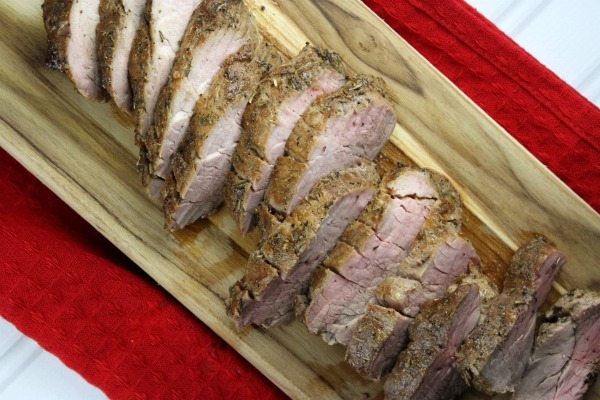 I'll never be a vegetarian.  I'm a big time carnivore.  I love eating meat for dinner, so you'll rarely see a vegetarian dish on my family's dinner table.  Beef is my favorite, but a nice and juicy pork tenderloin runs a close second.  This recipe has been running around in my family for a zillion years.  It's super simple- just a quick and flavorful marinade in which the pork spends a few hours hanging out, then baked until cooked through but still tender.
I like to cook it with a small puddle of the marinade sitting on the bottom of the dish.  This ensures that the final result will be perfectly juicy.  When tenderloin is cooked just right, it truly melts in your mouth.  And it's one of those meats that is really very easy to make too!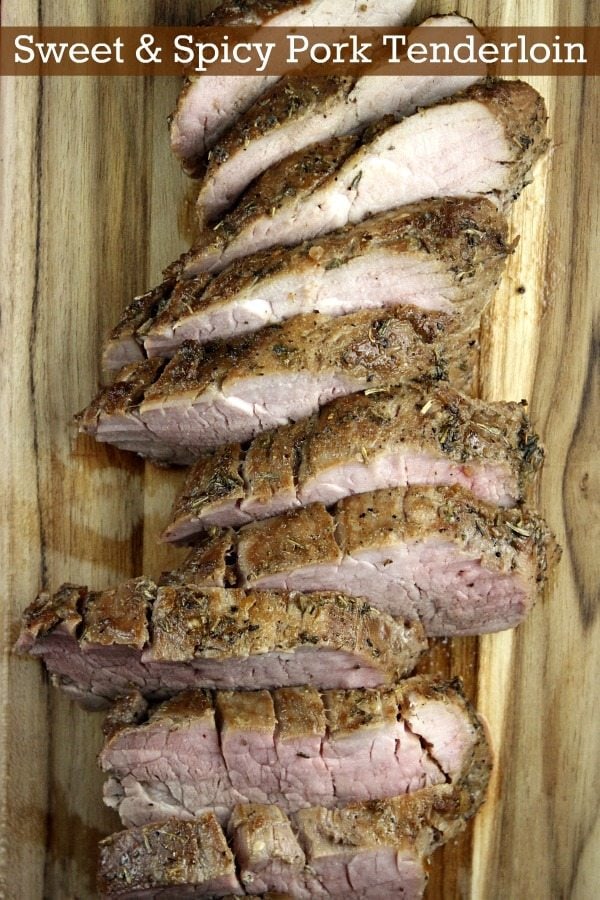 This recipe has a little bit of sweet and a little bit of spice (not spicy hot… just spicy like a little bit of cinnamon and onion/garlic).  I have made this recipe dozens of times, and my family loves it every single time.  It's great with rice, couscous, or vegetables.  I'll be sharing the side dish that I served with it tomorrow.
I hope you enjoy one of my family's favorite recipes!
Sweet and Spicy Pork Tenderloin
Yield:
4 servings
Prep Time: 15 min
Cook Time: 30 min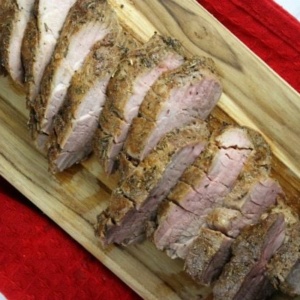 Ingredients:

1/4 cup soy sauce
1/4 cup packed brown sugar
3 tablespoons sherry
1 1/2 teaspoons onion powder
1 teaspoon ground cinnamon
2 tablespoons olive oil
1/2 teaspoon garlic powder
1 1/2 pounds pork tenderloin

Instructions:

1. In a large zip baggie, mix soy sauce, sugar, sherry, onion powder, cinnamon, olive oil and garlic powder. Swish around to mix. Add the pork and seal the bag. Refrigerate to marinate at least 6 hours, or overnight.

2. Preheat oven to 400 degrees F. Spray a medium casserole dish with nonstick spray. Drain the pork, reserving the marinade, and place it into the dish. Pour a little of the marinade into the dish with the pork. Bake the tenderloin 25 to 35 minutes, or until meat thermometer registers 145° F. Slice into medallions.

3. Heat marinade to boiling and drizzle it onto the pork (if you wish).

Tips:

*The tenderloin may also be grilled. Place tenderloins on oiled grill and cook 20 minutes, or to desired doneness.
*If you are preparing this recipe as GLUTEN-FREE, just be sure to use GF soy sauce.
Other pork tenderloin recipes you may enjoy:
Indonesian Pork Tenderloin by Tide and Thyme
Easy, Pan-Fried Pork Tenderloin with Mustard Sauce by Kalyn's Kitchen
Herb-Crusted Pork Tenderloin with Red Onion Jam by RecipeGirl
Pork Tenderloin Diane by For the Love of Cooking
Pork Tenderloin with Warm Grilled Tomato Salsa by Steamy Kitchen