These Black Bean Mango Burritos are so light and tasty. You'll be shocked to find that they're lower in fat and are Weight Watchers friendly.
If you're following the Weight Watchers program, one burrito is counted as 5 Freestyle SmartPoints.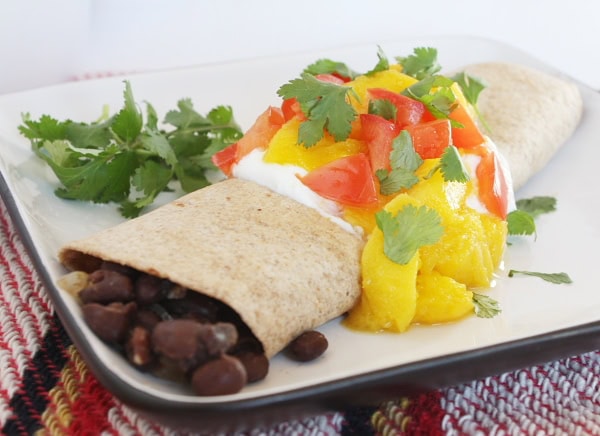 Black Bean Mango Burritos
Yield:
6 burritos
Prep Time: 25 minutes
Cook Time: 15 minutes
Ingredients:
6 medium fat-free flour tortillas
1 tablespoon olive oil
1 cup coarsely chopped yellow onion
2 cloves garlic, minced
1 teaspoon ground cumin
1/8 teaspoon freshly ground black pepper
pinch of red pepper flakes
dash of Tabasco sauce
1 (15 ounce) can black beans, rinsed and drained
1 1/2 cups diced mango (about 1 large mango)
1 tablespoon light brown sugar
1 tablespoon fresh lemon juice
1/2 cup coarsely shredded low fat Cheddar cheese
1/2 cup low fat plain yogurt (or low fat sour cream)
1 cup diced fresh tomato
1/2 cup coarsely chopped fresh cilantro
Directions:
Preheat oven to 350°F. Wrap stack of tortillas in aluminum foil, set in oven, and warm 5 to 7 minutes.
Meanwhile, heat olive oil in large heavy skillet over moderately high heat until ripples appear on skillet bottom- 1 1/2 to 2 minutes. Add onion and sauté, stirring often, until limp- about 3 minutes. Add garlic, cumin, black pepper, red pepper flakes, red pepper sauce, and black beans. Cook and stir just until heated through- about 2 minutes. Set off heat but keep warm.
Heat mango, brown sugar, and lemon juice in small nonreactive skillet over moderately high heat just until mango softens and juices appear- about 1 minute.
To assemble burritos, place 1/3 cup black bean mixture down the center of each tortilla, then sprinkle with cheese, dividing total amount evenly. Roll tortillas up and place seam sides down on six dinner plates.
5. Dividing all amounts equally, top tortillas with yogurt, then mango mixture, then diced tomatoes and chopped cilantro. Serve immediately.
Tips:
If you're just going to assemble them individually, you may wish to microwave the tortillas. Place one tortilla on a plate, then add bean mixture & sprinkle cheese on top. Microwave until hot and then continue with assembling.
Nutrition:
Nutritional Information- Per Serving per burrito Calories 245, Calories from Fat 48, Total Fat 5.3g, Sat Fat 1.3g, Cholesterol 3.5mg, Sodium 485g, Potassium 476mg, Carbohydrates 40g, Dietary Fiber 6.5g, Sugar 12g, Net Carbs 33.5g, Protein 11g
Weight Watchers POINTS per serving (per burrito):  Freestyle SmartPoints: 5, Points Plus Program: 6, Old Points Program: 6
SOURCE: RecipeGirl.com (Adapted from GMA's Cutting the Calories Cookbook)
Here are a few more burrito recipes you might enjoy: