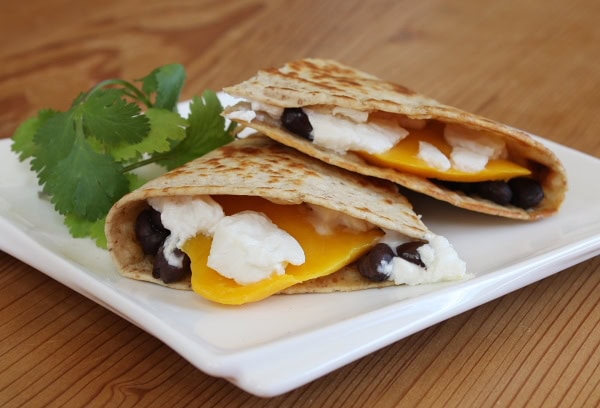 Mango, Black Bean & Goat Cheese Quesadilla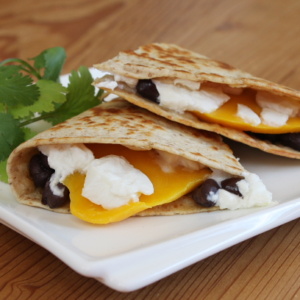 This unique quesadilla recipe combines goat cheese with the sweet flavor of mango. The addition of black beans makes it feel more like 'dinner.'
Yield:
Serves 4 (2 quesadilla wedges per serving)
Prep Time:10 minutes
Cook Time:5 minutes
Ingredients:
2 medium fat-free flour tortillas
2 ounces goat cheese, crumbled
1 mango, peeled & sliced into small pieces
4 ounces canned black beans, drained & rinsed
Directions:
1. Coat both sides of tortillas with cooking spray. Place tortilla in hot skillet to brown. Flip tortilla and add cheese, mango and beans on half of the tortilla. Cook until tortilla browns. Fold over tortilla to cover ingredients, flip and cook the other side; remove tortilla to a cutting board. Repeat with second tortilla.
3. Cut each tortilla into 4 wedges and serve immediately.
Nutrition:
Nutrition Facts -Amount Per Serving of 2 quesadilla wedges
Calories 173, Calories From Fat (25%) 43, Total Fat 4.8g, Sat Fat 2.3g, Cholesterol 6.5mg, Sodium 228.6mg, Carbohydrates 26.7g, Dietary Fiber 2.8g, Sugar 7.8g, Net Carbs 24g, Protein 7g
WW POINTS per serving:
Points Plus Program: 5 Old Points Program: 3
Source: www.RecipeGirl.com