These Easy Dinner Rolls are a super popular recipe. Add them to your dinner menu, and everyone at your table will be so happy!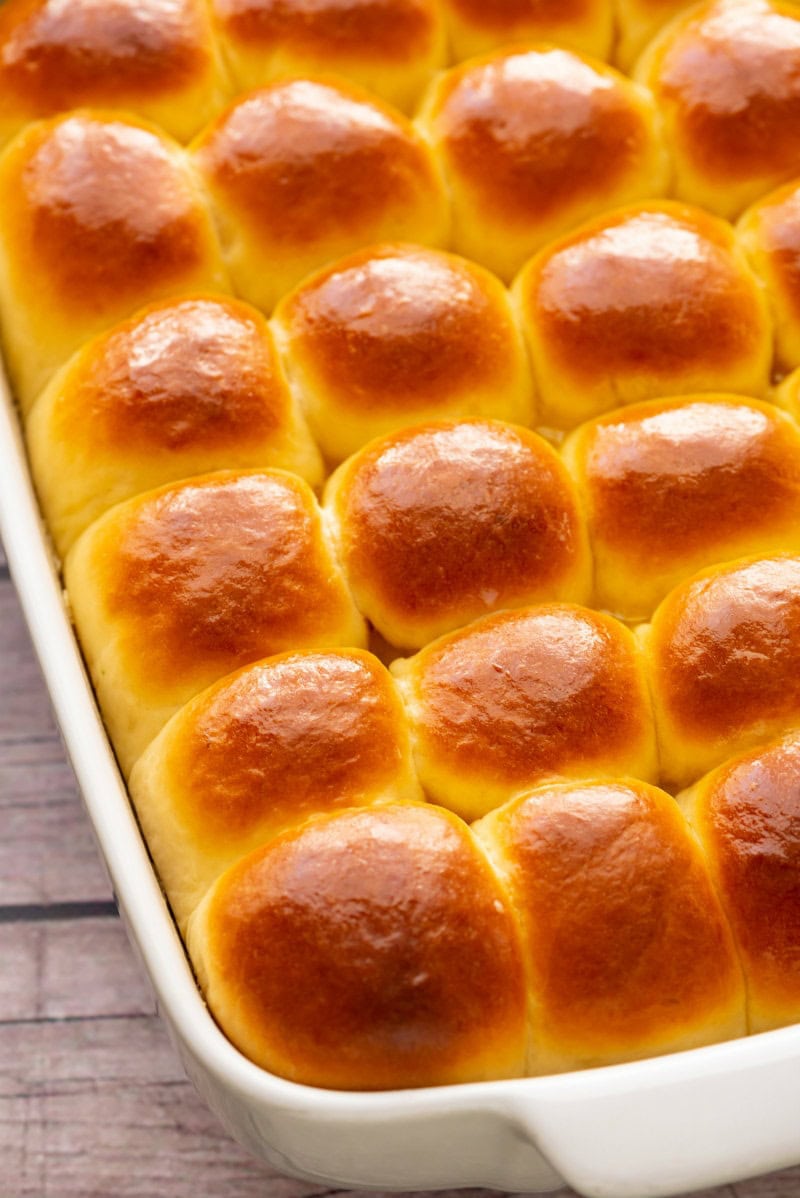 It's easy enough to buy rolls at the store, add them to your meal plan and call it a day. But have you ever made homemade rolls? It might seem intimidating (and some recipes are), but these rolls are really easy to make. They're totally worth the time. And they turn out incredibly tender and buttery and delicious!
Read through the comments on this recipe, and you'll see some very positive reviews. Many people have made these for their holiday dinners, and they have been very happy with the results! And be sure to watch the video that shows you how to make the recipe.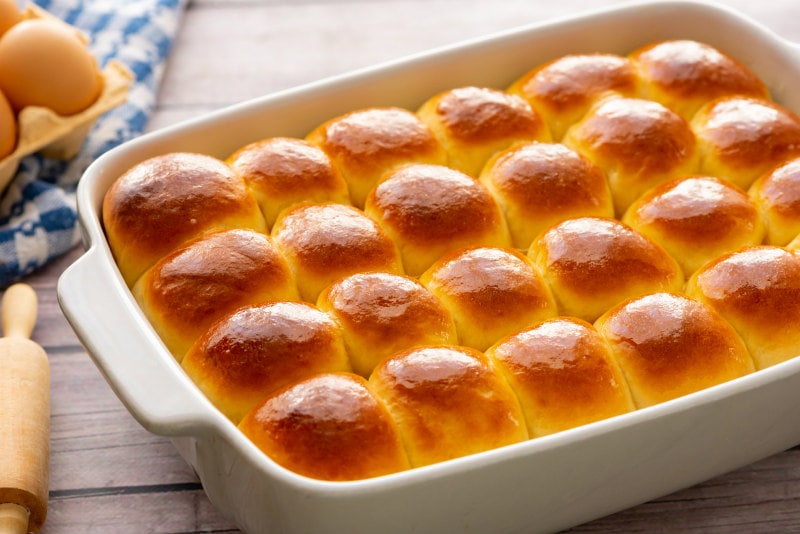 How to make Easy Dinner Rolls:
You'll start by combining warm water with yeast. The recipe calls for active dry yeast. RecipeGirl readers have indicated that they've tried this recipe using quick rising yeast and they've had similar results. When you combine water with yeast, it'll become foamy after a few minutes. If the foam action doesn't happen, your yeast is probably old and not active. Be sure to use freshly purchased yeast!
Then you'll be stirring in melted butter, eggs, sugar and salt. Flour is stirred in last, until the dough is no longer sticky. The dough is then placed in a greased bowl. At this point, the dough is covered with plastic wrap and the dough is refrigerated. It can be refrigerated anywhere from 2 hours to up to 4 days. This is excellent news since that means this is a good make-ahead recipe! More good news is that there is no-kneading needed for the dough!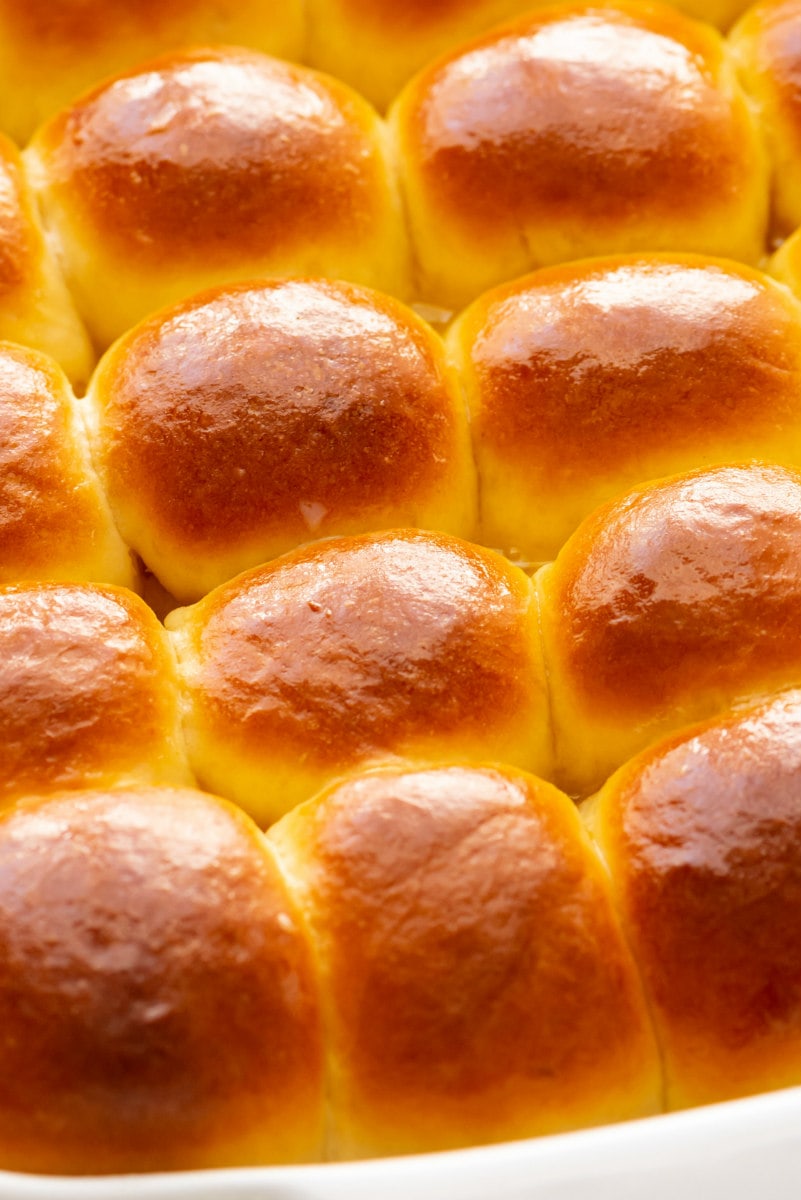 When you're ready to finish up making these rolls, the dough is removed from the refrigerator and divided into 24 equal sized pieces. Each piece is rolled into a little ball and placed into a greased 9×13-inch pan. A towel is placed over the pan of rolled dough balls, and then you need to set it aside and let the dough rise (about an hour or so).
Finally, the rolls are baked until golden brown. You can brush melted butter on them as they come out of the oven!
A lot of people think that you only bake homemade rolls like this when it's Thanksgiving or Easter or another prominent holiday. Not true! Bake them on a Sunday to have with your Sunday dinner. They're such a nice addition to a meal!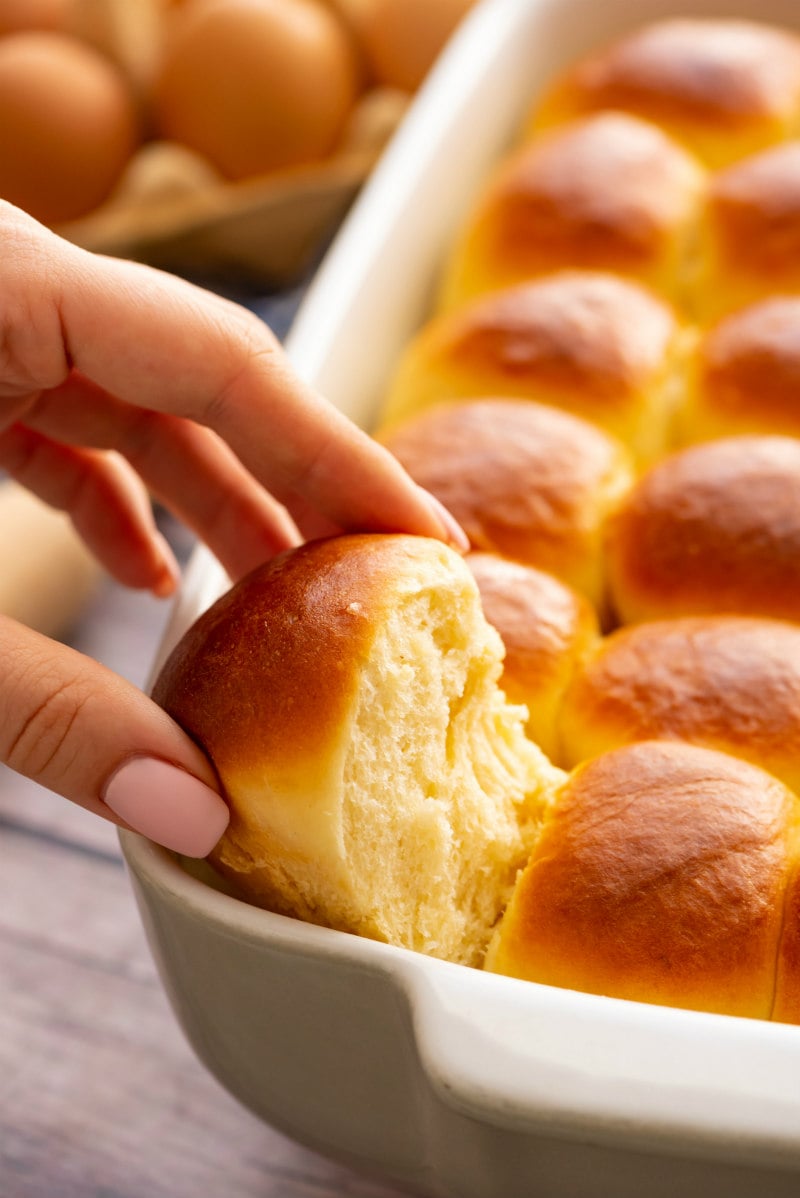 These freshly baked Easy Dinner Rolls are pull-apart tender. You can just reach into the pan and pull the rolls apart. Leave the baking dish on the table and let guests pull them apart themselves, or you can pull all of them apart and serve them in a basket covered by cloth napkins. It's also okay to make them ahead and warm them in the oven right before serving.
Here are a few more recipes you might like to add to your holiday menu:
Easy Dinner Rolls
These buttery rolls are so easy to make and they're buttery and fluffy!
Recipe Details
Ingredients
1

cup

warm water

(105 to 115 degrees F)

Two

.25-ounce envelopes

active dry yeast

1/2

cup (1 stick)

salted butter,

melted

1/2

cup

granulated white sugar

3

large

eggs

1

teaspoon

salt

4 to 4 ½

cups

all purpose flour

additional melted butter

(if desired)
Instructions
In a large bowl, combine the warm water and yeast. Let the mixture stand until the yeast is foamy, about 5 minutes. If it does not become foamy, your yeast is probably old and not active- it's best to throw it out and start again.

With a wooden spoon, stir in the butter, sugar, eggs and salt. Beat in the flour, 1 cup at a time, until the dough is too stiff to mix (all of the flour may not be needed). The dough should no longer be sticky. Place the round ball of dough into a new bowl that has been sprayed with nonstick spray. Cover with plastic wrap and refrigerate 2 hours or up to 4 days.

Grease a 13x9-inch baking pan. Turn the chilled dough out onto a lightly floured board. Divide the dough into 24 equal-size pieces. Roll each piece into a smooth round ball; place balls in even rows (4 rows by 6 rows) in the prepared pan. Cover with a dish towel and let the dough balls rise until doubled in volume, about 1 hour (or so). You can leave them to rise longer if you need to.

Preheat the oven to 375° F. Bake until the rolls are golden brown and cooked through, 15-20 minutes. If they are browning too quickly on top, tent foil over the rolls until finished baking. Brush warm rolls with melted butter, if desired. Break rolls apart to serve.
Notes
*nutritional info. does not include extra melted butter brushed on top.
*In this recipe, don't use quick-rising dry yeast.
*Before adding the yeast mixture, use an instant-read thermometer to check the temperature of the water (it's important that it's in the temperature range indicated)
*These rolls may be baked early in the day and re-warmed when ready to serve.
Nutrition
Serving:
1
roll
,
Calories:
147
kcal
,
Carbohydrates:
22
g
,
Protein:
4
g
,
Fat:
5
g
,
Saturated Fat:
3
g
,
Cholesterol:
37
mg
,
Sodium:
142
mg
,
Potassium:
40
mg
,
Fiber:
1
g
,
Sugar:
4
g
,
Vitamin A:
156
IU
,
Calcium:
9
mg
,
Iron:
1
mg