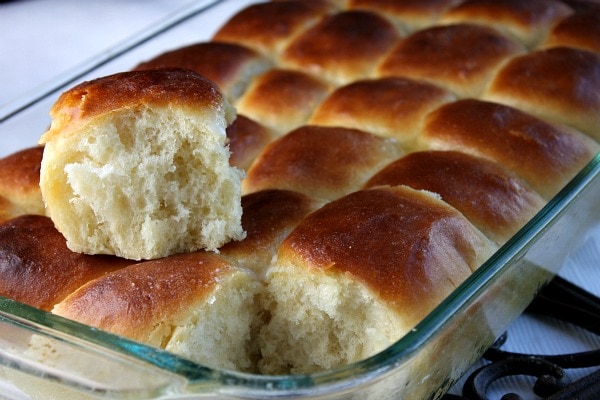 Easy Dinner Rolls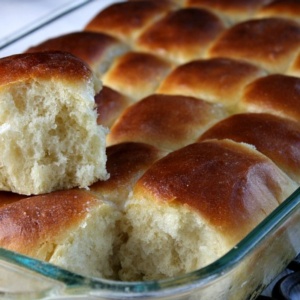 These dinner rolls are super simple- just mix the dough, let it chill, form the rolls, let them rise, then bake. No kneading necessary!
Yield:
24 rolls
Prep Time:30 min + chilling and rising time
Cook Time:20 min
Ingredients:
1 cup warm water (105° F. to 115° F)
2 packages active dry yeast
1/2 cup salted butter, melted
1/2 cup granulated white sugar
3 large eggs
1 teaspoon salt
4 to 4 1/2 cups (or so) all-purpose flour
additional melted butter
Directions:
1. Combine the warm water and yeast in a large bowl. Let the mixture stand until yeast is foamy, about 5 minutes. If it does not become foamy, your yeast is probably old and not active- it's best to throw it out and start again.
2. With a wooden spoon, stir in butter, sugar, eggs and salt. Beat in flour, 1 cup at a time, until dough is too stiff to mix (some flour may not be needed). The dough should no longer be sticky. Place round ball of dough into a new bowl that has been sprayed with nonstick spray. Cover with plastic wrap and refrigerate 2 hours or up to 4 days.
3. Grease a 13x9-inch baking pan. Turn the chilled dough out onto a lightly floured board. Divide dough into 24 equal-size pieces. Roll each piece into a smooth round ball; place balls in even rows (4 rows by 6 rows) in the prepared pan. Cover with a dish towel and let dough balls rise until doubled in volume, about 1 hour (or so). You can leave them to rise longer if you need to.
4. Preheat oven to 375° F. Bake until rolls are golden brown and cooked through, 15-20 minutes. If they are browning too quickly on top, tent foil over the rolls until finished baking. Brush warm rolls with melted butter, if desired. Break rolls apart to serve.
Tips:
*In this recipe, don't use quick-rising dry yeast.
*Before adding the yeast mixture, use an instant-read thermometer to check the temperature of the water (it's important that it's in the temperature range indicated)
*These rolls may be baked early in the day and re-warmed when ready to serve.