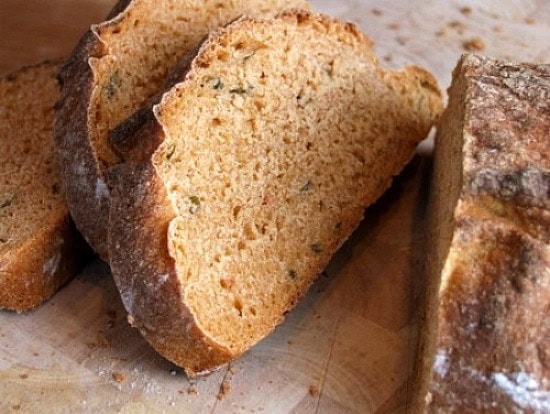 Tomato- Basil Bread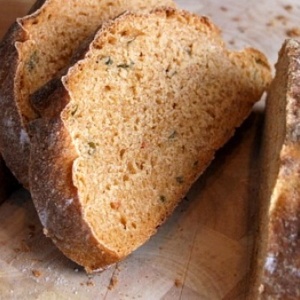 Yield:
1 loaf
Prep Time: 25 min + rising time
Cook Time: 30 min
Ingredients:
2 tablespoons granulated white sugar (divided)
3/4 cup warm water (105°F. to 115°F)
One .25-ounce envelope active dry yeast
30 whole basil leaves, stems removed
3 to 4 cups white whole wheat flour
2 teaspoons salt
3/4 cup canned crushed tomatoes (drained)
2 tablespoons extra-virgin olive oil
Directions:
1. In a large bowl, dissolve 1/8 teaspoon of sugar in the water and sprinkle the yeast on top. Stir and then let rest until foamy, about 5 minutes. (If you have a stand mixer, do this in the bowl of your stand mixer).
2. Using kitchen scissors to prevent bruising, snip the basil leaves into small ribbons and set aside.
3. Add to the yeast mixture 3 cups of flour along with the remaining sugar, salt, tomatoes and olive oil, and stir vigorously to form a dough, adding remaining flour as needed... until dough comes together and isn't so sticky. (If you have a stand mixer, add these ingreds. to the bowl and let the dough hook do the mixing... at this point you can let the dough hook do the kneading for 5 to 10 minutes- add basil and knead until smooth and elastic- and skip to step 5).
4. Turn the dough out onto a lightly floured surface and knead until smooth and elastic, about 5 to 10 minutes. Sprinkle the dough w/ the basil and incorporate as you knead.
5. Lightly oil a large bowl. Place the dough inside, turning it over in the oil, and cover with a clean dish towel. Allow the dough to rise for 1 hour in a warm place.
6. Return the dough to the floured surface and punch it down. Shape into a 9x5-inch loaf... you can either shape it freeform and place it on a parchment-lined baking sheet, or place it into a greased loaf pan. Cover with the dish towel and put loaf in warm place to rise for another hour.
7. Preheat oven to 425°F. Bake for 25 to 35 minutes, or until hollow sounding when tapped. Cool on a wire rack.
Tips:
*Drain your crushed tomatoes well. Sometimes they can end up adding more liquid to the bread and thus making the bread a little more sticky. If it appears too sticky and isn't coming together, just add more flour until it feels right.
*To simulate a warm place for rising, turn your oven to 400 degrees for 1 minutes. Turn off the oven and turn on the oven light. Place the bread bowl in the closed oven to rise, with a dish towel covering the top. Make sure the oven is OFF!
*Serve as bread with an Italian dinner, or sliced up for sandwiches.