Another simple recipe:  Salted Thyme Flatbread.  I throw all the ingredients into my KitchenAid mixer with the dough hook and let it do the kneading work for me. As with many bread recipes, the time is spent rising, but not so much in the prep. The kneaded dough rises for an hour, then it's punched down, rolled out and then it rises for another 20 minutes before baking.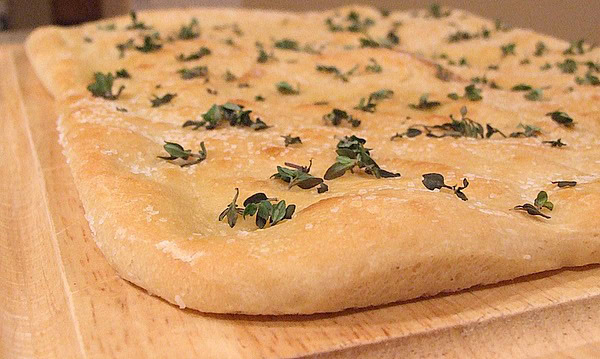 I really love a good flatbread with all of its nooks and its wavy nature. This one is super basic… just a brush of olive oil, a generous sprinkle of kosher salt and topped off with fresh thyme. Sometimes basic is best. In this case, it was- and a great accompaniment to soup. I didn't care for the bread the following day because the salt seemed to seep into the bread, losing it's crunchy appeal and visual interest. So be sure to eat this one all up on the day you bake it!
Salted Thyme Flatbread
Great homemade bread to have with soup!
Yield:
8 servings
Prep Time: 25 min + rising time
Cook Time: 15 min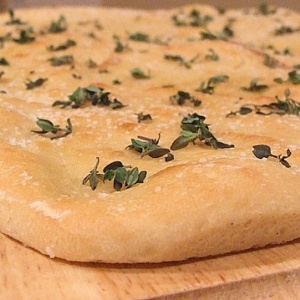 Ingredients:

BREAD:
1 1/4 cups water, warmed to 110 to 115 degrees F.
1 1/2 teaspoons granulated white sugar
1 1/2 teaspoons active dry yeast
1 1/2 teaspoons salt
3 1/2 cups all-purpose flour

TOPPING:
2 Tablespoons extra-virgin olive oil
1 Tablespoon kosher salt
1 Tablespoon fresh thyme, chopped

Instructions:

1. Place water into large bowl. Sprinkle with sugar and yeast. Let stand 5 minutes or until yeast is dissolved. Stir in salt. Gradually add flour, stirring until dough forms.

2. On a lightly floured surface, knead dough 10 to 12 minutes or until smooth and elastic. Place dough in large oiled bowl, cover; let rise in warm place until doubled in size; about 45 minutes to 1 hour.

3. Place oven rack in lowest rack position; heat oven to 450°F. Grease a 15x10x1-inch jelly roll pan.

4. Gently punch down dough to deflate. Place in pan; using palm of hand press dough to cover bottom of the pan. Cover; let rise about 20 minutes or until risen by half. Brush dough with oil; sprinkle generously with coarse salt.

5. Bake 12 to 15 minutes or until light golden brown. Remove from oven and sprinkle with thyme.

Tips:

*If using a stand mixer with a dough hook, simply dump all of the bread ingredients into the mixer and let it do all of the mixing and kneading.
*If you're using a bread machine, layer the ingredients in the bread pan according to the manufacturer's instructions and let it do the kneading and the first rise. Then take it out of the machine and prep it for the 2nd rise.