Buffalo Chicken Flatbread is a great appetizer for Game Day or for a small gathering of friends!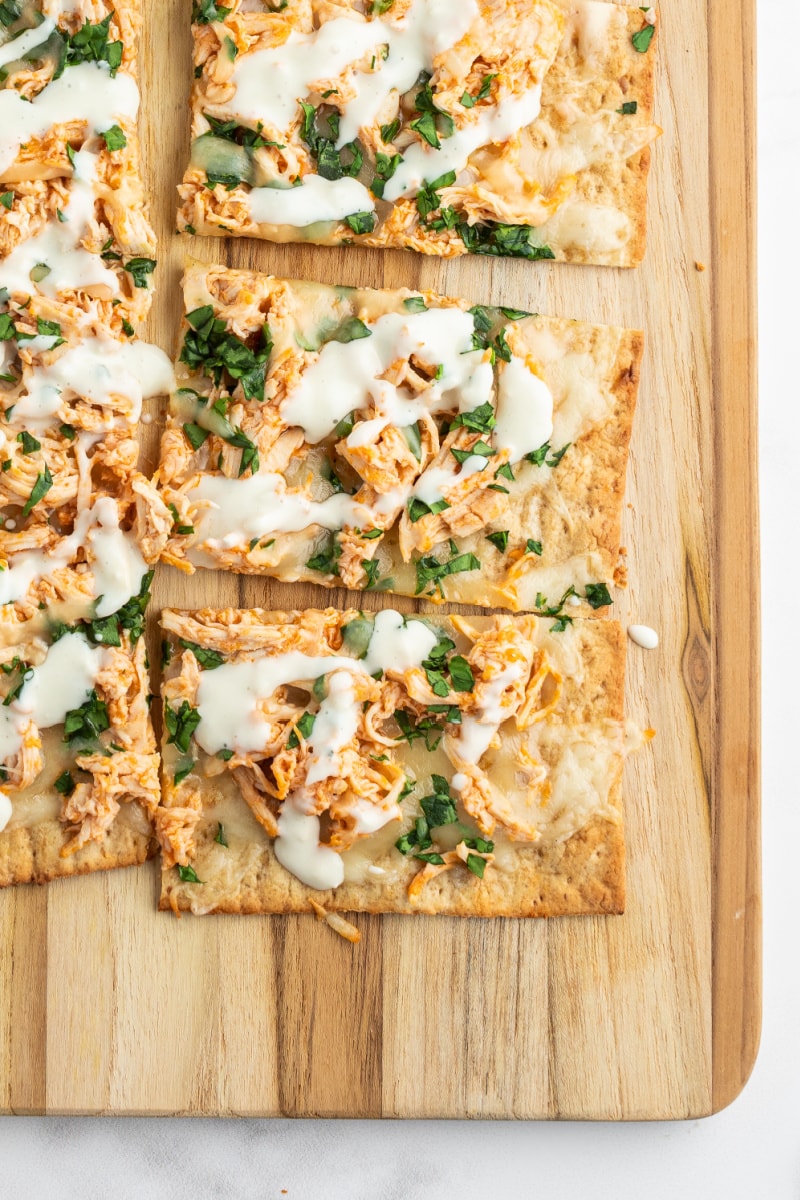 This delicious flatbread is baked flatbread with buffalo sauce tossed chicken, melted cheese and spinach. The classic pairing of blue cheese with buffalo sauce is accomplished by using a blue cheese salad dressing drizzled on top. Buffalo Chicken Flatbread is a delicious appetizer to enjoy, and it's easy enough for kids to make!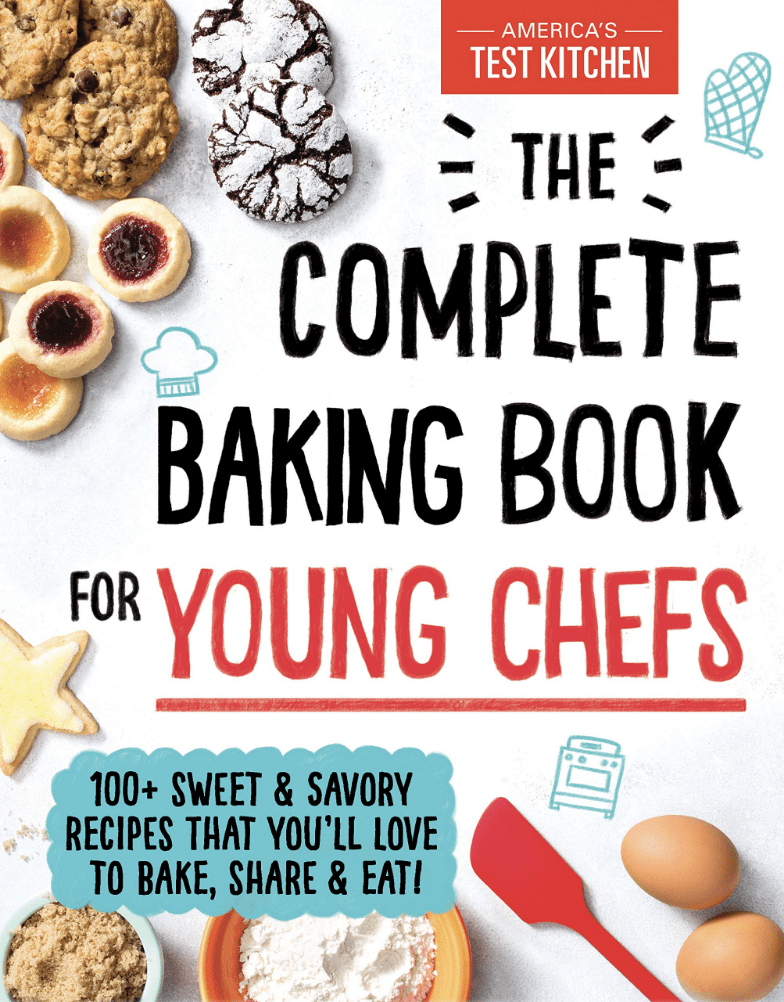 The Baking Book for Young Chefs:
This recipe was slightly adapted from a recipe in this cute kid's cookbook: The Baking Book for Young Chefs by America's Test Kitchen. This is the perfect gift to give to the young chefs in your life. The instructions are very simple for each recipe. There are baking recipes for breakfast, breads, cookies and cakes. It's a fun cookbook!
Here are a few recipes I think kids would really love to make from the book: Banana- Chocolate Chip Mini Muffins, Buttermilk Biscuits, Soft Pretzels, Personal Pizzas, Chewy Brownies, Giant Chocolate Chip Cookie, Easy Chocolate Snack Cake, Yellow Cupcakes with Strawberry Frosting and Cookies and Cream Ice Cream Pie.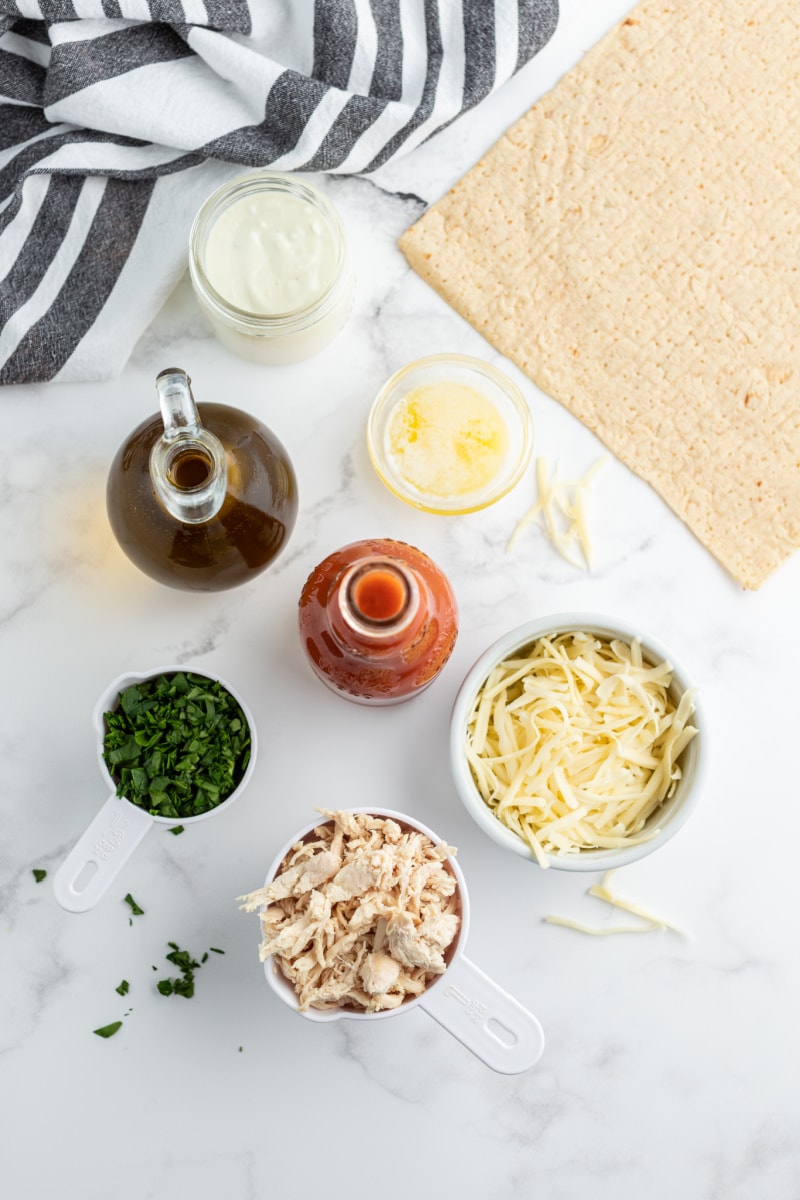 Ingredients needed:
lavash flatbread
olive oil
shredded chicken
Frank's Hot Sauce
melted butter
Monterey Jack cheese
fresh spinach
blue cheese salad dressing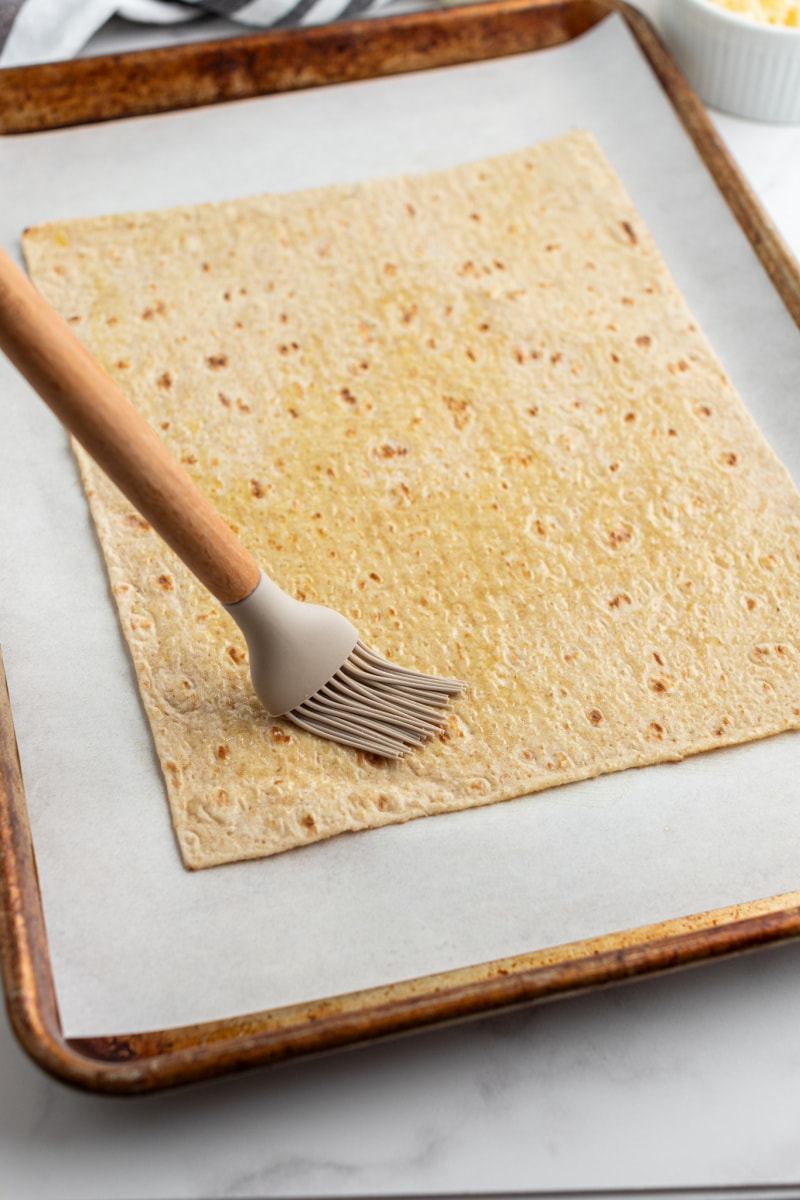 How to make Buffalo Chicken Flatbread:
Brush both sides of your flatbread with olive oil and bake until golden brown.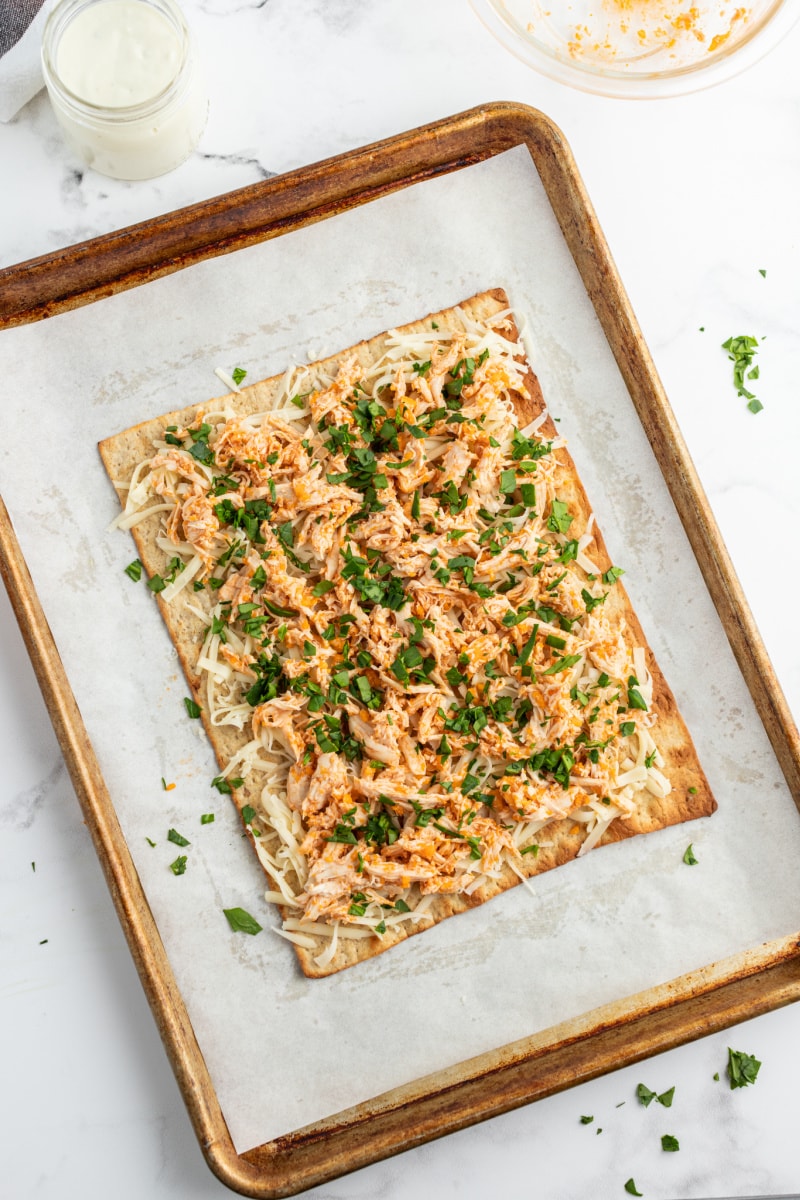 Then remove the baked flatbread from the oven and top it with shredded chicken that has been mixed with Frank's Hot Sauce and melted butter. Sprinkle chopped baby spinach on top.
About Frank's Hot Sauce:
Frank's Hot Sauce is a ready-to-use buffalo sauce. It's sold in the area of the market where sauces are shelved. If you can't locate it, you can use any kind of buffalo sauce.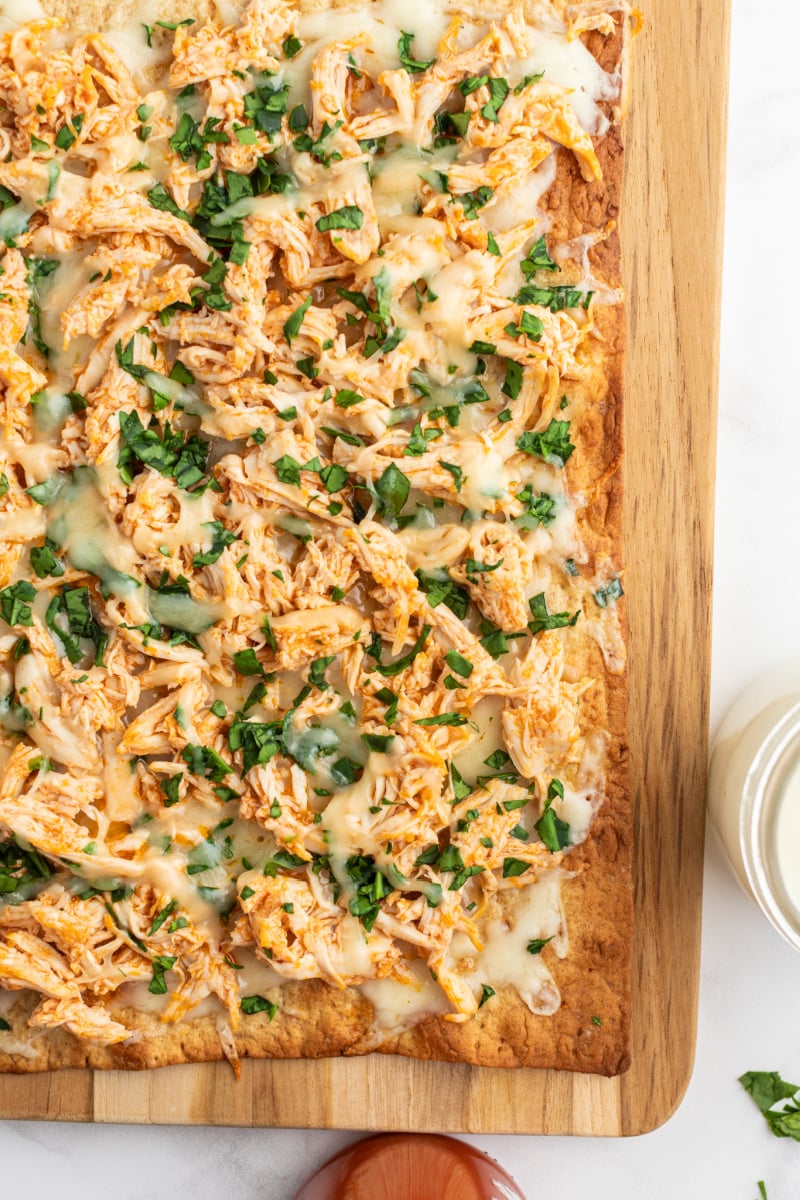 Bake the Buffalo Chicken Flatbread again until the cheese is melted and the chicken is warmed through- about 5 minutes.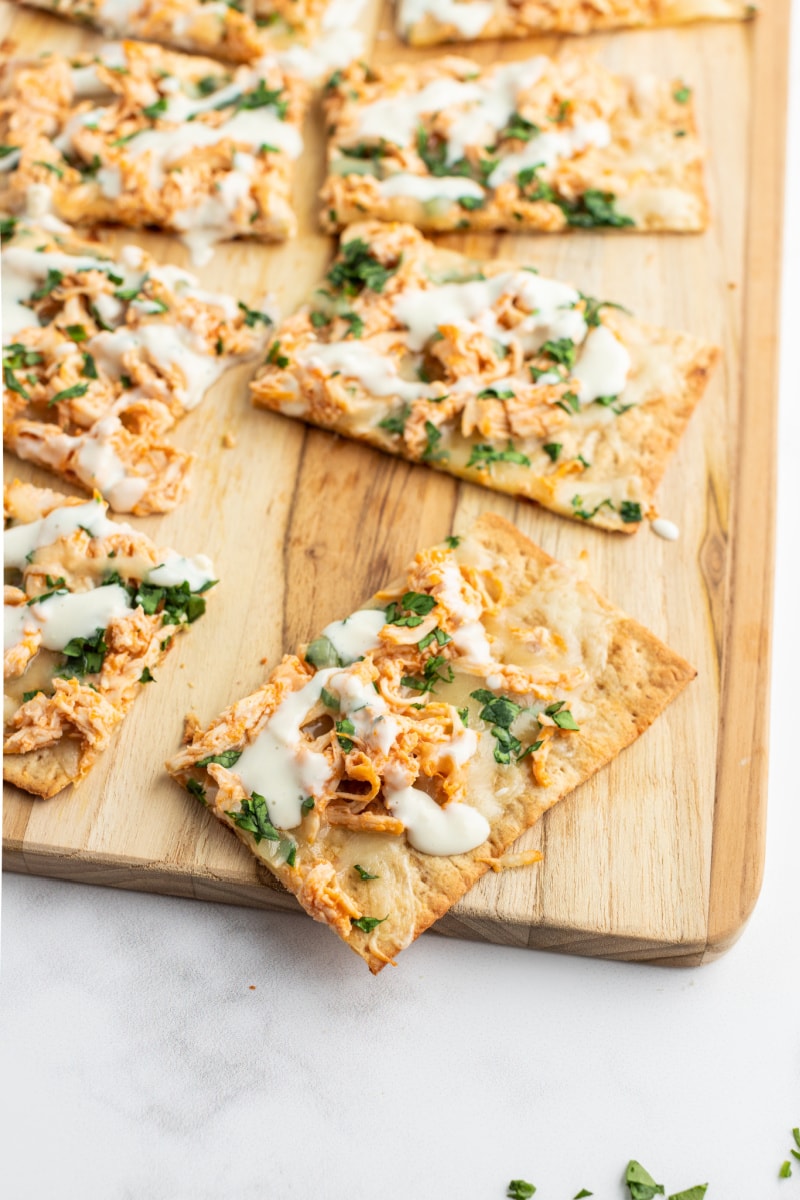 Cut the Buffalo Chicken Flatbread into 8 pieces, and drizzle blue cheese salad dressing on top.
Variations/substitutions:
If you want to beef up the flavor of the blue cheese, add blue cheese crumbles on top too. And if you don't care for blue cheese, using Ranch dressing instead.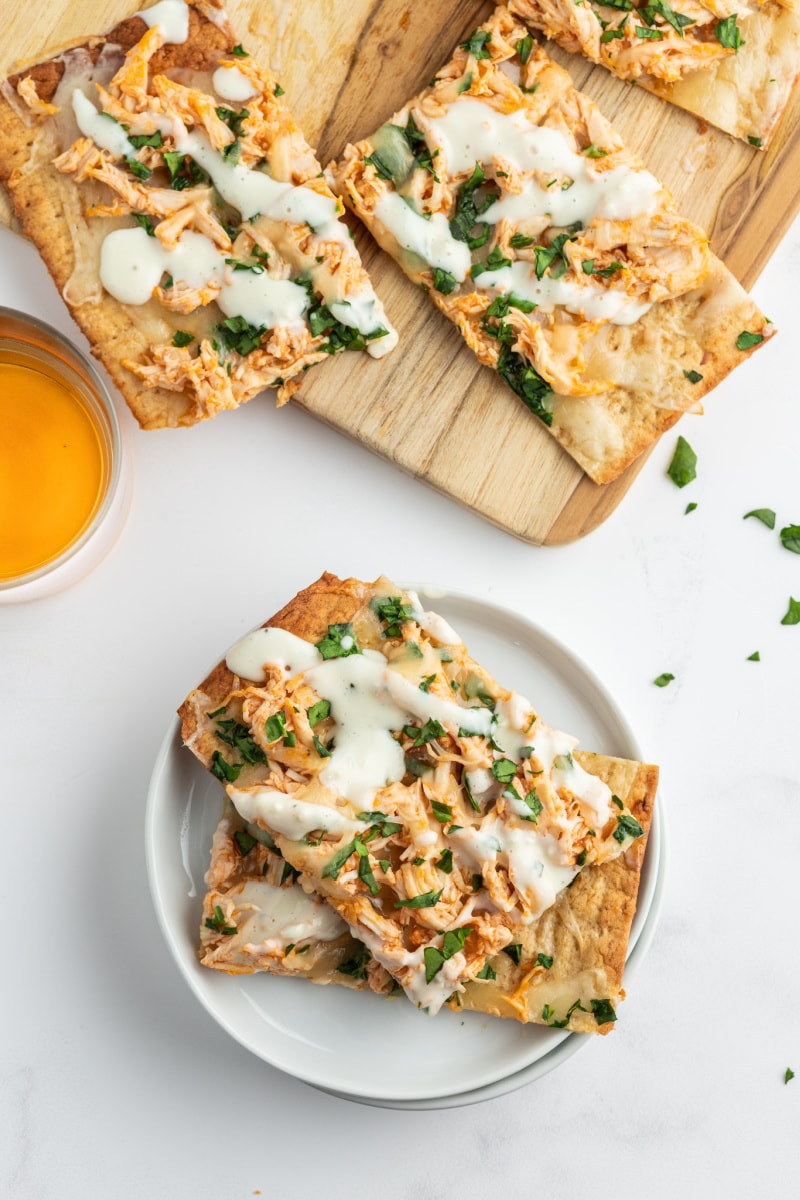 One serving is two pieces of the flatbread, so this recipe will serve 4 people. If you have a hungry bunch, double the recipe!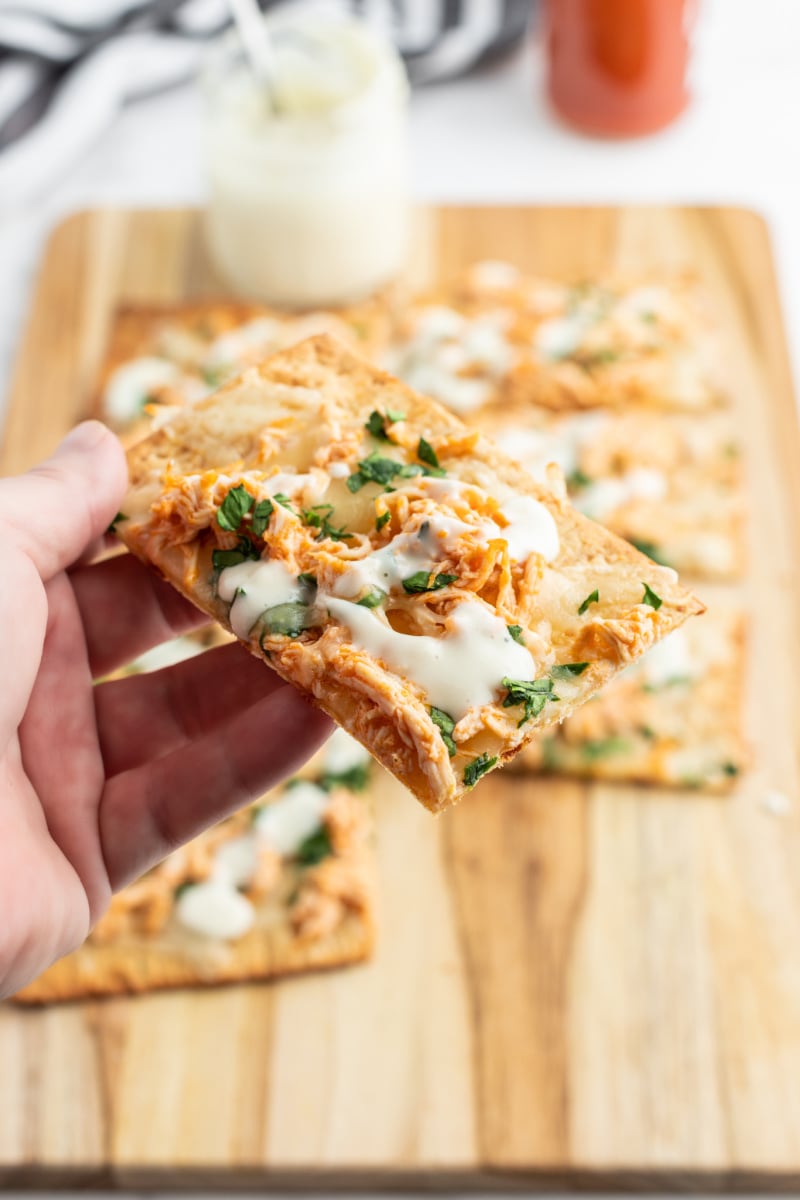 This Buffalo Chicken Flatbread is a super delicious snack. You'll love the chicken and melted cheese with the blue cheese on top. Yum. Enjoy!
Here are a few more Super Bowl recipe favorites you might like to try:
Buffalo Chicken Lavash Flatbread
A totally delicious snack to have for a game viewing party or a gathering of friends!
Recipe Details
Ingredients
One

12x9-inch piece

lavash flatbread

1

tablespoon

extra virgin olive oil

1

cup

shredded cooked chicken

2

tablespoons

Frank's Hot Sauce

1

tablespoons

unsalted butter,

melted

¾

cup

shredded Monterey Jack cheese

½

cup

finely chopped fresh spinach

1/3

cup

blue cheese salad dressing
Instructions
Make sure your oven rack is in the lower-middle position, and pre-heat the oven to 425 degrees F. Lay the lavash on a rimmed baking sheet, and brush both sides of the lavash with olive oil.

Bake the lavash for 3 to 4 minutes, or until golden brown. Remove the lavash from the oven and let it cool.

In a medium bowl, combine the chicken, hot sauce and melted butter.

Sprinkle the cheese evenly over the cooled lavash. Spread the chicken mixture evenly over the cheese. Sprinkle with spinach.

Bake until the cheese is melted and the chicken is warmed through, 4 to 6 minutes.

Let the lavash cool slightly, then transfer it to a cutting board and cut it into 8 pieces. Drizzle blue cheese dressing on top.
Notes
Tip: Spoon the dressing into a baggie, and snip the corner to use for easy drizzling.
Nutrition