This is a go-to appetizer that you'll make over and over again:  Buffalo Chicken Dip Recipe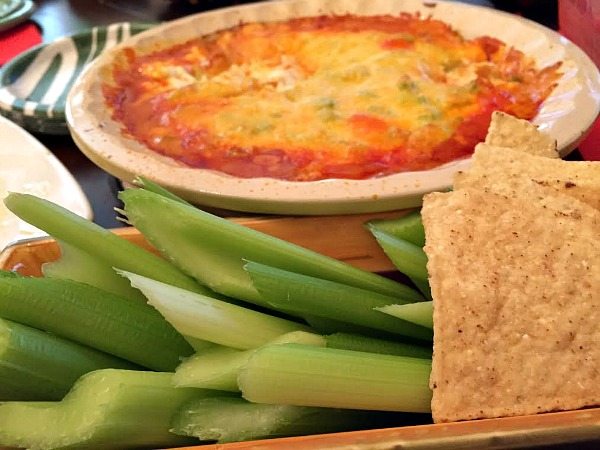 This is one of those dip recipes that you're going to want to dip into immediately… and then you're going to have a really tough time not coming back to it again and again for more indulgent dipping!
Just a few ingredients mixed together and baked until bubbly makes this a very easy appetizer to prepare.  It's a nice choice for Game Day too (since that's one of the days of the year where it's perfectly okay to eat creamy, hot bubbling dips like this!)
I'm not so into spicy stuff, but this dip isn't really like that at all.  It's a mixture of chicken, cream cheese, celery, shredded cheese, Frank's hot sauce… and your choice of ranch or blue cheese dressing (I used Ranch).  Frank's hot sauce is not as hot as Tabasco- it's a buffalo kind of sauce that lends a spicy flavor, but its spice is calmed a little bit by the rest of the ingredients in the dip.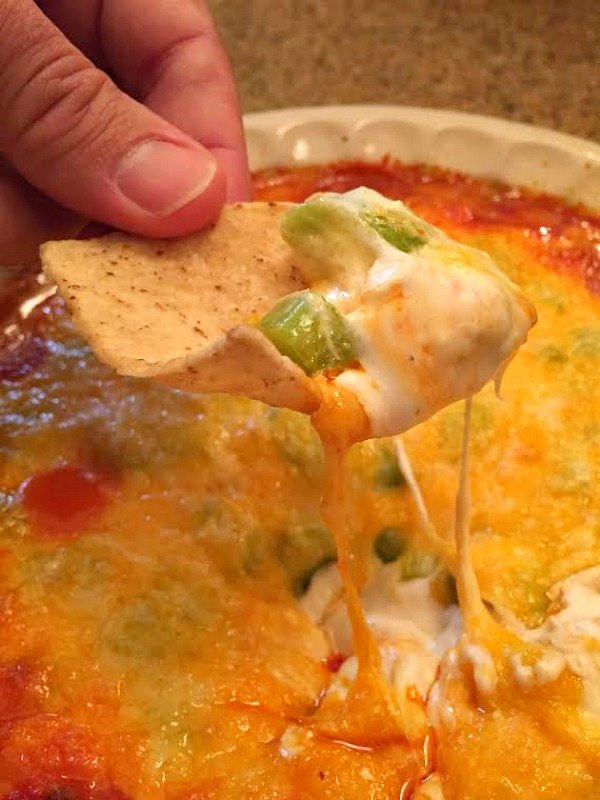 This decadent, hot, cheesy dip will be a big hit at your party!
Now who are you rooting for on Game Day??
Buffalo Chicken Dip
Yield:
One pie plate of dip!
Prep Time: 20 minutes
Cook Time: 40 minutes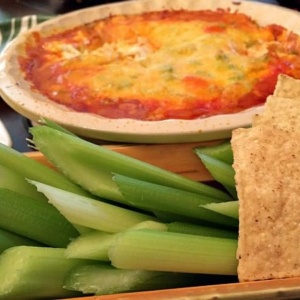 Ingredients:

1 pound boneless skinless chicken breasts, boiled, drained and shredded with two forks
1/2 of a 12-ounce bottle of Frank's or Crystal's brand hot sauce (do not use Tabasco)
1 (8-ounce) package cream cheese (okay to use low fat)
1 (8 ounce) bottle of Ranch or Blue Cheese dressing
1/2 cup finely chopped celery
4 ounces shredded Monterey Jack cheese or Sharp Cheddar cheese (or a combo of both)
celery sticks & chips, for dipping

Instructions:

Preheat oven to 350°F. Spray 9-inch ceramic pie dish with cooking spray.
In the pan, combine chicken with hot sauce- spreading to form an even layer.
In a large saucepan over medium heat, combine cream cheese with dressing, stirring until smooth and hot. Pour this mixture evenly over chicken layer in pan. Sprinkle celery over the top.
Bake, uncovered, for 20 minutes. Then sprinkle cheese on top and bake for an additional 15 to 20 minutes until hot and bubbly. Watch closely... you don't want the top to brown or it will form a crust.
Let stand 10 minutes before serving hot/warm with celery sticks and/or any sturdy dipping chip.
SOURCE: RecipeGirl.com
Here are a few more buffalo-themed appetizer recipes you might enjoy: