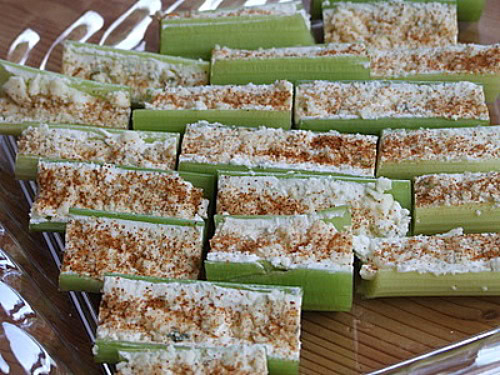 Buffalo- Style Celery Sticks
Yield: 12 appetizers Prep time: 15 minutes
This is a very easy appetizer to whip up quickly. Add more spice if you like things hot!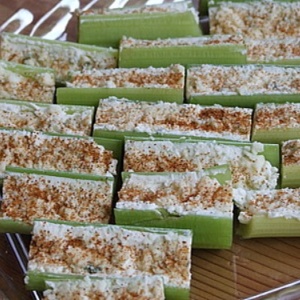 Ingredients:

4 ounces blue cheese, divided
2 ounces cream cheese, at room temperature
6 large celery stalks, rinsed and dried
cayenne pepper

Instructions:

1. In a small bowl, mix 2 ounces of blue cheese and 2 ounces of cream cheese until smooth.

2. With a small spoon or knife, stuff celery stalks with cheese mixture.

3. Crumble another 2 ounces of blue cheese on top, and sprinkle lightly with cayenne pepper. Carefully cut stalks in half.

Tips:
*If you like things really spicy, serve up some Tabasco sauce on the side too!
*Cut the stalks into smaller bites if you'd like to create more appetizers.