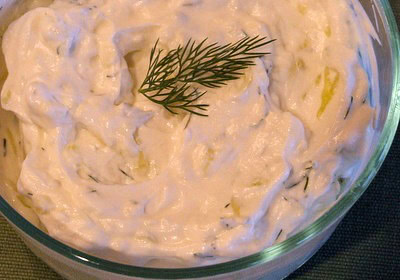 Tzatziki Sauce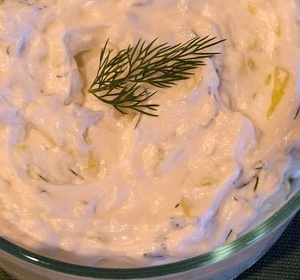 This sauce tastes just like you'd find in a wonderful Greek restaurant. It's simple to prepare- just plan ahead and make it a day before you're planning to eat it.
Yield:
2 1/2 cups (1/4 cup per serving)
Prep Time: 15 minutes + standing time
Ingredients:
32 ounces nonfat plain yogurt (to make yogurt cheese)
1 medium cucumber, peeled, seeded, grated, and squeezed dry
2 cloves garlic, minced
4 teaspoons extra-virgin olive oil
1 Tablespoon chopped fresh dill
1 Tablespoon fresh lemon juice
1/2 teaspoon salt
Directions:
1. Start one day ahead: Prepare yogurt cheese: Spoon yogurt into a large coffee filter or a cheesecloth-lined strainer; set over bowl and let stand in the refrigerator 2 hours or overnight. Discard the liquid. The solids that remain are the "yogurt cheese."
2. Combine yogurt cheese, cucumber, garlic, oil, dill, lemon juice and salt in a bowl; mix well.
Tips:
*The flavor in Tzatziki sauce improves with time. Try refrigerating it a day or two before serving so that the ingredients have a chance to blend.
*Serve with grilled pork, lamb or other meats -or as an appetizer dip with fresh vegetables for dunking.
Nutrition:
Nutritional Information Per 1/4 cup Serving
Calories 77 (Calories from Fat 29), Total Fat 3.25g, Sat Fat 1g, Cholesterol 5.5mg, Sodium 181g, Carbohydrates 7g, Dietary Fiber .25g, Sugar 0g, Net Carbs 6.75g, Protein 5g
WW POINTS per 1/4 cup serving:
Points Plus Program: 2 Old Points Program: 2