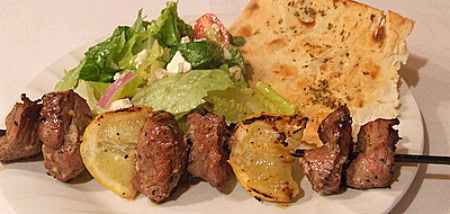 Lemon- Garlic Lamb Kebobs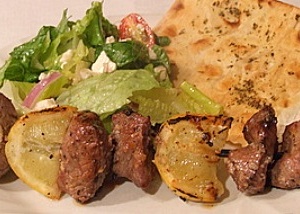 Yield:
4 servings
Prep Time:25 min
Cook Time:6 min
Ingredients:
SAUCE:
2 ounces feta cheese
1 Tablespoon freshly squeezed lemon juice
2 Tablespoons water
coarse salt and freshly ground black pepper
KEBABS:
1 1/2 pounds leg of lamb, well-trimmed and cut into 20 equal cubes (about 1-inch each)
8 thin lemon wedges
1/4 cup olive oil, plus more for grill
2 Tablespoons freshly squeezed lemon juice
4 cloves garlic, minced
coarse salt and ground pepper
flat-leaf parsley for garnish
Directions:
1. Prepare sauce: In a blender, purée feta, lemon juice and water. Season with salt and ground pepper. Cover and refrigerate until ready to use.
2. Heat the grill to high. Assemble 4 long skewers, alternating 5 lamb cubes with 2 lemon wedges on each. Arrange the skewers in a nonmetallic dish.
3. In a small bowl, whisk together the oil, lemon juice and garlic. Pour the marinade over the skewers; turn to coat. Let stand for at least 5 minutes (or cover and refrigerate overnight, turning occasionally). Season with salt and pepper.
4. Lightly oil the grates. Place the skewers on the grill; cover the grill, and cook, turning occasionally, until grill marks are visible and the meat is cooked to the desired doneness, 1 to 2 minutes per side for medium-rare. Serve with the sauce, and garnish with parsley sprigs, if desired.
Source: RecipeGirl.com (via Everyday Food: Great Food Fast)