If you're a lover of lamb, I have a fabulous recipe for you > Slow Cooker Lamb Stroganoff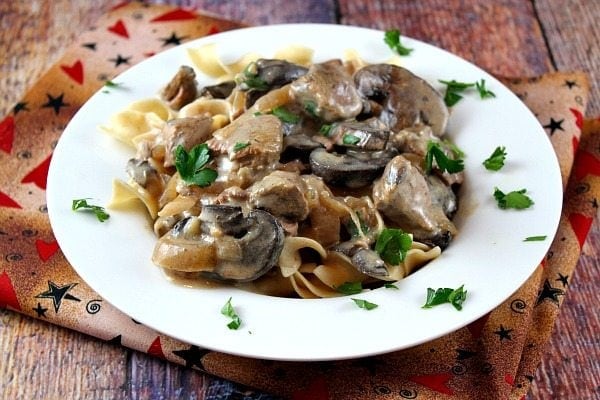 It seems like people either kind of love lamb or they hate it. Or they just can't get over the idea of eating a cute little wooly animal. I don't have that problem at all. My grandparents lived on a ranch while I was growing up. They raised cows, pigs, chickens, lamb… and we ate them all. Lamb was always my favorite.
Grandma made a roasted lamb that was completely out-of-this-world, and I love lamb because of Grandma. This recipe incorporates lamb leg (or lamb sirloin).  Just trim the fat from it, cut it into bite-sized pieces, brown it in a skillet and then dump it into the slow cooker with the other ingredients.  At the end of slow cooking, you'll add in a few other ingredients to create the creamy sauce.  At that time, you can cook your noodles, steam a vegetable or put together a salad, and your meal will be ready to go.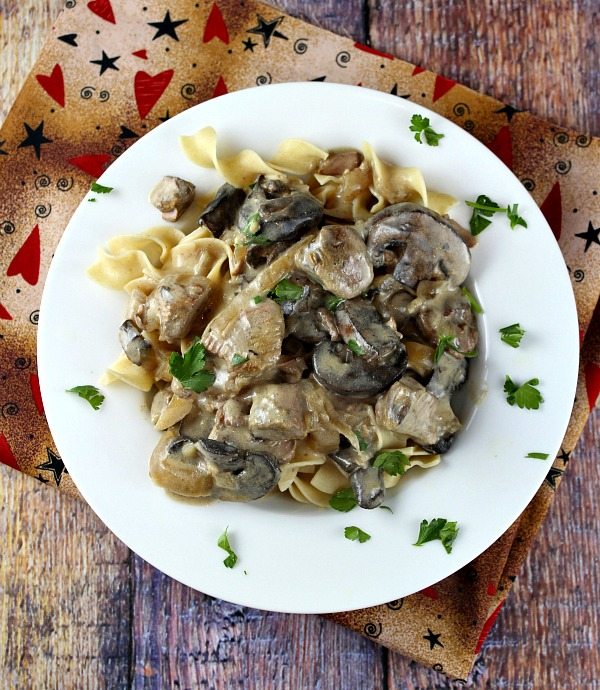 My husband and I are both huge lovers of both mushrooms AND lamb.  We loved this one together on Valentine's Day 🙂  This recipe comes from a new cookbook that I just got in the mail: Better Homes and Gardens Skinny Slow Cooker.  I LOVE IT!  I'm always looking for great slow cooker recipes to try anyways (on busy family nights), and the fact that this one is labeled as "skinny" makes it all that much more appealing.  I also tried a soup recipe that I loved, and I have a million more recipes tagged to try.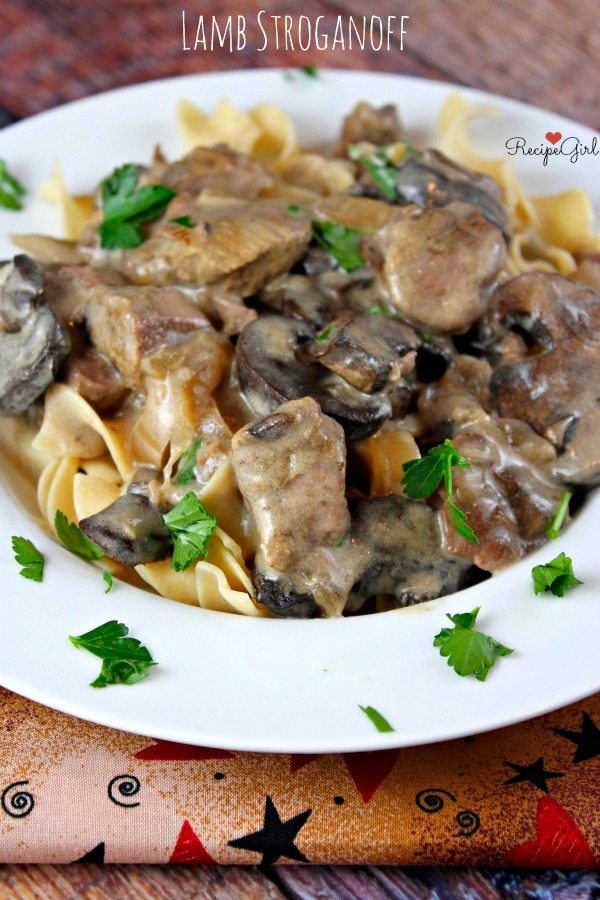 And if you've never tasted lamb before, or if you've tried it once and decided right then and there that you didn't like it… I suggest you still give this recipe a chance.  I loved it so much that I can't imagine someone not liking it at all (unless you really don't like mushrooms… then, that's your only valid excuse).
Give it a shot and let me know how you like it.
Slow Cooker Lamb Stroganoff
Yield:
8 servings
Prep Time: 25 minutes
Cook Time: 6 hours and 30 minutes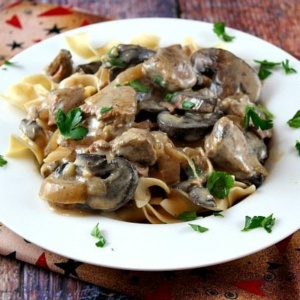 Ingredients:

1 3/4 pounds boneless lamb sirloin or leg, cut into 1-inch pieces
1 tablespoon olive oil
3/4 cup reduced-sodium beef broth
4 cups sliced baby bella or white mushrooms
2 cups sliced sweet onions
1 tablespoon Dijon mustard
3 cloves garlic, minced
1 bay leaf
1/2 teaspoon salt
1/4 teaspoon freshly ground black pepper
8 ounces (1 cup) light sour cream
1/3 cup all-purpose flour
1/4 cup dry sherry
1/4 cup chopped Italian flat-leaf parsley
One 12-ounce package dried whole grain wide noodles, cooked according to package directions

Instructions:

Trim fat from the meat. In a large skillet, brown the lamb in hot oil over medium-high heat. Drain off the fat.
In the insert of a slow cooker, combine the browned lamb, broth, mushrooms, onions, mustard, garlic, bay leaf, salt and pepper. Cover and cook on low-heat setting for 6 to 8 hours or on high-heat setting for 3 to 4 hours.
In a medium bowl, whisk together the sour cream, flour and sherry until smooth. Sir about 1/2 cup of the hot liquid into the sour cream mixture. Return all to the slow cooker; stir to combine. Cover and cook on high-heat setting for 30 minutes or until thickened and bubbly. Remove and discard bay leaf. Stir in parsley. Serve over hot noodles.

Nutrition:

Nutritional Information per serving (Serving size:

1/8th of the recipe) 

Calories:

373, 

Fat:

10g, 

Saturated Fat:

3g, 

Sodium:

325mg, 

Fiber:

5g, 

Protein:

31g, 

Cholesterol:

74mg, 

Carbohydrates:

40g

Weight Watchers POINTS:  Freestyle SmartPoints: 9, SmartPoints: 9, Points Plus Program: 9, Old Points Program: 7
Here are a few more lamb dishes you might enjoy:
Disclosure: There are Amazon affiliate links included within this post.