We're definitely into cold weather comfort food here on the East coast so lets get started with this Slow Cooker Hawaiian Sticky Chicken!
Scroll toward the end of this post to watch a short video showing you how to make this recipe, then print out the complete recipe and make it at home!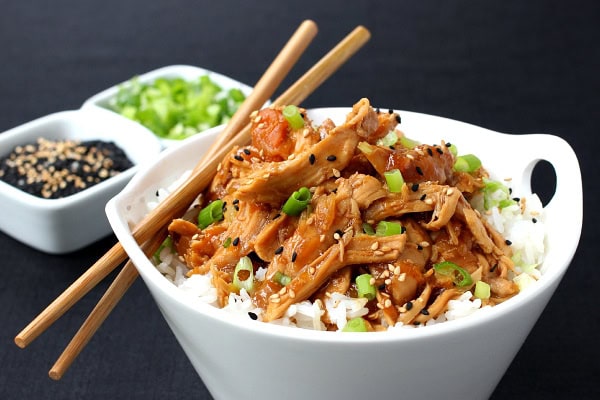 Our slow cooker is a life saver – a life line to a hot, comforting dinner that we wouldn't always have had time to make.  Between work, the kids with school and sports and everyday life I can't believe that we don't eat macaroni and cheese out of the box for dinner. And I can proudly say that we actually don't. A frozen pizza or boxed mac and cheese meal doesn't show it's face around our house that often at all…we just always seem to be cooking something.  But for those nights that we know one of us is running a kid to one field and the other is going to another soccer field, slow cooker recipes are the best.
This Slow Cooker Hawaiian Sticky Chicken is one of our favorites – kids included. It's sweet and tangy, perfect over rice or in a taco or a slider. Or just plain out of a bowl.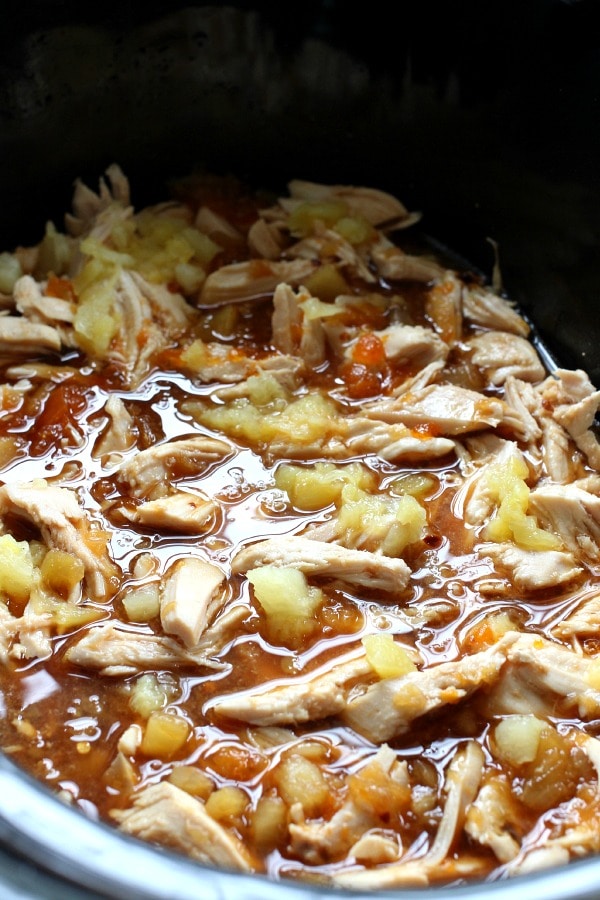 Start off by cooking the chicken. get two pounds of chicken in your slow cooker with some chicken broth, garlic cloves and pineapple juice.  Cook on high for 4 hours until the chicken is tender and easily shreds.  Shred the chicken and drain all of the liquid out from the slow cooker, saving 2 cups for the sauce.  Add a cup of apricot preserves, soy and teriyaki sauce, hoisin sauce and Wondra® flour to the liquid and whisk to combine.
Wondra flour is a quick way to thicken sauces without having to make a cornstarch mixture, you can add Wondra flour directly into whatever you want to thicken up and it works amazingly well.  Next put the shredded chicken back in the slow cooker and pour in the sauce. Mix the chicken together with the sauce so that it's completely coated and cook for another hour on high.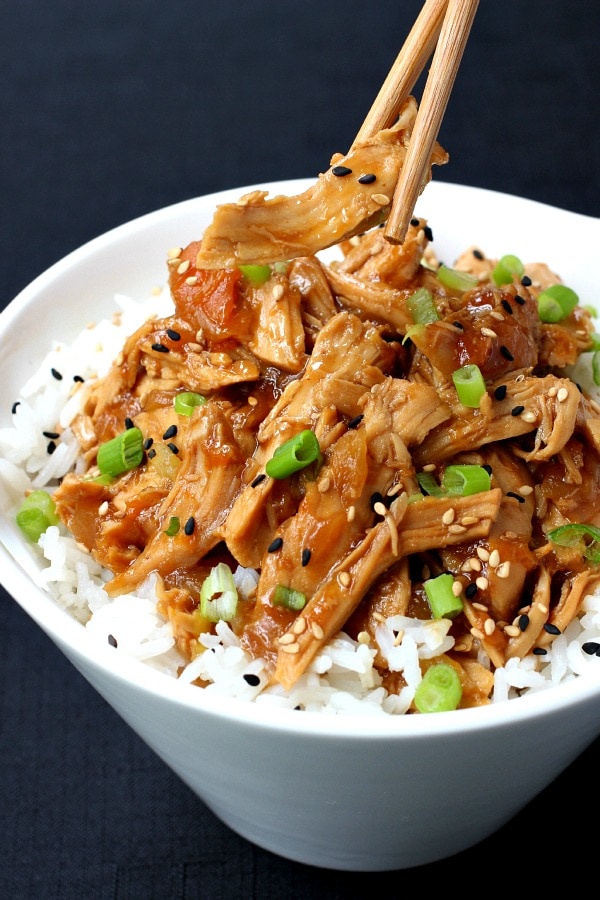 Serve over hot bowls of rice and use a few sesame seeds and chopped scallions for garnish! Now that's a pretty amazing looking slow cooker dinner!
Click below to watch a short video showing you how to make this recipe, then scroll to the bottom and print out the complete recipe.
Slow Cooker Hawaiian Sticky Chicken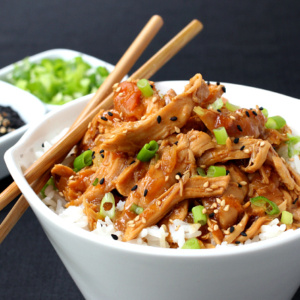 Yield:
6 servings
Prep Time:15 minutes
Cook Time:5 hours
Ingredients:
2 pounds boneless, skinless chicken breasts
3 cups chicken broth
1 cup pineapple juice
1 cup crushed pineapple
3 cloves garlic
1 teaspoon salt
1/2 cup apricot jam
1/4 cup soy sauce
2 tablespoons teriyaki sauce
1/4 cup hoisin
1/4 teaspoon crushed red pepper flakes
1 tablespoon Wondra® flour
hot cooked rice
4 chopped scallions for garnish
sesame seeds for garnish
Directions:
Place the chicken breasts, chicken broth, pineapple juice, crushed pineapple, garlic cloves and salt in your slow cooker and set on high.
Cook for 4 hours then remove the chicken to a cutting board.
Drain the liquid from the slow cooker into a large measuring cup or bowl. Save 2 cups of the liquid (including some of the crushed pineapple) and put back into the slow cooker.  Discard the remaining liquid.
Add the apricot jam, soy sauce, teriyaki sauce, hoisin, crushed red pepper flakes and Wondra® flour to the liquid in the slow cooker, and whisk to combine.
Shred the chicken with two forks and return to the slow cooker with the sauce. Stir to combine the chicken with the sauce, cover and cook on high for 1 more hour.
Serve over hot, cooked rice, and garnish with chopped scallions and sesame seeds.
Nutrition:
4 Weight Watchers Freestyle SmartPoints per serving (6 servings), if made with low sugar apricot jam.  Point count does not include rice.
Wondra® is a quick mixing flour that can be added directly to your sauce or gravy to thicken without lumps. Alternately, you could use a tablespoon of cornstarch mixed with a tablespoon of water, then add the mixture to the sauce to thicken.
SOURCE: RecipeGirl.com
Here are a few more slow cooker chicken recipes that you might like!