Cauliflower Crust Pizza is the best invention ever. Yes, you heard that right… pizza crust made out of cauliflower. It's (shockingly) good!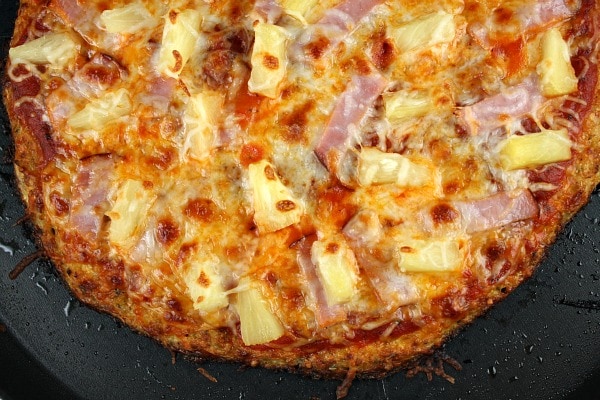 You can top cauliflower crust with any pizza toppings you'd like. I topped this one Hawaiian style. This pizza is incredibly simple to make!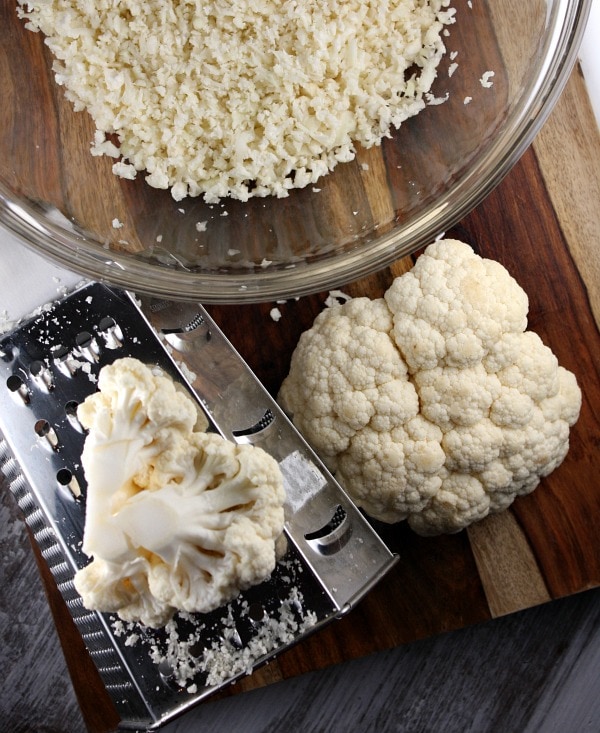 These days you can buy "cauliflower crumbles" in your market's produce section. If you can't locate the crumbles, it's easy enough to make your own.
How to make cauliflower crumbles:
Just use a cheese grater to "grate" your cauliflower into very small pieces. You can grate a whole large head of cauliflower and make two 9-inch pizzas.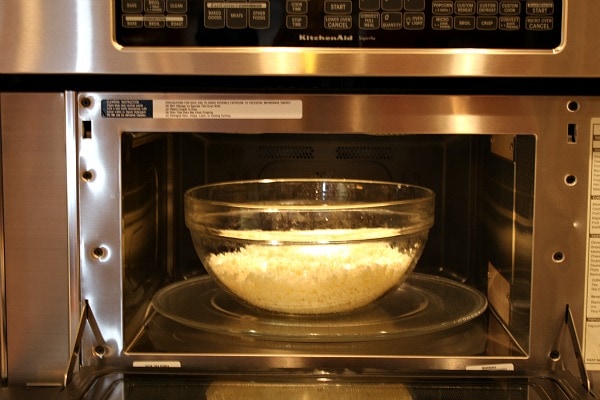 Microwave those cauliflower crumbles for 8 minutes. No water or anything needed. Just microwave it for 8 minutes to soften it up, and then let it cool a little bit. See the recipe below for how to proceed if you do not have a microwave.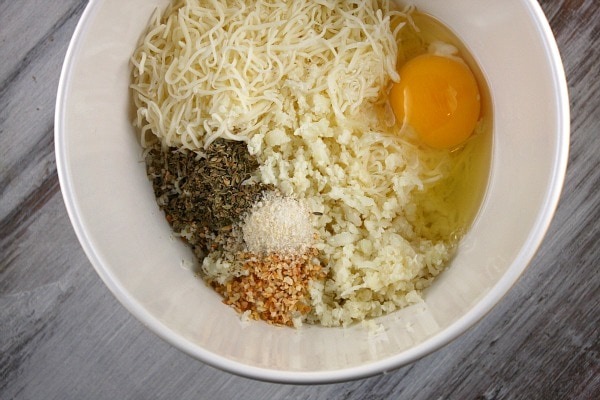 Mix 1 1/2 cups of the cauliflower crumbles with egg, cheese and spices. (I use mozzarella, but imagine using different varieties of cheeses in the crust! Yum!)

Shape it into a 9 to 12-inch round. Bake the crust. Top it with desired sauce and toppings.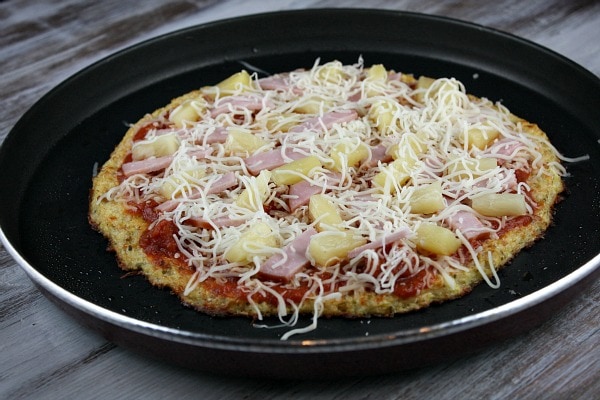 I went so simple and just used Classico Tomato Basil marinara sauce, mozzarella cheese, Canadian bacon and pineapple (our favorite).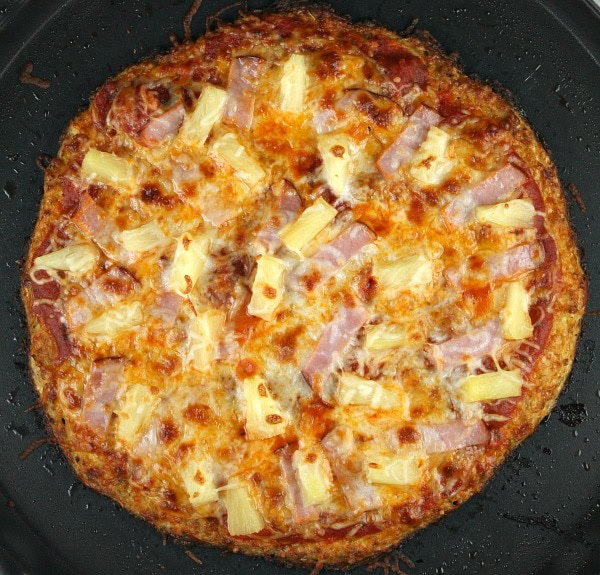 All that happens next is just a quick broil in the oven to melt the cheese and heat the toppings.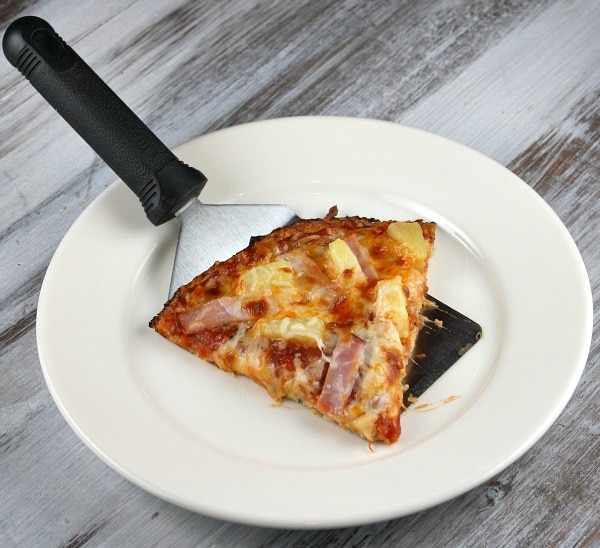 That is all! The pizza can be cut into 6 slices. You'll probably want to eat three slices to make it a complete meal. If you happen to be following the Weight Watchers WW plan, you will find a link to the WW Points on the recipe card at the end of this post.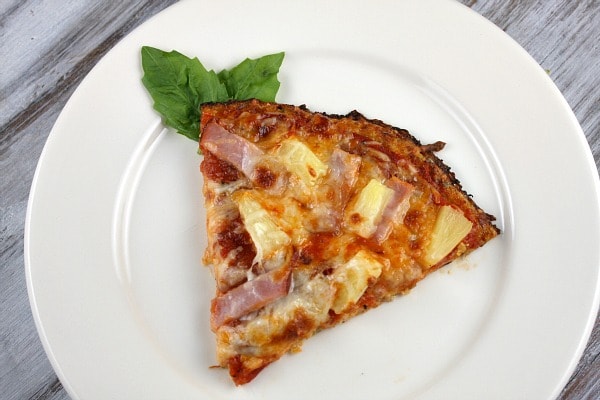 You should be able to make two pizzas from one large head of cauliflower. Everyone in my house really love this pizza crust and agrees that you can't tell at all that the crust is made out of cauliflower. It doesn't taste like "real" pizza crust, but it doesn't have the flavor or texture of cauliflower either. You'll have to try it out for yourself and let me know what you think! Thanks to this Cauliflower Pizza Crust post for inspiring me to make this myself and share it with my readers!
More pizza topping ideas:
Marinara or pizza sauce with your favorite toppings
Pesto with thin sliced tomato and fresh mozzarella
Alfredo with sausage, mushrooms, Provolone & Asiago cheese
Barbecue sauce with shredded chicken, green onions and smoked gouda
Here are a few more recipes featuring cauliflower:
Cauliflower Crust Hawaiian Pizza
Alternative crust for pizza that tastes great!
Recipe Details
Servings:
2
servings (½ pizza each)
Ingredients
CAULIFLOWER CRUST:
2 +

cups

cauliflower crumbles

(alternately, you can use a box grater to grate a cauliflower head)

1

large

egg

1

cup

finely shredded mozzarella cheese

(or try another kind)

1

teaspoon

dried oregano

½

teaspoon

dried minced (or fresh) garlic

½

teaspoon

onion salt
TOPPINGS:
½

cup

pizza sauce or tomato-basil marinara sauce

½

cup

finely shredded mozzarella cheese

3

slices

Canadian bacon,

cut into strips

½

cup

pineapple tidbits
Instructions
PREPARE THE CAULIFLOWER CRUST:
Place the cauliflower crumbles in a large bowl and microwave them (dry) for 8 minutes (see Tips below if you do not have a microwave). Give the cauliflower a chance to cool.

Preheat the oven to 450℉. Spray a cookie sheet or pizza pan with nonstick spray (or use a nonstick surface).

In a medium bowl, mix the cauliflower crumbles (about 1½ cups since they shrink after cooking) with the remaining crust ingredients. Pat the "crust" into a 9 to 12-inch round on the prepared pan. Spray the crust lightly with nonstick spray and bake for 15 minutes (or until golden). Remove the crust from the oven and turn the heat up to broil.
PREPARE THE PIZZA:
Spread the sauce on top of the baked crust, leaving a ½-inch border around the edge. Sprinkle ¼ cup cheese on top. Add the bacon and pineapple, spreading it out around the pizza. Sprinkle the remaining cheese on top.

Broil the pizza 3 to 4 minutes, or until the toppings are hot and the cheese is melted and bubbly. Cut into 6 slices and serve immediately. *This pizza is best served on a plate with a fork.
Notes
For those who don' t have a microwave: You can steam the florets just until they are tender (not mushy) on the stove and then let them cool before grating them. The texture/consistency won't be the same (It will be more like a puree) but it still works fine once you mix all the ingredients together.
*Other topping ideas:
Marinara or pizza sauce with your favorite toppings
Pesto with thin sliced tomato and fresh mozzarella
Alfredo with sausage, mushrooms, Provolone & Asiago cheese
Barbecue sauce with shredded chicken, green onions and smoked gouda
If you are preparing this recipe as GLUTEN-FREE, just be sure to use brands of sauce and Canadian bacon that are known to be GF,
Nutrition
Serving:
1
g
,
Calories:
507
kcal
,
Carbohydrates:
38
g
,
Protein:
39
g
,
Fat:
23
g
,
Saturated Fat:
11
g
,
Cholesterol:
173
mg
,
Sodium:
1931
mg
,
Potassium:
1123
mg
,
Fiber:
6
g
,
Sugar:
27
g
,
Vitamin A:
1002
IU
,
Vitamin C:
95
mg
,
Calcium:
717
mg
,
Iron:
3
mg