This recipe has been featured in a post on The Recipe Girl blog: Spinach, Mushroom and Feta Pizza with Whole Wheat Crust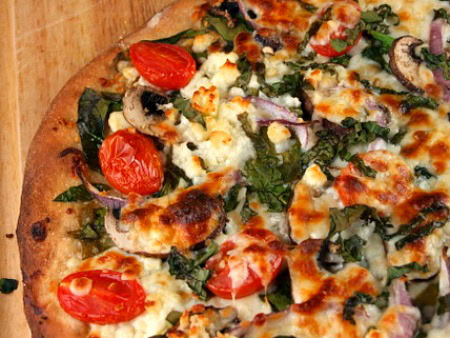 Spinach, Mushroom and Feta Pizza
Yield:
6 good-sized slices
Prep Time: 30 min
Cook Time: 10 min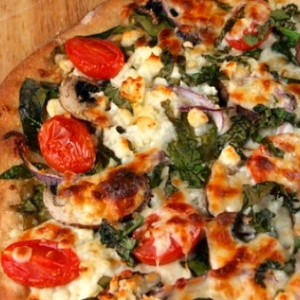 Ingredients:

1 recipe whole wheat pizza dough (or purchased from store)
1/4 cup cornmeal
2 cloves garlic, minced
1 Tablespoon olive oil
1/2 teaspoon garlic salt
1 cup shredded Mozzarella cheese
2 cups fresh spinach, chopped
1 1/2 cups sliced mushrooms
1/2 cup sliced red onions
3/4 cup halved cherry or pear tomatoes
1/2 cup crumbled feta cheese
2 Tablespoons chopped fresh basil

Instructions:

1. Prepare whole wheat crust- follow directions until rolled out but not baked.

2. Preheat oven to 375°F. Place baking stone on bottom rack to preheat with the oven. If you don't have a baking stone, place a baking sheet on the bottom rack instead.

3. On a separate baking sheet, sprinkle cornmeal. Place rolled out round of pizza dough on top of cornmeal.

4. Brush a thin layer of olive oil onto the crust. Brush minced garlic onto the crust too. Sprinkle lightly with garlic salt. Sprinkle 1/2 cup of the Mozzarella cheese on as the first layer. Spread fresh spinach on top of cheese. Then add mushrooms, onion and tomato. Top with remaining Mozzarella and feta cheese. Sprinkle basil on top.

5. Slide pizza onto stone and bake until crust is browned and pizza is bubbly- set timer for 8 minutes, then check and add more time, if needed. When done, remove pizza from oven by sliding baked pizza onto large cutting board.

Tips:

*Play with the veggies on this one... add or substitute your favorites.