This recipe has been featured in a post on The Recipe Girl blog: Classic Pepperoni Pizza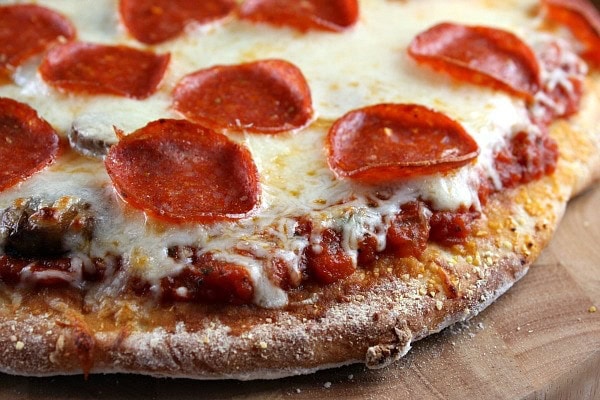 Pepperoni Pizza
The mushrooms are optional, of course, but they do add another flavor dimension to classic pepperoni pizza.
Yield:
1 pizza- 8 slices
Prep Time: 25 min
Cook Time: 10 min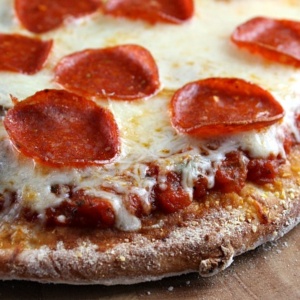 Ingredients:

2 cups thinly sliced cremini or button mushrooms (about 4 ounces)
1 ball of pizza dough
2 tablespoons stoneground (or regular) cornmeal
2 teaspoons olive oil
1 1/3 cups pizza sauce
1 1/2 cups (6 ounces) shredded part-skim mozzarella cheese
2 tablespoons grated fresh Parmesan cheese
2 ounces sliced pepperoni

Instructions:

1. Position oven rack in the middle setting. Position another rack in the lowest setting, and place a rimless baking sheet (or pizza stone) on the bottom rack. Preheat oven to 500°.

2. Heat a large nonstick skillet over medium-high heat. Coat pan with cooking spray. Add sliced mushrooms to pan, and sauté for 5 minutes or until moisture evaporates. Mop up any excess moisture with a paper towel.

3. Roll out pizza dough on a lightly floured surface, sprinkle cornmeal on a rimless baking sheet and place the pizza dough on the baking sheet for a few minutes to rest. Brush the rested dough with olive oil. Remove preheated baking sheet from oven; close oven door. Slide dough onto preheated baking sheet, using a spatula as a guide. Bake on lowest oven rack at 500° for 8 minutes. Remove from oven.

4. Spread pizza sauce in an even layer over crust, leaving a 1/4-inch border. Top sauce with mushrooms. Sprinkle mushrooms evenly with mozzarella and Parmesan. Arrange pepperoni in an even layer on top of cheese. Bake on middle rack an additional 10 minutes or until crust is golden brown and cheese melts. Cut into 8 wedges.

Tips:

*I used the following for this recipe: Easy Pizza Dough & Basic Pizza Sauce. Buy your own pre-made if you prefer.
*Mushrooms are optional. Leave them out if you prefer.
*Use turkey pepperoni if you'd like to save on the fat.