Barbecued Chicken Pizza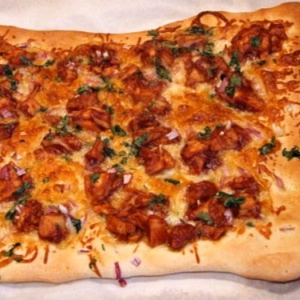 Yield:
4 servings
Prep Time: 20 min
Cook Time: 10 min
Ingredients:
1/2 cup barbecue sauce (your favorite)
1 cup cooked chicken, diced about 1/2-inch cubes
One ball pizza dough
2 tablespoons olive oil
1 1/4 cups mozzarella cheese, shredded
1/2 cup red onions, chopped
2 tablespoons fresh cilantro, chopped
Directions:
1. Mix bbq sauce and chicken and allow to marinate for a few minutes, or even up to 24 hours.
2. Preheat oven to 400 degrees F.
3. Spread fresh pizza dough onto parchment paper or pizza stone (no cookie sheet). Lightly spread olive oil on the crust, leaving about a 1-inch edge. Add mozzarella cheese.
4. Evenly distribute BBQ chicken on top of the cheese. Top with onions and garnish with cilantro.
5. Bake on middle or top rack for 9-13 minutes, or until cheese is fully melted and the crust is golden.
6. Remove from oven, let cool a few minutes and serve.