Sometimes we just like the simple dishes. This is one of them. My family loves this pizza. It technically isn't really "meatball," rather it's more like Sloppy Joe Pizza. Easy fare for a family dinner.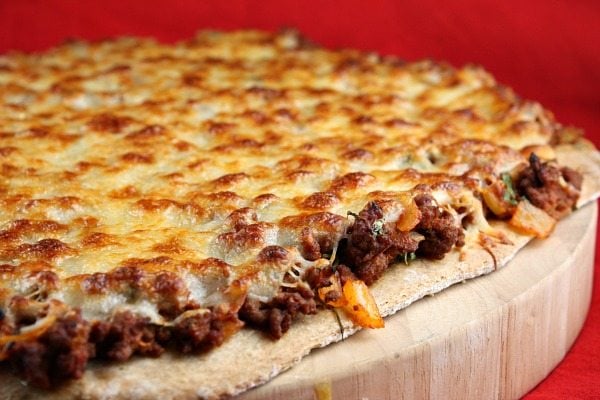 Yield: 4 servings
Prep Time: 30 min
Cook Time: 25 min
Meatball Pizza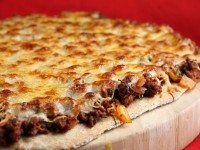 Ingredients:
2 tablespoons extra virgin olive oil (plus more for drizzling)
1 store-bought pizza dough (or from your favorite pizza shop)
1 handful flour or cornmeal
2 tablespoons finely chopped fresh rosemary
coarse salt
1 1/2 pounds ground beef (sirloin)
1 medium onion, finely chopped
4 to 6 cloves garlic, finely chopped
coarsely ground black pepper, to taste
3 ounces can tomato paste
1/2 cup grated Parmigiano-Reggiano
1 handful fresh flat-leaf parsley, chopped
1/2 teaspoon dried oregano
3/4 pound mozzarella, sliced or shredded
Directions:
1. Preheat oven to 425°F.
2. Drizzle a round pizza pan or a rectangular baking sheet with olive oil. Dust the dough with flour or cornmeal then spread out the dough to form your crust. Poke the pizza dough in several places with the tines of a fork. Drizzle the dough with olive oil, then season it with the rosemary and a little salt. Bake for 10 minutes.
3. Heat a large skillet over medium-high heat. Add the 2 Tablespoons of olive oil, then the meat. Brown and crumble the meat for a couple of minutes, then add onions and garlic. Season the meat with salt and pepper, then work in the tomato paste using the back of a wooden spoon. Stir in the cheese parsley and oregano.
4. Remove pizza crust from the oven and top with the meat mixture. Arrange cheese over pizza working from the center to the outside edge. Return the pizza to the oven and bake until the cheese is golden, another 10 to 12 minutes.
5. Let pizza sit for a few minutes, then cut into wedges and serve.