This Ricotta and Vegetable Stuffed Pizza Pie begins with a basic pizza dough.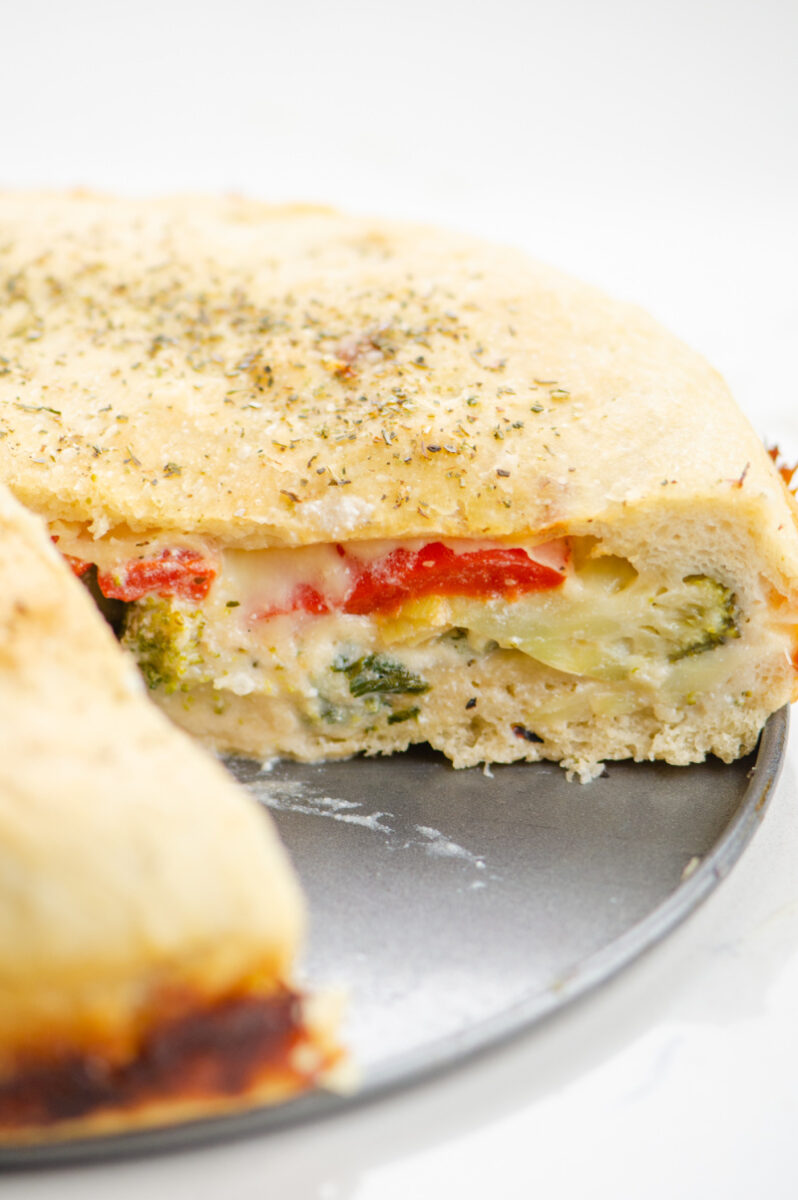 Why make a regular pizza when you can enjoy a stuffed pizza pie? There is so much to love about this type of pizza. Crust on the bottom, all kinds of fillings, and then a crust on top as well. It's all baked together to create one, thick, stuffed pizza. It kind of reminds me of my very popular Chicago Style Deep Dish Pizza Recipe since it's so substantial and tasty.
This is one pizza that you're really going to love. The nice thing about it is that you can use whatever fillings you'd like to stuff your pizza! There are suggestions for other ways to stuff your pizza toward the end of this post. Read on!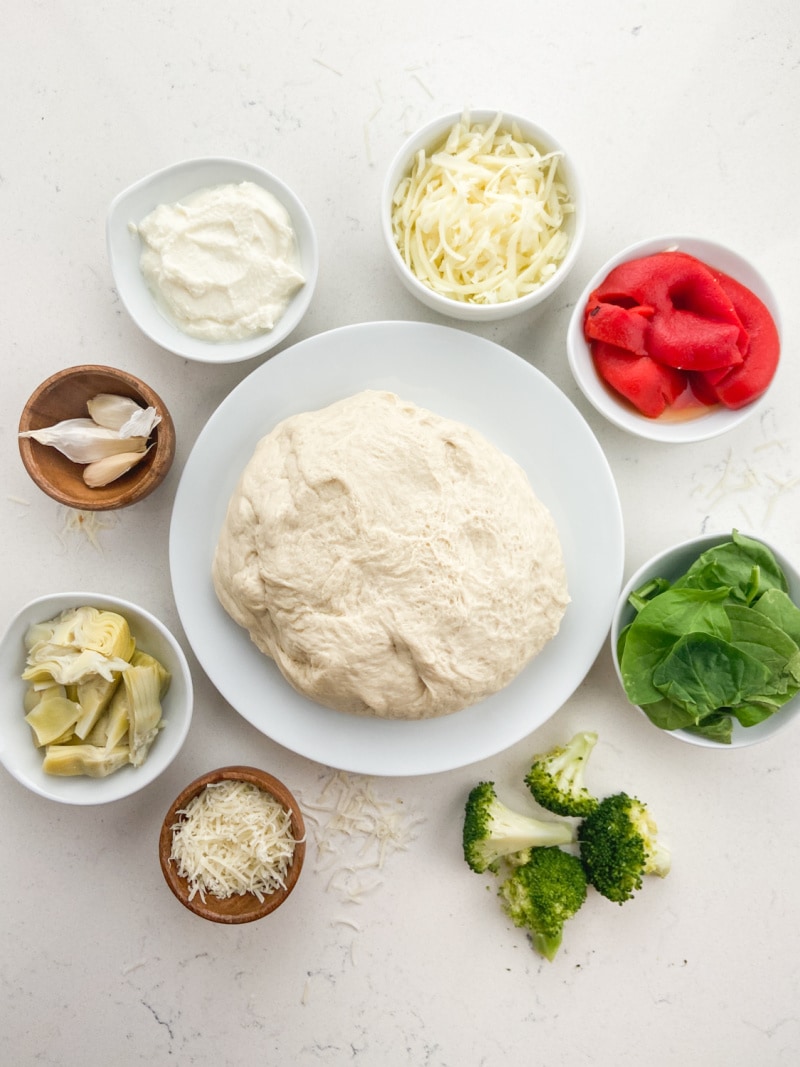 What ingredients are needed to make a stuffed pizza pie?
One ball of pizza dough: Purchase a pre-made ball of dough at your market, or go to your favorite pizza place and ask them to sell you a ball of freshly made pizza dough. You'd be surprised how many pizza places would be willing to do that! Alternately, you can make your own homemade pizza dough.
Ricotta cheese: Use skim, whole or low fat. It's completely up to you what type of ricotta you use for this recipe.
Parmesan cheese: I like to buy a wedge and freshly grate it. You'll find that's so much better than a bag or tub of already grated Parmesan.
Olive oil
Garlic: You will need a garlic press to mince the garlic.
Fresh spinach: It's okay to buy the spinach leaves that are already washed and in a salad tub or bag.
Broccoli florets: Don't use frozen! Buy fresh, and lightly steam them until they're tender.
Kosher salt
Roasted red peppers: Buy the roasted red pepper strips that are sold in a jar. Drain them well before adding them to this recipe.
Frozen or canned artichoke hearts: Don't buy the marinated artichoke hearts. There is no need to thaw the artichoke hearts.
Mozzarella cheese: Again, the cheese is best if you buy a ball of cheese and grate it yourself.
Italian seasoning
Dipping sauce: I recommend dipping your stuffed pizza pie into marinara sauce or Ranch dressing.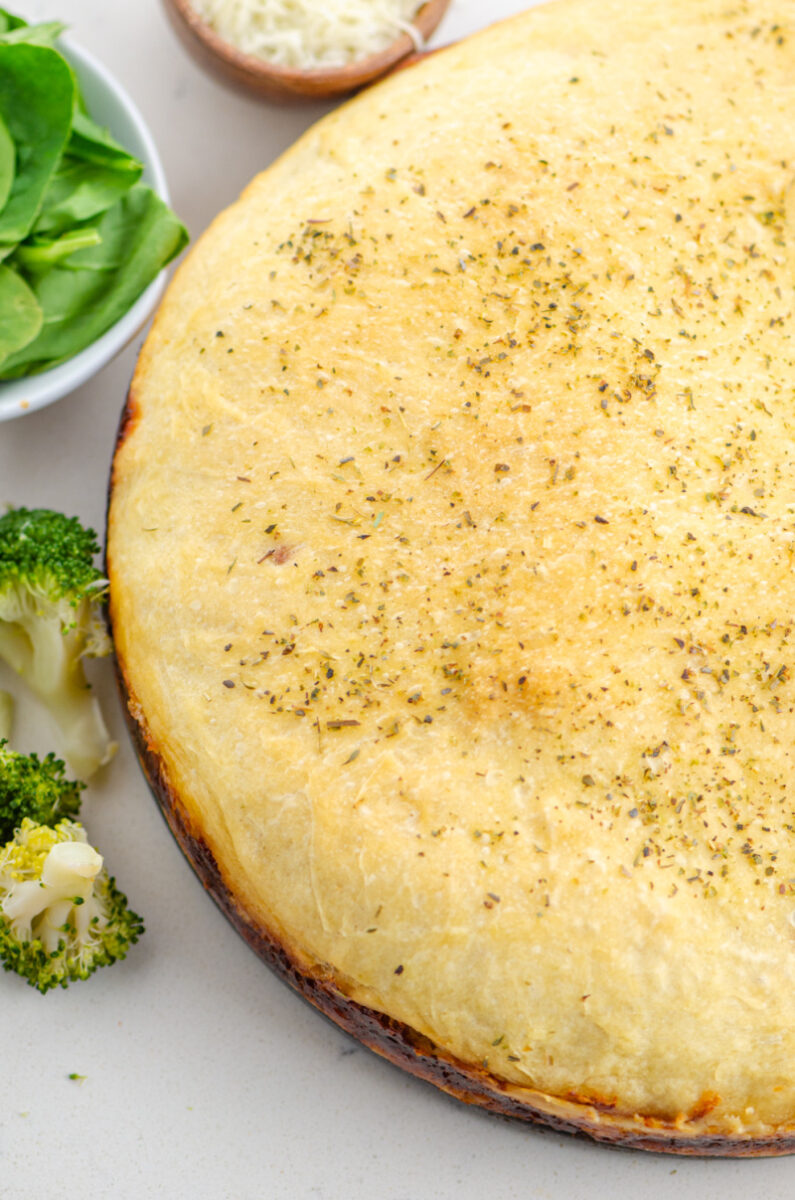 How do you make a stuffed pizza pie?
The full, printable recipe is at the end of this post. You will need a 9-inch springform pan to make this recipe. Spray it with nonstick spray, and preheat the oven to 375 degrees F.
Divide your ball of dough in half. Roll each half into an 9 or 10-inch round. Place one rolled-out piece of dough into the bottom and press it up the sides of the pan too.
Combine ricotta and Parmesan cheeses, and spread those on top of the dough in the pan.
In a skillet, cook garlic and spinach in olive oil. Then place the spinach in an even layer on top of the cheese.
Add artichoke hearts, broccoli and a sprinkle of kosher salt. Roasted red pepper strips are added next. A layer of mozzarella cheese goes on top of the peppers.
The final step is adding the 2nd rolled-out piece of dough to the top. Tuck the edges into the sides of the pan. Brush the top with olive oil, and sprinkle Italian seasoning on top.
Bake for 25 to 30 minutes- until the dough is cooked through and golden. The cheese should be nice and melty inside. Let it cool for a bit before slicing.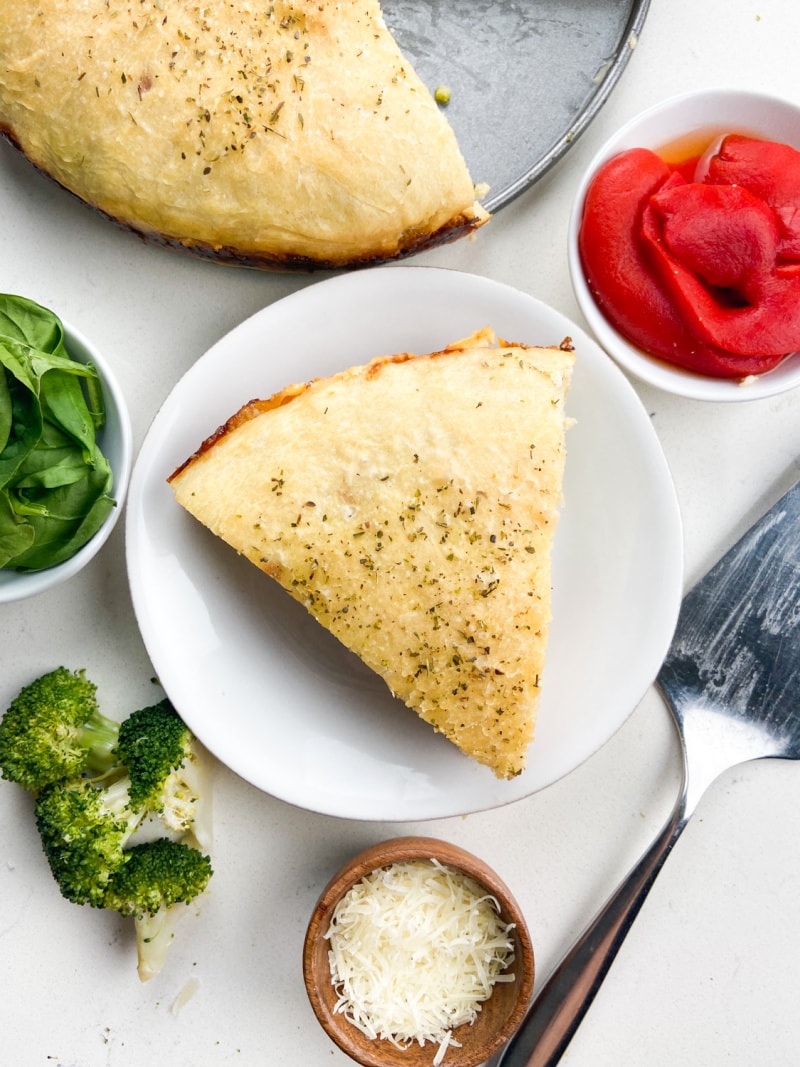 Cut into wedges. Since it's a pretty substantial serving, the whole stuffed pizza pie should serve 6 to 8 people. We like to serve it with a little bit of marinara sauce. Some people like Ranch dressing with their pizza too!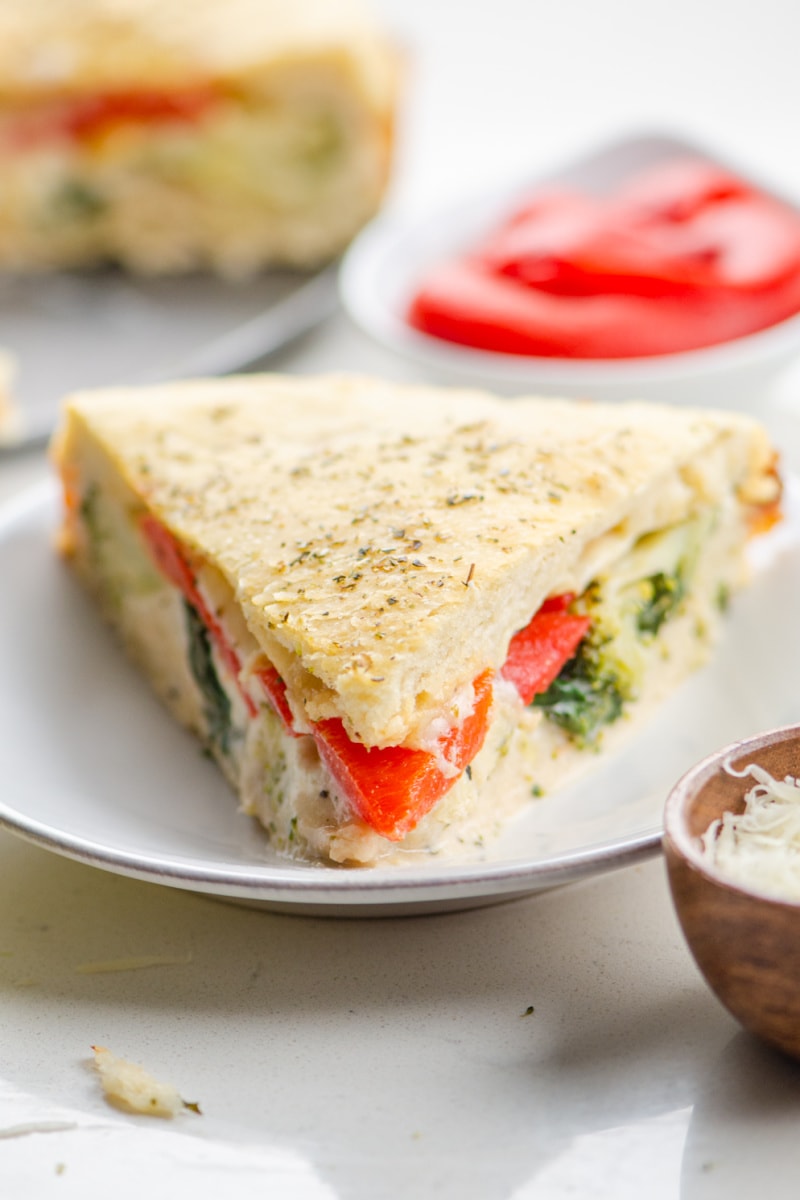 This is very much a family friendly recipe. Kids may prefer a stuffed pizza with alternative stuffings (see ideas below). Make it to your preference. It's a good weeknight dinner, or consider doing Friday Night Pizza Night at home. Enjoy!
What kinds of fillings are best for stuffed pizza?
This stuffed pizza pie has cheese and vegetables in it. But there are so many other things you can stuff into a pizza!
If you like Hawaiian pizza, you can stuff it with ham and and pineapple (along with the cheese).
If you're a meat lover, consider adding different meats. Sausage, pepperoni, ground beef and meatball are all good choices for stuffing into pizza.
And if you're into the combination pizza idea, that works well too. Stuff it with pepperoni, sausage, ground beef, onions, black olives, mushrooms, and mozzarella cheese.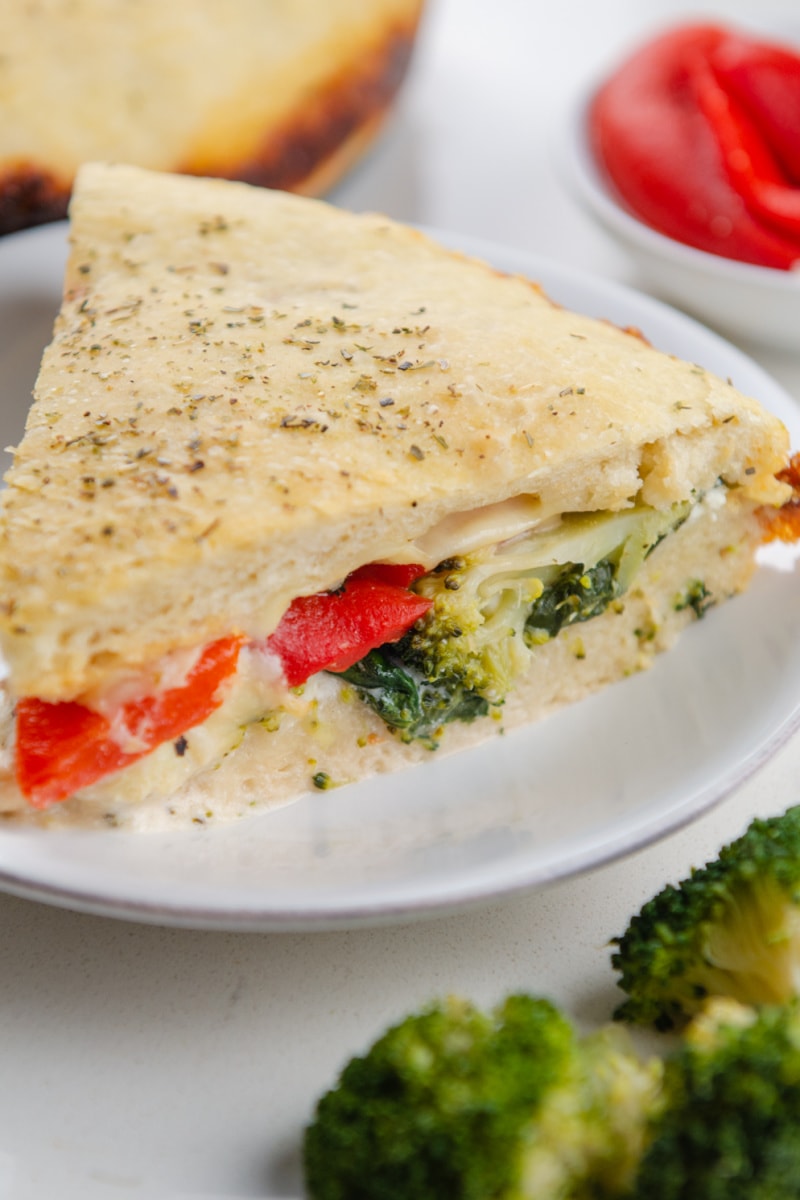 More Pizza Recipes:
Ricotta and Vegetable Stuffed Pizza Pie
Such a great way to eat pizza stuffed with all kinds of delicious goodies!
Recipe Details
Ingredients
One

ball (16 ounces)

pizza dough,

divided in half

1

cup

ricotta cheese

½

cup

freshly grated Parmesan cheese

1

tablespoon

extra virgin olive oil

1

medium

garlic clove,

minced

2

cups

fresh spinach leaves

2

cups

fresh broccoli florets,

steamed until fork-tender

¼

teaspoon

kosher salt

½

cup

jarred roasted red bell peppers

(drained)

¾

cup

canned or frozen artichoke hearts

1½

cups

shredded mozzarella cheese

1

tablespoon

olive oil

1

teaspoon

Italian seasoning

jarred marinara sauce or Ranch dressing,

for serving (optional)
Instructions
Preheat the oven to 375°F. Spray a 9-inch springform pan (with removable bottom) with nonstick spray.

Roll out each piece of pizza dough into 9 or 10-inch rounds. Spread and press one piece of dough into the bottom and sides of the prepared pan.

In a medium bowl, mix together the ricotta and Parmesan cheese until well combined. Carefully spread on top of the pizza dough in the pan.

Heat the olive oil in nonstick skillet. Add the garlic and stir for about a minute while it sizzles. Add the spinach and stir gently just until wilted. Remove from heat. Place the spinach in an even layer on top of the ricotta. Place the frozen artichoke hearts on top of the spinach (no need to thaw or cook). Scatter the broccoli florets on top of the artichoke heart layer. Sprinkle with salt. Lay strips of roasted red peppers and then scatter a nice layer of mozzarella cheese on top of everything.

Place the 2nd rolled out crust on top of the cheese and tuck the edges into the sides of the pan. Brush the top of the dough with olive oil and sprinkle with Italian seasoning.

Bake 25 to 35 minutes or until the crust is golden brown and cooked through. Let cool for 10 minutes before removing from the pan or cutting into wedges. Serve with a dollop of marinara or Ranch dressing, if desired.
Notes
If you are unable to find fresh pizza dough at your market, ask your local pizza establishment if they will sell you a fresh ball of dough- they often do!
Nutrition
Serving:
1
slice
,
Calories:
323
kcal
,
Carbohydrates:
33
g
,
Protein:
16
g
,
Fat:
14
g
,
Saturated Fat:
6
g
,
Polyunsaturated Fat:
1
g
,
Monounsaturated Fat:
5
g
,
Cholesterol:
32
mg
,
Sodium:
892
mg
,
Potassium:
248
mg
,
Fiber:
3
g
,
Sugar:
4
g
,
Vitamin A:
1243
IU
,
Vitamin C:
28
mg
,
Calcium:
290
mg
,
Iron:
2
mg