If you're looking for a lighter-style pizza recipe, try this White Pizza with Arugula, Bacon and Mushrooms.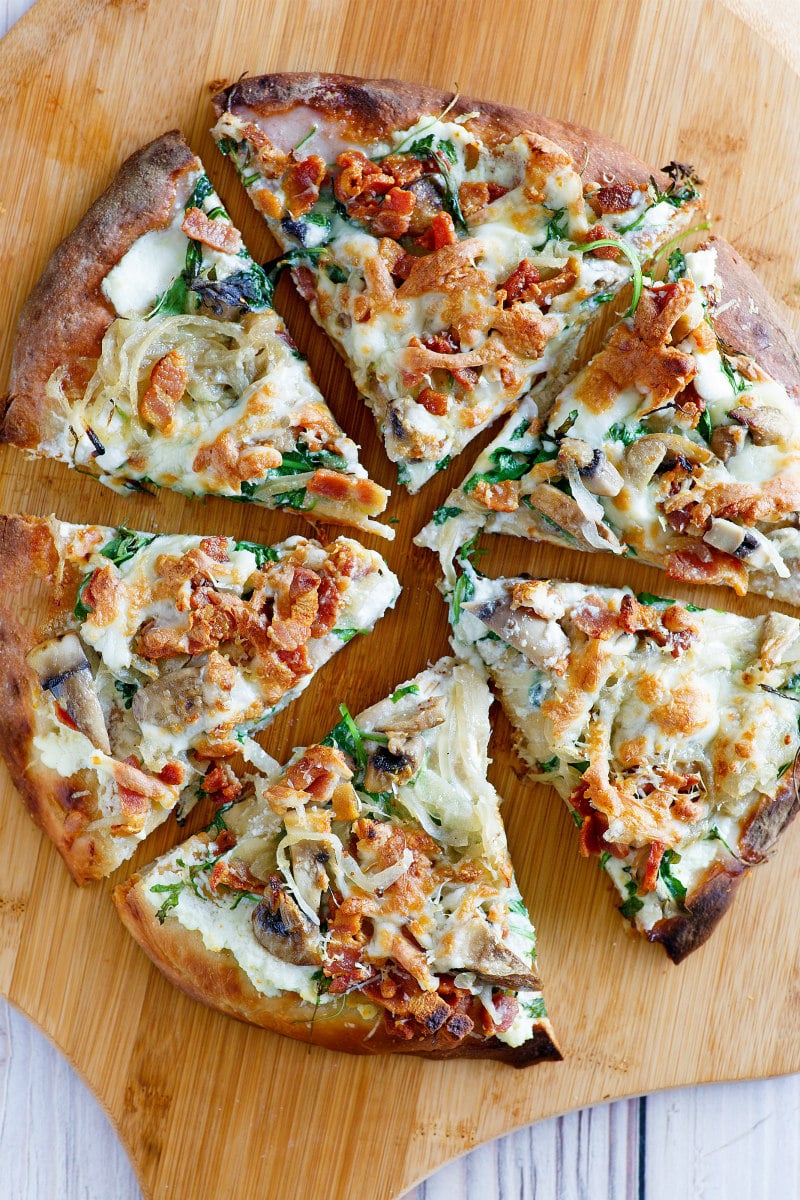 This is not your typical pizza recipe. There is no marinara sauce to be found. I think that's a nice deviation from the norm. Instead, the red sauce is replaced with ricotta cheese, toppings, mozzarella and Parmesan cheeses. So this white pizza doesn't have an actual "sauce" on it. The toppings are all it needs.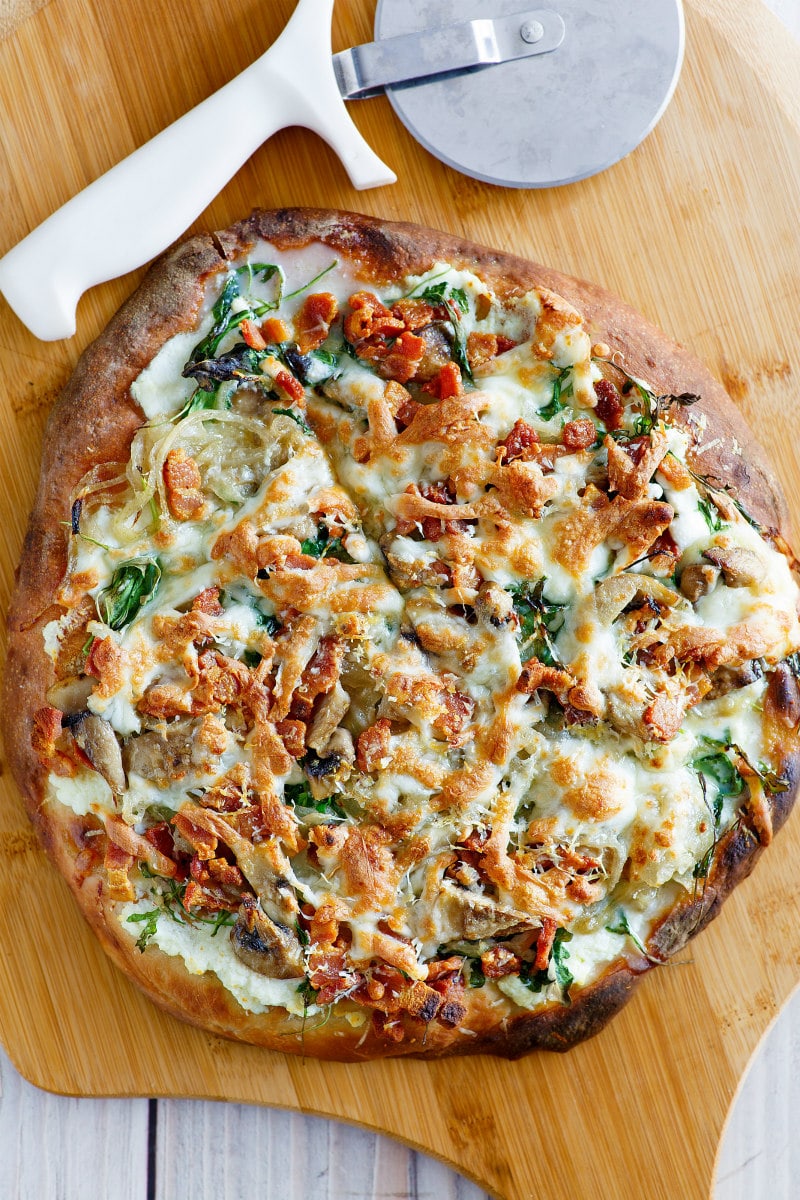 How to make Homemade Pizza Dough:
Active dry yeast and warm water are combined with warm water briefly until the yeast is activated. Then it's mixed with flour and salt to create a dough. That dough is kneaded out until a smooth and elastic texture is achieved. Then the pizza dough is placed into a bowl and set aside to rest and rise for about an hour. At that point, the pizza dough will be ready to punch down and roll out to make your white pizza.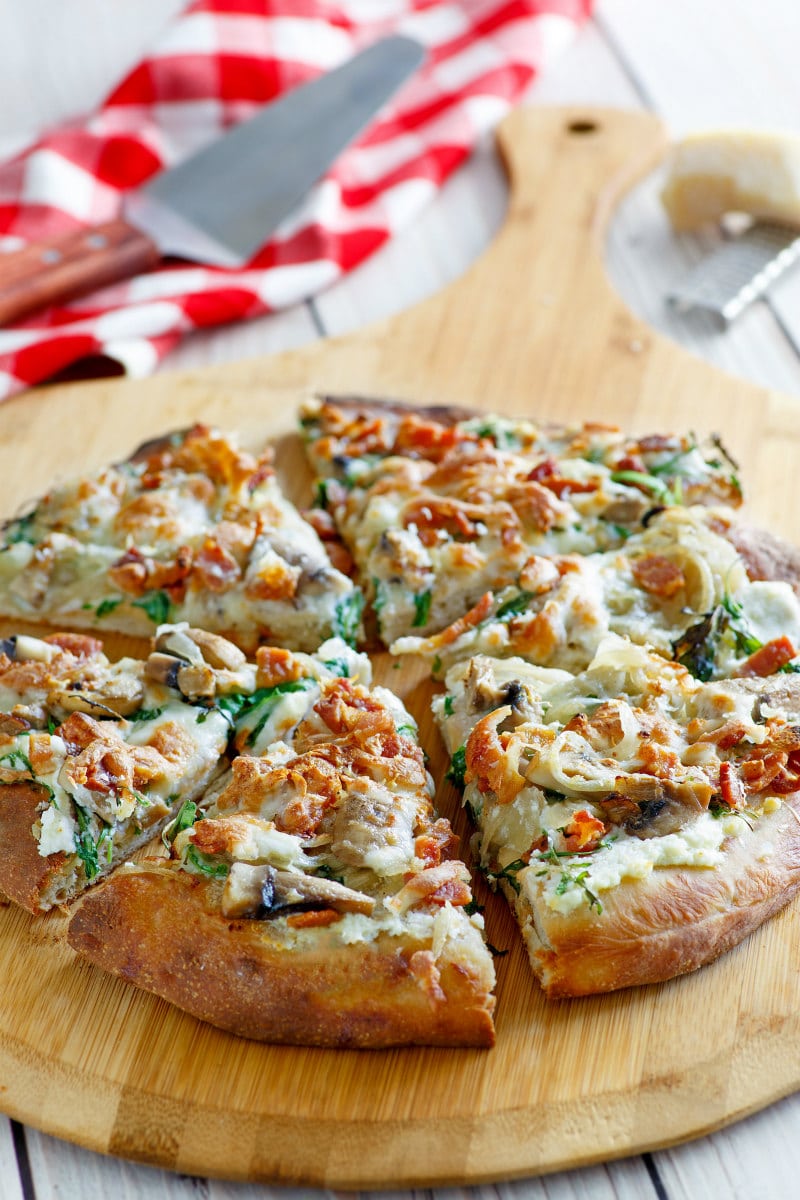 How to make White Pizza:
The first thing you'll do is pre-bake the dough on a pizza pan or baking sheet. Then you'll cook the bacon, onion and mushrooms in a skillet. A lot of white pizza recipes call for using some type of Alfredo sauce. This white pizza is a lighter version. No Alfredo is necessary. Instead, you'll spread skim ricotta cheese on the pre-baked crust, and then top the ricotta with arugula, bacon, onion and mushrooms. Mozzarella and Parmesan cheeses are sprinkled on top. Then the pizza is ready for its 15 minutes in the oven.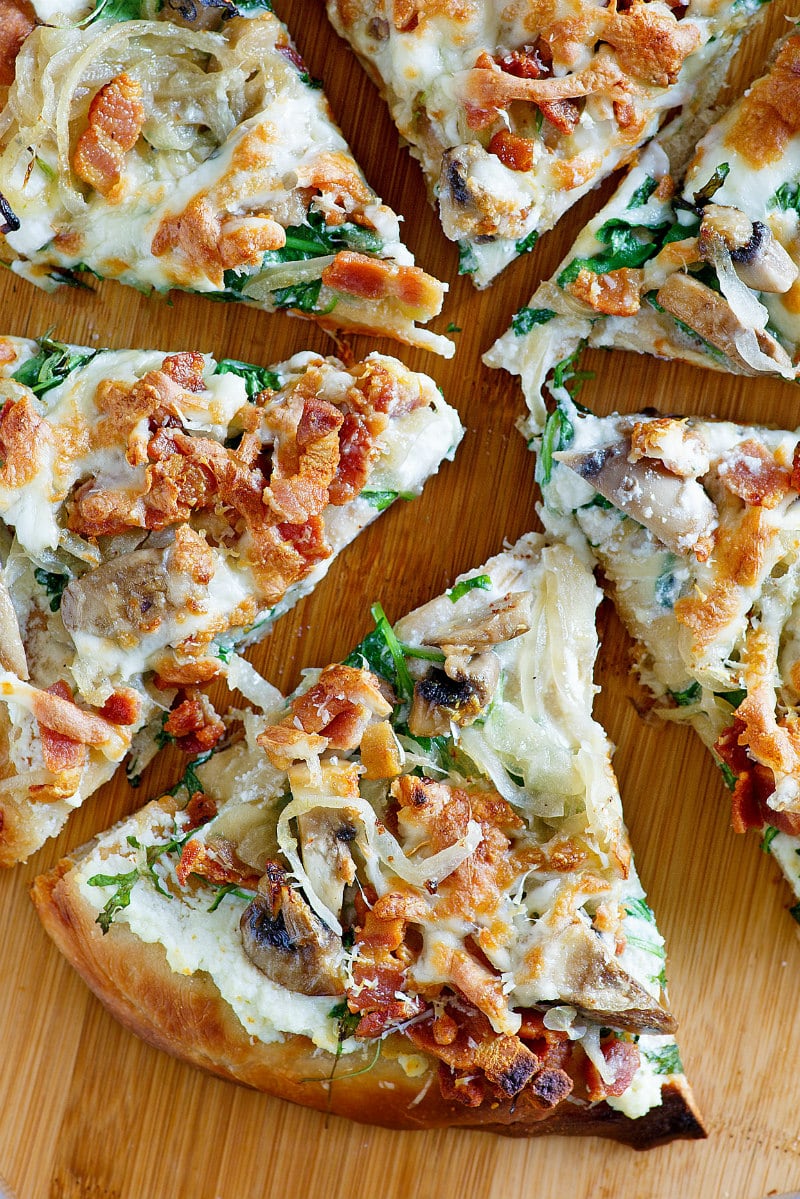 After baking, you can slide your white pizza onto a good-sized cutting board and use a pizza cutter to cut slices.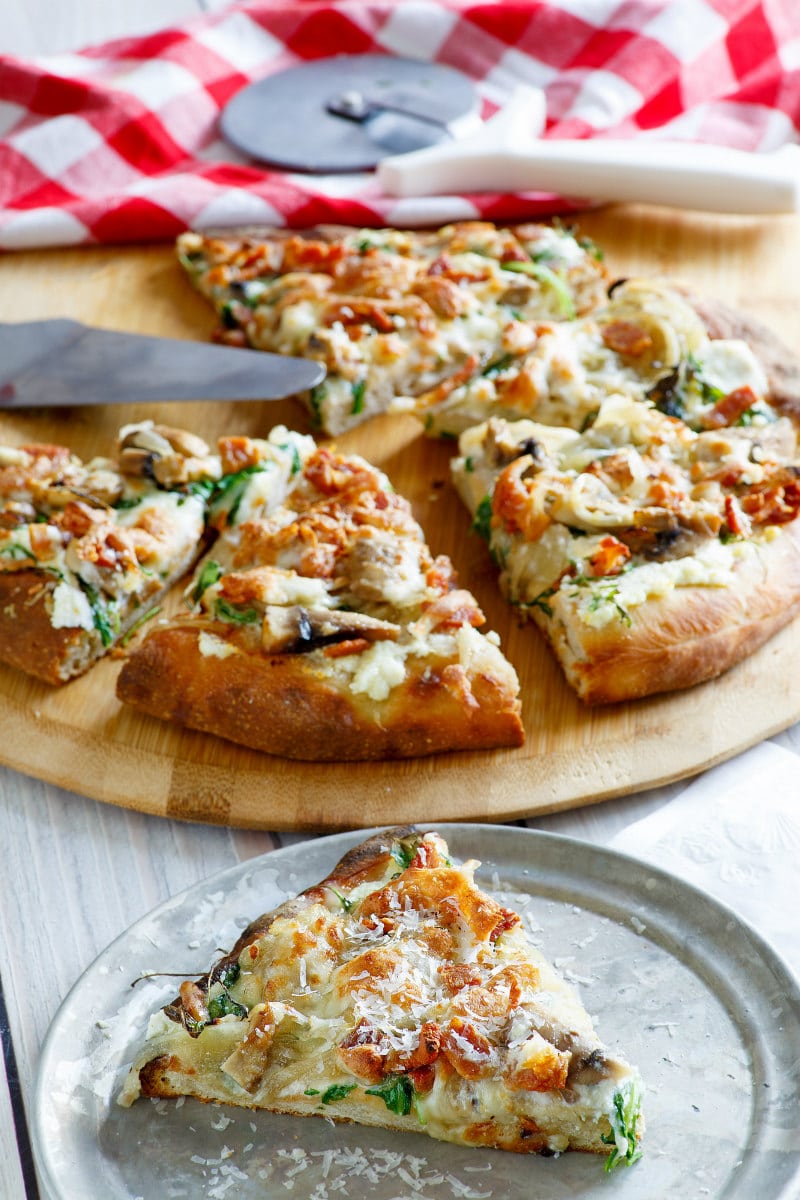 If you happen to be following the Weight Watchers WW plan, this pizza should be divided into 6 equal slices. You'll find a link to the WW Points on the recipe card below. And if you're not following any kind of diet, you will just appreciate that this white pizza isn't quite as heavy as the usual pizzeria pizza. Enjoy!
Here are a few more pizza recipes you might like to try:
White Pizza with Arugula, Bacon and Mushrooms
Recipe Details
Ingredients
CRUST:
One

.25-ounce envelope

active dry yeast

(2¼ teaspoons)

1

teaspoon

granulated white sugar

½

cup

warm water

(100 to 110 degrees F.)

1½

cups

all purpose flour,

divided

¼

teaspoon

kosher salt

2

teaspoons

yellow cornmeal
TOPPING:
2

slices

center cut bacon

½

cup

thinly sliced white onion

8

ounces

whole button mushrooms,

quartered

½

teaspoon

Kosher salt,

divided

¼

teaspoon

freshly ground black pepper,

divided

1

tablespoon

extra virgin olive oil

½

cup

part-skim ricotta

2

cups

baby arugula

(can substitute chopped fresh spinach)

⅓

cup

shredded part-skim mozzarella cheese

2

tablespoons

freshly grated Parmesan cheese
Instructions
PREPARE THE DOUGH:
In a large bowl, dissolve the yeast and sugar in ½ cup warm water; let stand 5 minutes. Lightly spoon the flour into dry measuring cups, and level with a knife. Stir 1¼ cups of flour and ¼ teaspoon salt into the yeast mixture to form a soft dough. Turn the dough out onto a lightly floured surface. Knead until smooth and elastic (about 5 minutes); add enough of remaining flour, 1 tablespoon at a time, to prevent the dough from sticking to your hands.

Place the dough in a large bowl coated with cooking spray; turn the dough to coat. Cover; let rise in a warm place (85°F), free from drafts, 1 hour or until doubled in size. (Press two fingers into the dough. If an indentation remains, the dough has risen enough).

Punch the dough down; cover and let rest 5 minutes. Roll the dough into a 14-inch circle on a lightly floured surface. Place the dough on a pizza pan or baking sheet coated with cooking spray and sprinkled with cornmeal. Crimp the edges of the dough with your fingers to form a rim.
PREPARE THE TOPPING:
Preheat the oven to 450°F.

Cook the bacon in a large nonstick skillet over medium heat until crisp. Remove the bacon from the skillet, reserving 2 teaspoons of the bacon drippings in the pan. Crumble the bacon; set aside. Add the onion and mushrooms to the pan; cook 10 minutes or until tender and the moisture evaporates, stirring occasionally. Remove from heat; sprinkle with ¼ teaspoon salt and ⅛ teaspoon pepper.
ASSEMBLE AND BAKE THE PIZZA:
Drizzle oil over the dough; sprinkle with the remaining ¼ teaspoon salt and ⅛ teaspoon pepper. Place the pan on lowest oven rack; bake at 450°F. for 10 minutes or until golden brown. Remove from the oven; spread the ricotta evenly over the crust, leaving a ½-inch rim. Arrange the onion mixture and arugula evenly over the ricotta. Sprinkle with the bacon, mozzarella, and Parmesan. Bake an additional 10 to 15 minutes or until the crust is lightly browned and the topping is bubbling. Let stand 5 minutes before serving. Cut into wedges.
Notes
To save time/make this recipe easier, use a refrigerated pizza dough. Trader Joe's sells great pizza dough. (This will change the calorie count, of course.)
Nutrition
Serving:
1
serving
,
Calories:
237
kcal
,
Carbohydrates:
29
g
,
Protein:
10
g
,
Fat:
9
g
,
Saturated Fat:
3
g
,
Cholesterol:
17
mg
,
Sodium:
434
mg
,
Potassium:
238
mg
,
Fiber:
2
g
,
Sugar:
2
g
,
Vitamin A:
281
IU
,
Vitamin C:
3
mg
,
Calcium:
141
mg
,
Iron:
2
mg