Refreshing and sweet, Grilled Watermelon Pizza with Blueberries, Parmesan and Arugula is a fun twist on the traditional pizza pie. Simple to make, this is a summertime must have for every party this season.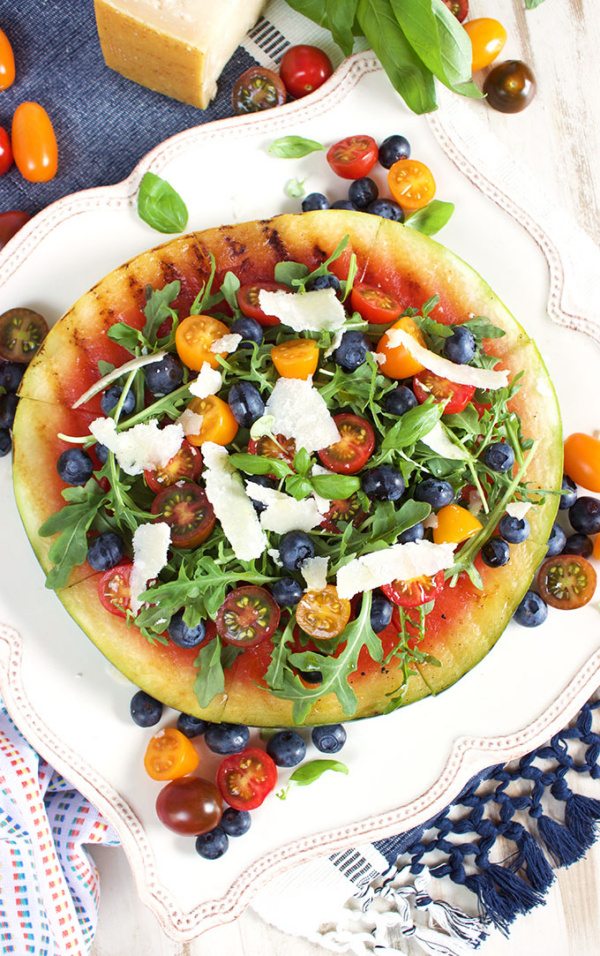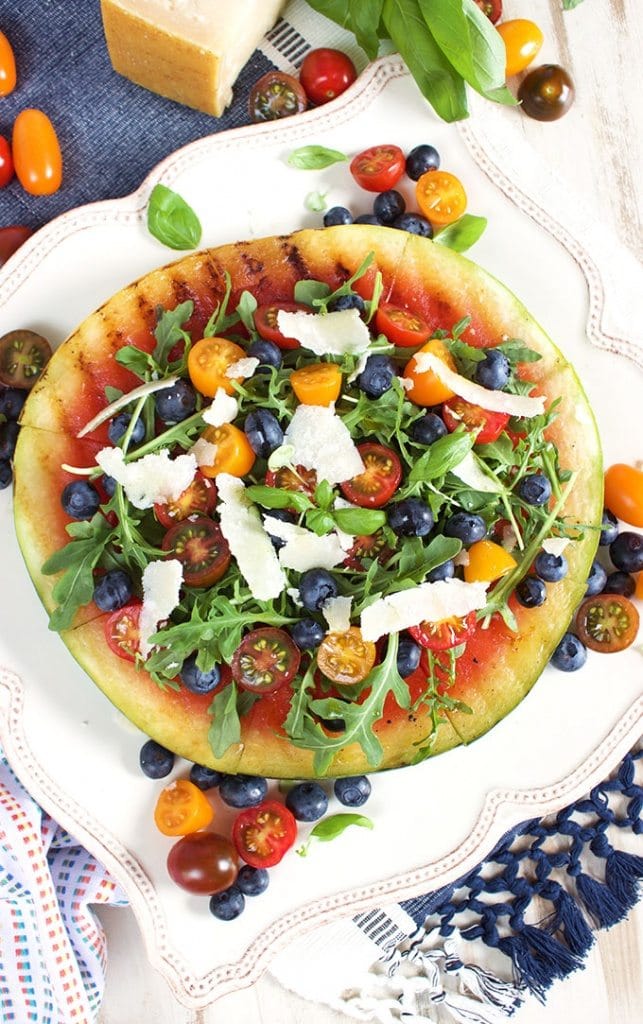 Summer's Fruit: Watermelon
Summer wouldn't be complete without the juicy goodness of a big, ripe watermelon. It's something I crave when the weather gets warm, and one bite can totally blast away the effects of sweltering hot day. I remember long summer days playing in the woods behind my house spending hours just wandering around exploring, but once I heard the crickets start to chirp and spotted the twinkle of the first lightening bug I knew it was time to head home. Once I reached the front door, there was always a plate of chilled watermelon wedges waiting for me. The best form of hydration…in my opinion.
My little guy has the same love of watermelon as I do….but he spends his days swimming around in the pool not so far from the house. I still offer up plates of chilled watermelon wedges as a healthy snack, but the adults like to play with their food a little more. And that's how this Grilled Watermelon Pizza with Blueberries, Parmesan and Arugula came to be.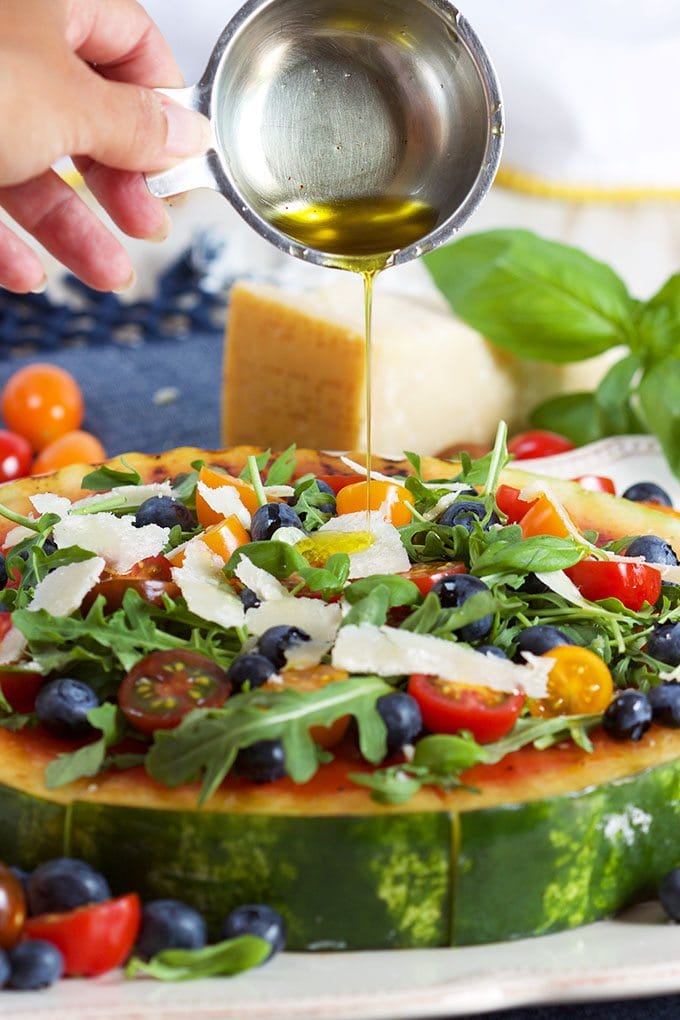 Grilled Watermelon Pizza
You would think that a grilled watermelon would lose it's juiciness, but that's not the cause. In fact, I feel it actually enhances the flavor, kind of like a release mechanism that makes them just burst at the seems with flavor.
The outside has bits of caramelized sugar from the grill grates adding a fun, tasty texture and THEN you can top with anything you like. For this recipe I topped our pizza with a pile of baby arugula, some sliced cherry tomatoes, blueberries and shaved parmesan. The saltiness is totally on point here….don't skip it, it just belongs there.
Drizzle with a bit of olive oil for a peppery finish, slice and dig in. Of course, it's called a pizza because of the wedges, but it's really more like a grilled watermelon salad. It's the perfect light lunch, and it's a great way to kick off a summer barbecue as a healthy appetizer.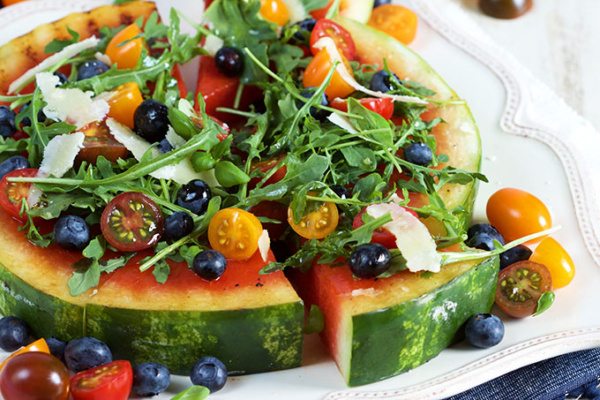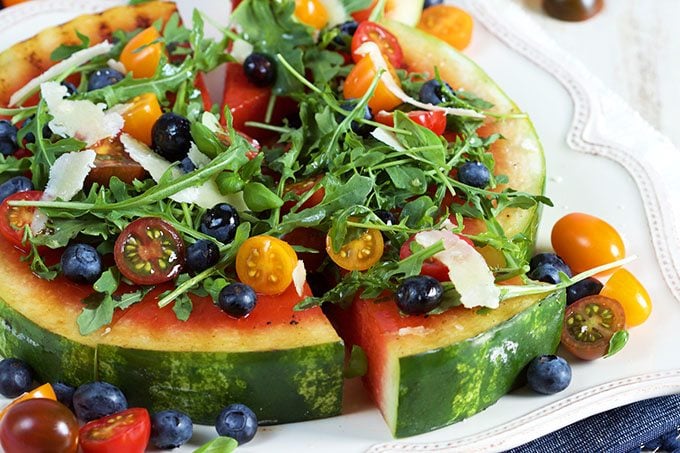 I just eat the whole pizza myself as my dinner some nights….and I don't even feel bad about it. And really…why should I? It's fruit, it's healthy and it's summer. Oh….and it only takes about 10 minutes to make from start to finish. Now….go make it!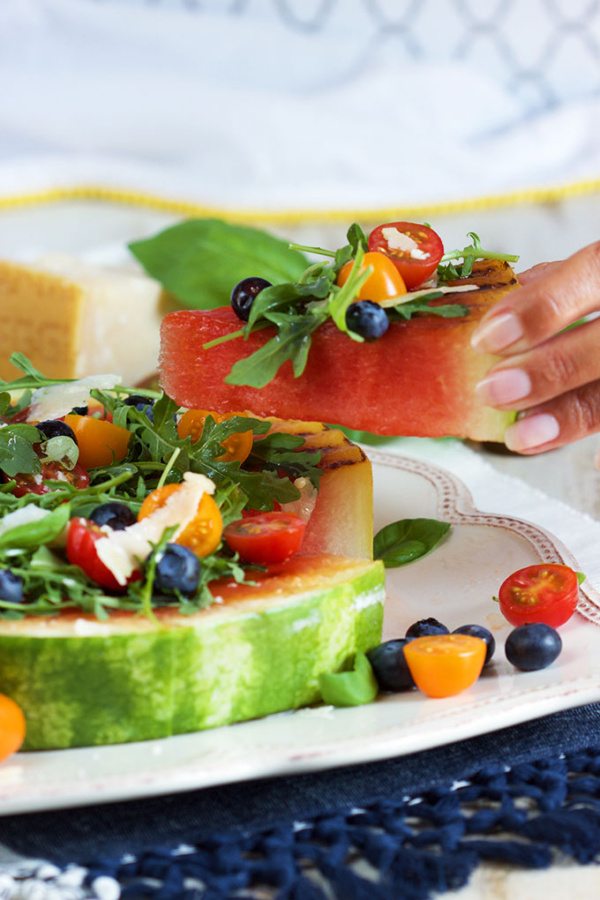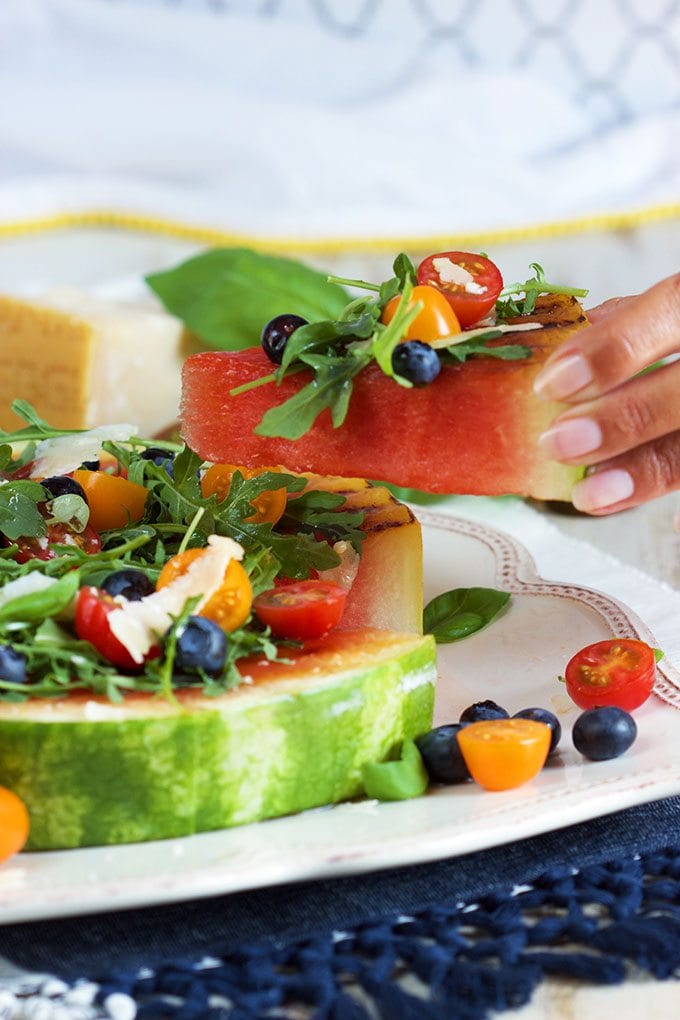 Here are a few more watermelon recipes you may enjoy:
If you happen to be following the Weight Watchers WW plan, you will find a link to the WW Points on the recipe card below.
Grilled Watermelon Pizza
Delicious on the grill, and topped with more fruit!
Recipe Details
Ingredients
1

thick slice

watermelon

(1½-inches thick)

2

tablespoons

olive oil

kosher salt and freshly ground black pepper

2

cups

baby arugula

1

cup

blueberries

1

cup

halved cherry tomatoes

½

cup

shaved Parmesan cheese
Instructions
Brush both sides of the watermelon slice with 1 tablespoon olive oil. Season with salt and pepper. Place the watermelon slice, cut side down on the grill grates and cook for 2 to 3 minutes. Flip the slice over and grill for an additional 2 minutes.

Transfer the watermelon to a platter and cut into 6 wedges.Top with the arugula, blueberries, tomatoes and parmesan. Drizzle with the remaining olive oil. Serve immediately.
Nutrition
Serving:
1
serving
,
Calories:
125
kcal
,
Carbohydrates:
13
g
,
Protein:
4
g
,
Fat:
7
g
,
Saturated Fat:
2
g
,
Cholesterol:
6
mg
,
Sodium:
139
mg
,
Potassium:
219
mg
,
Fiber:
1
g
,
Sugar:
10
g
,
Vitamin A:
935
IU
,
Vitamin C:
17
mg
,
Calcium:
119
mg
,
Iron:
1
mg