This recipe has been featured in a post on The Recipe Girl blog: Labor Day Gourmet Grilling Party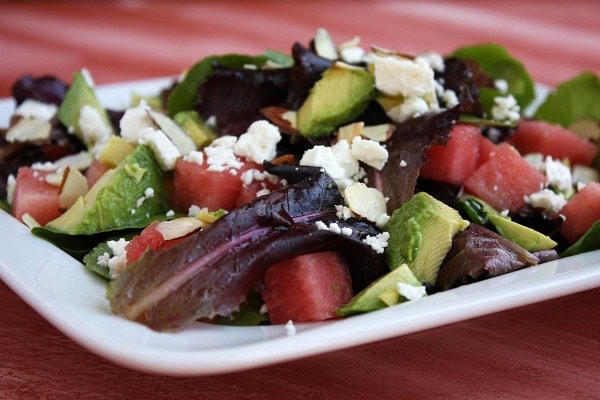 Watermelon & Avocado Salad
Watermelon + avocado are a match made in heaven...
Yield:
6 servings
Prep Time: 20 min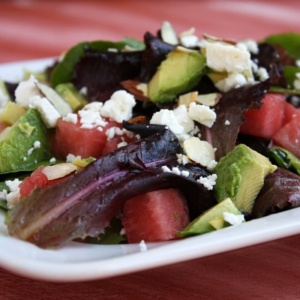 Ingredients:

3 Tablespoons raspberry vinegar
3 Tablespoons extra-virgin olive oil
kosher salt & freshly ground black pepper, to taste
2 medium avocados, ripe, but firm, diced
6 cups mixed salad greens
3 cups diced seedless watermelon
4 ounces crumbled feta cheese
2 teaspoons chopped chives
2 Tablespoons julienned fresh basil leaves
1/3 cup pine nuts, toasted (or slivered almonds)

Instructions:

1. Prepare vinaigrette: Whisk together vinegar and oil in a small bowl; season to taste with salt and pepper.

2. Prepare salad: Toss 1 Tablespoon of the vinaigrette with the salad greens to just moisten the leaves. Divide the green onto 6 plates. Top with avocado and watermelon, then drizzle with the rest of the vinaigrette.

3. Sprinkle salads with feta, chives & basil, and a sprinkle of nuts.

Tips:

*If you don't have raspberry vinegar on hand, try subbing rice vinegar, orange juice or pink grapefruit juice.