Great recipe for company: Easy Ramen Salad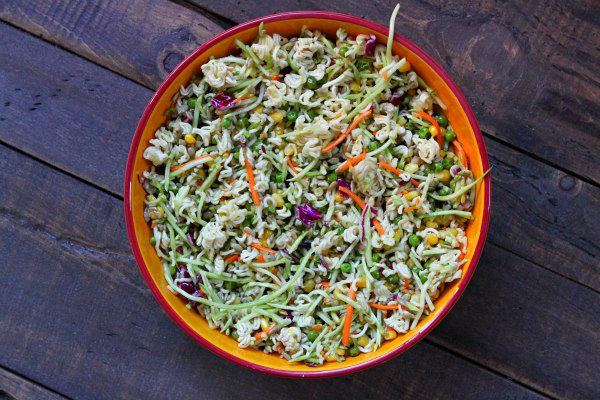 This is one of those recipes that is so surprisingly popular when you put it on your dinner table… or when you serve it up at parties. It's usually one of the first things to disappear! People find those Ramen noodles irresistible. I know it seems weird, but they totally work in this salad!! A tangy dressing marinates the dry noodles… turning them into a good texture for inclusion in a salad.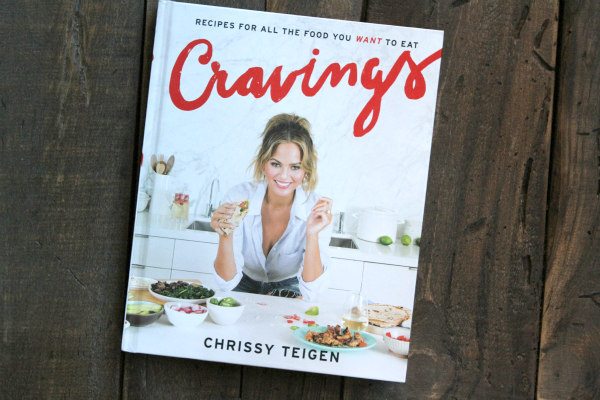 This recipe comes from Chrissy Teigen's brand new first cookbook: Cravings: Recipes for all the Food You Want to Eat. Chrissy is known for many things– she was a Sport's Illustrated swimsuit model, she's a TV personality, she is huge on both Twitter and Instagram, and she is married to John Legend. So you might think, "Oh man, this must be one of those awful celeb cookbooks!" NOPE. Chrissy grew up surrounded by food and cooking. Her love for it all is evident in her first cookbook.
Here are several recipes in the book– so you can get an idea of what it's like: Pull-Apart Buttermilk Biscuits with Sausage Gravy, French Toast Casserole with Salted Frosted Flakes, Butternut Squash Soup with Prosciutto Crisps, Split Pea Soup with Crispy Hot Dogs, Sriracha Caesar Salad, Butter Lettuce with Blue Cheese and Cayenne-Candied Walnuts, Actual Drunken Noodles, Cheesy Jalapeno Bacon Cornbread, John's Fried Chicken Wings with Spicy Honey Butter, Frito Pie Bar, Mexican Street Corn, Ham and Cheese Green Bean Casserole, Sweet Chili and Mustard-Glazed Salmon Fillets, Risotto with Porcini Mushrooms and Peas, Pineapple Grilled Short Ribs and Better-Than-Ina's Roast Chicken and Vegetables. SEE? It's a great cookbook- full of delicious recipes and lots of photos.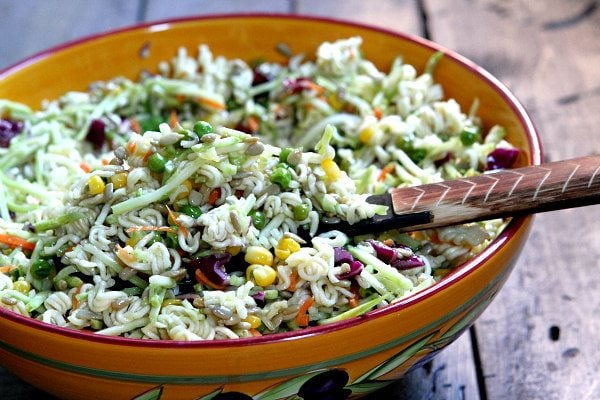 I remember making a version of this salad back in my college days. Chrissy has changed up the old version to make this one her own. It's so fun to see a classic recipe like this in a new cookbook– because OBVIOUSLY it's a salad that is still majorly well-loved by all.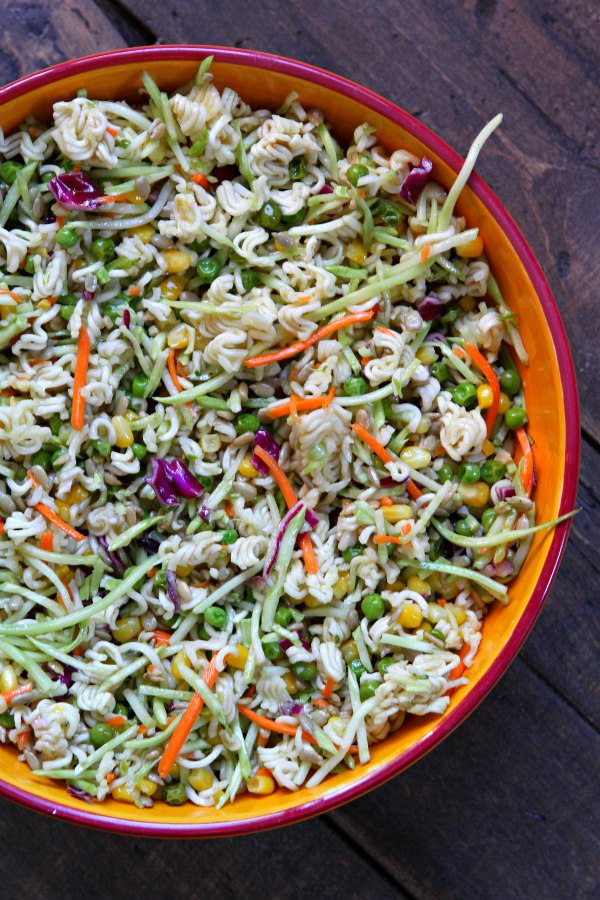 You should totally try this salad for your next gathering. Get back to me and let me know how much everyone loved it. And be sure to buy Chrissy's book! I've not met her (omg, I'd die), but she did talk about one of my cakes on social media and a TV show once upon a time– a funny story about how she forgot to remove the parchment paper from the cake when assembling it. We're practically BFF's, right?! 🙂
You can purchase Chrissy Teigen's book here>> CRAVINGS
Easy Ramen Salad
This salad is perfect for serving at parties and taking to potlucks.
Recipe Details
Ingredients
Three

3 ounce packages

chicken flavored ramen

One

12 ounce package

broccoli slaw

1

cuo

frozen peas

¾

cup

fresh or frozen corn kernels

½

cup

granulated white sugar

⅓

cup

vegetable or canola oil

½

cup

apple cider vinegar

1

cup

roasted, salted sunflower seeds
Instructions
Set the seasoning packets from the ramen aside. Crush the ramen noodles into a salad bowl, then add the slaw, peas and corn and toss.

In a microwave-safe bowl, combine the sugar, oil, vinegar and ramen seasoning packets; microwave on high for 1 minute. Pour the hot dressing over the slaw mixture and toss. Cover and refrigerate for 3 hours (or overnight).

Toss in the sunflower seeds just before serving.
Notes
Note: I left the red onion out of this recipe, but you can certainly add in 1 cup of thinly sliced red onion if you'd like!
Nutrition
Serving:
1
serving
,
Calories:
397
kcal
,
Carbohydrates:
42
g
,
Protein:
8
g
,
Fat:
23
g
,
Saturated Fat:
4
g
,
Polyunsaturated Fat:
9
g
,
Monounsaturated Fat:
9
g
,
Trans Fat:
0.1
g
,
Sodium:
776
mg
,
Potassium:
329
mg
,
Fiber:
3
g
,
Sugar:
15
g
,
Vitamin A:
200
IU
,
Vitamin C:
41
mg
,
Calcium:
46
mg
,
Iron:
3
mg
Disclosure: There are Amazon affiliate links included within this post.