Sausage and Scrambled Egg Pizza is a delicious choice for a weekend breakfast.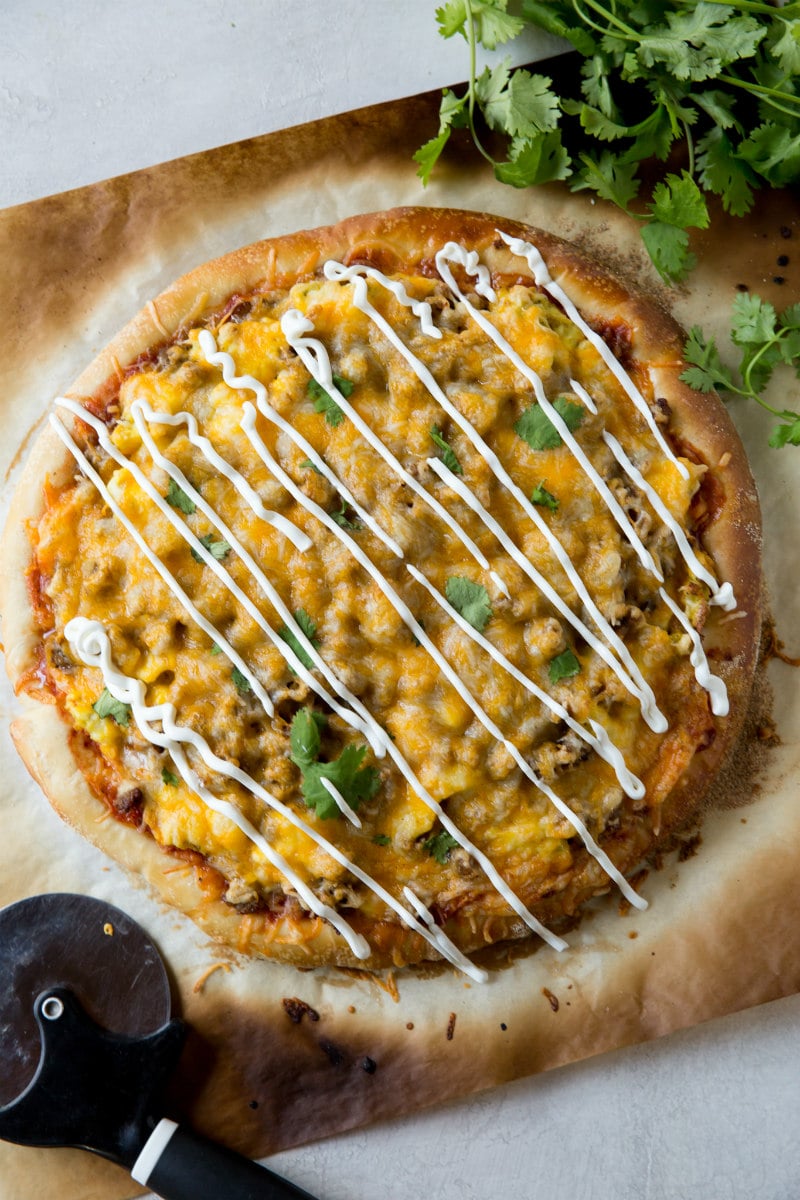 Yes, this is pizza that you eat for breakfast! It's made sort of like traditional pizza. Chunky salsa acts as the sauce on this breakfast pizza, and then it's topped with crumbled pork sausage, lightly scrambled eggs and cheese. It's baked on a pizza stone, and it's cut into slices just like the pizza you eat for dinner.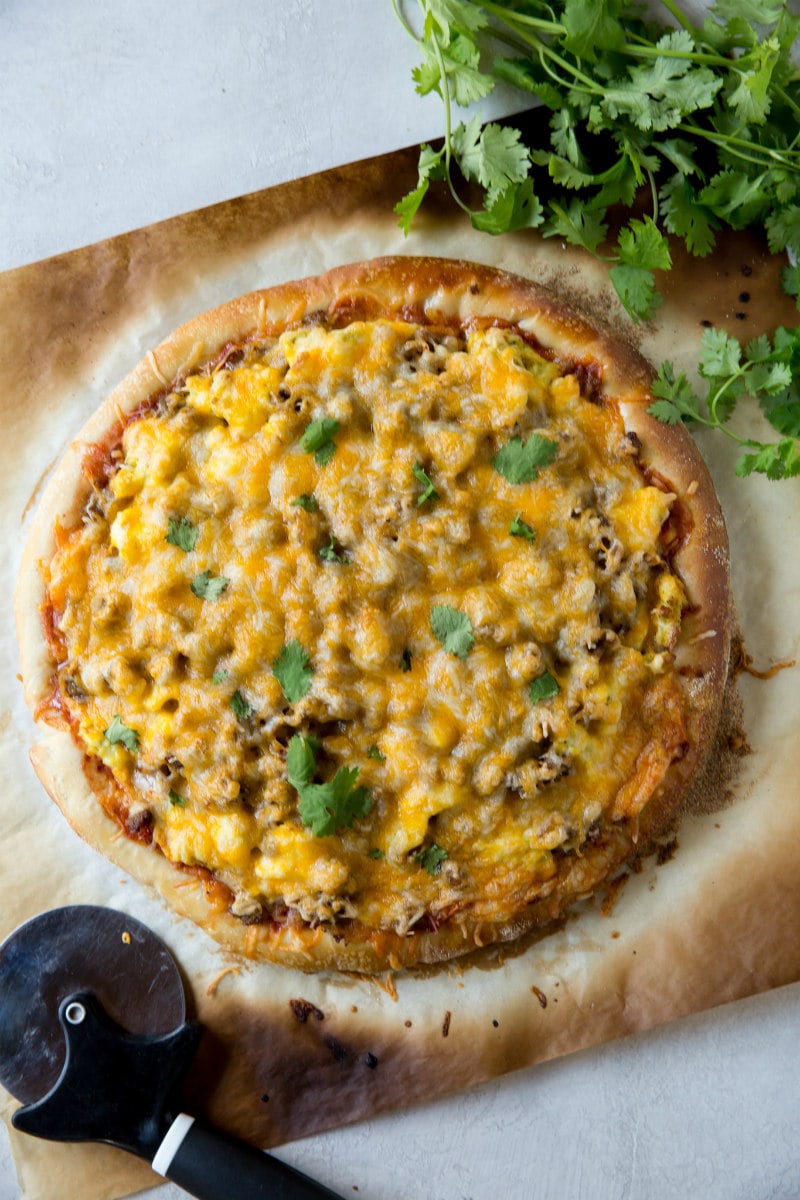 Pizza for Breakfast!
If eating scrambled egg pizza for breakfast seems odd to you, I totally understand. I was a new teacher in San Diego years ago when someone brought a pizza from a local pizza joint into the staff lunchroom one morning. I remember thinking it was weird that someone brought pizza in the morning. But then it was explained that it was an egg pizza. It was something that the local pizza place was known for. Apparently, everyone stopped by to grab breakfast pizzas from this place!
Of course I tasted the Scrambled Egg Pizza and immediately fell in love with it. I never stopped thinking about it, so I definitely had to create my own version at home.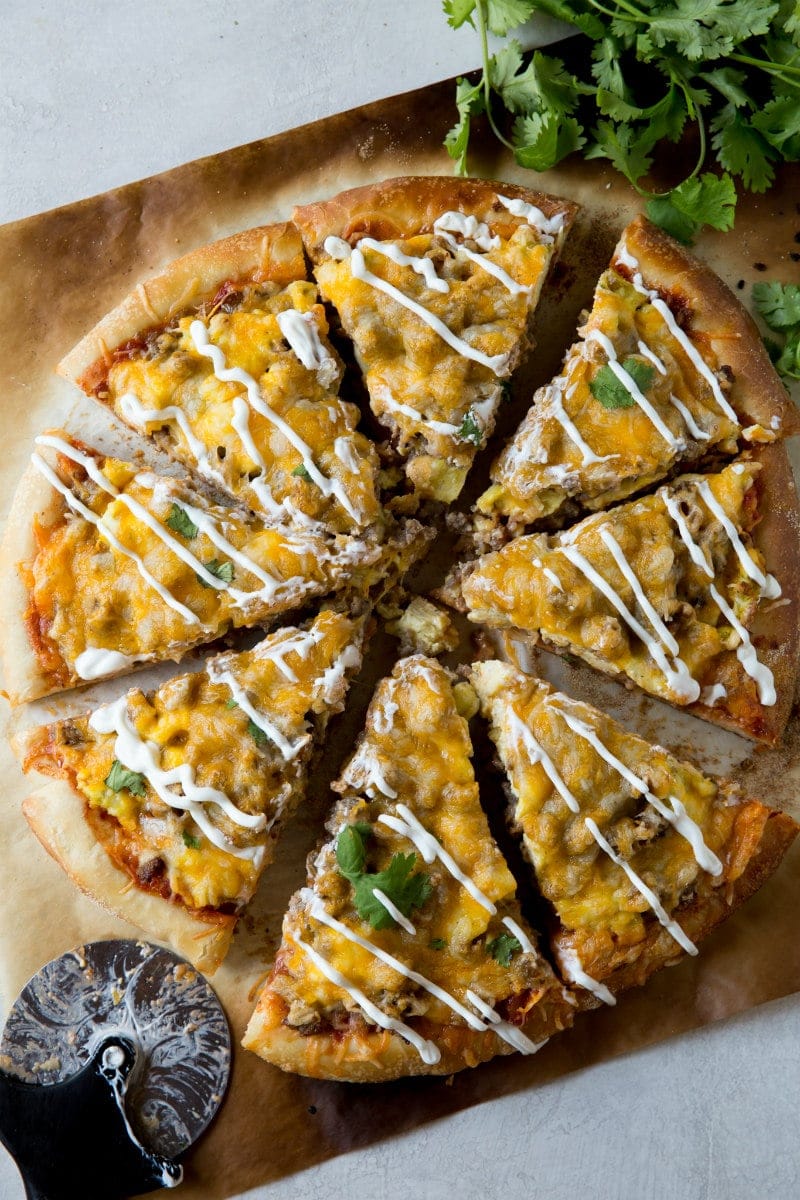 Can you change up the toppings on this Scrambled Egg Pizza?
Probably. I'd still plan to use salsa as the "sauce" for the pizza. You could certainly add another kind of meat here– maybe prosciutto or ham– though I'm not sure how those would taste with the salsa. I think the eggs and cheese are a must. You could add in some sauteed veggies like peppers, mushrooms or spinach.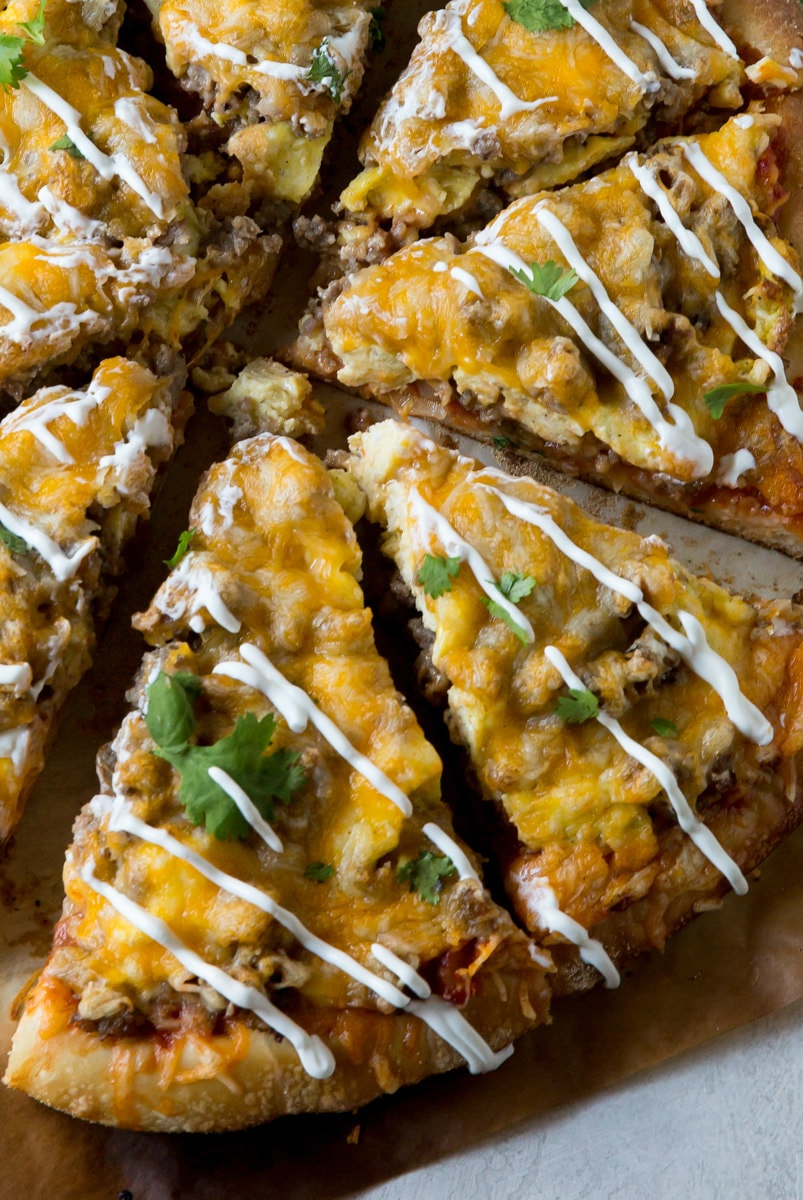 A drizzle of sour cream is perfect. An addition of avocado or guacamole would be delicious too.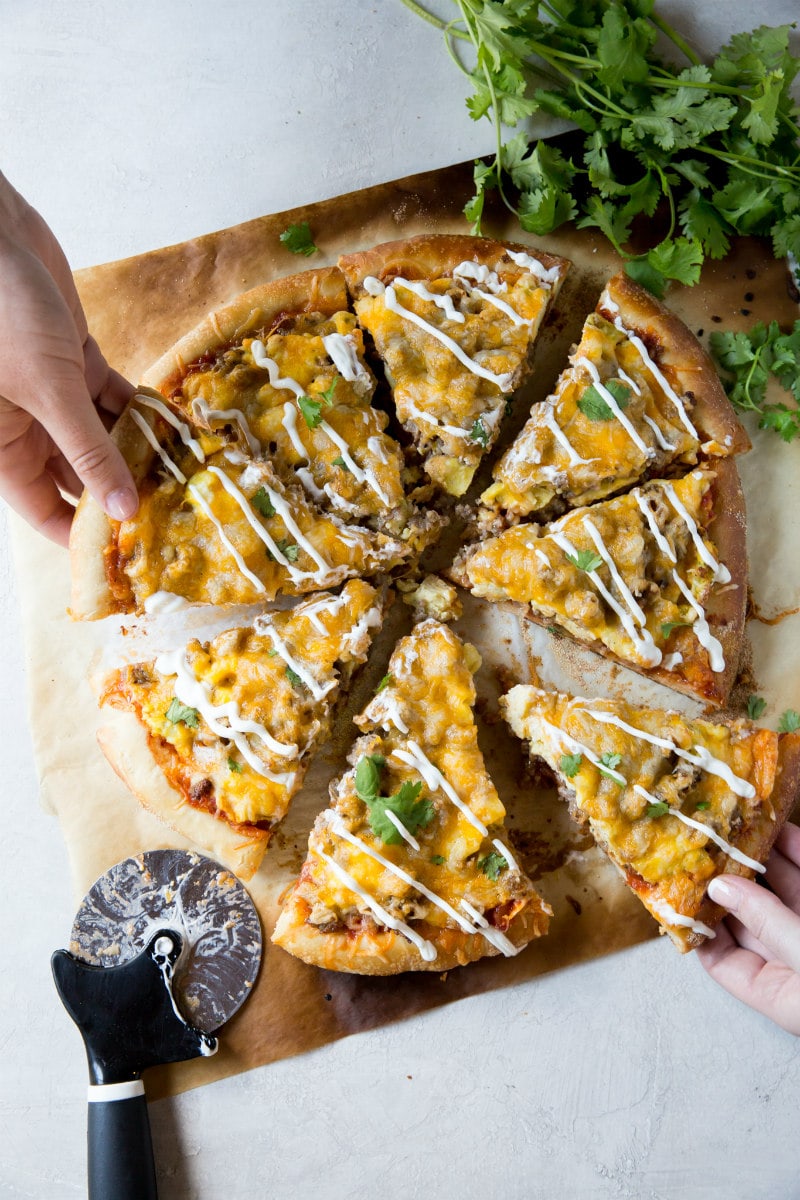 This is a pizza that should be made and eaten the same day. Leftovers of Scrambled Egg Pizza won't be as good as classic Italian pizza. The crust tends to get a little soggy overnight since the sauce is made out of salsa.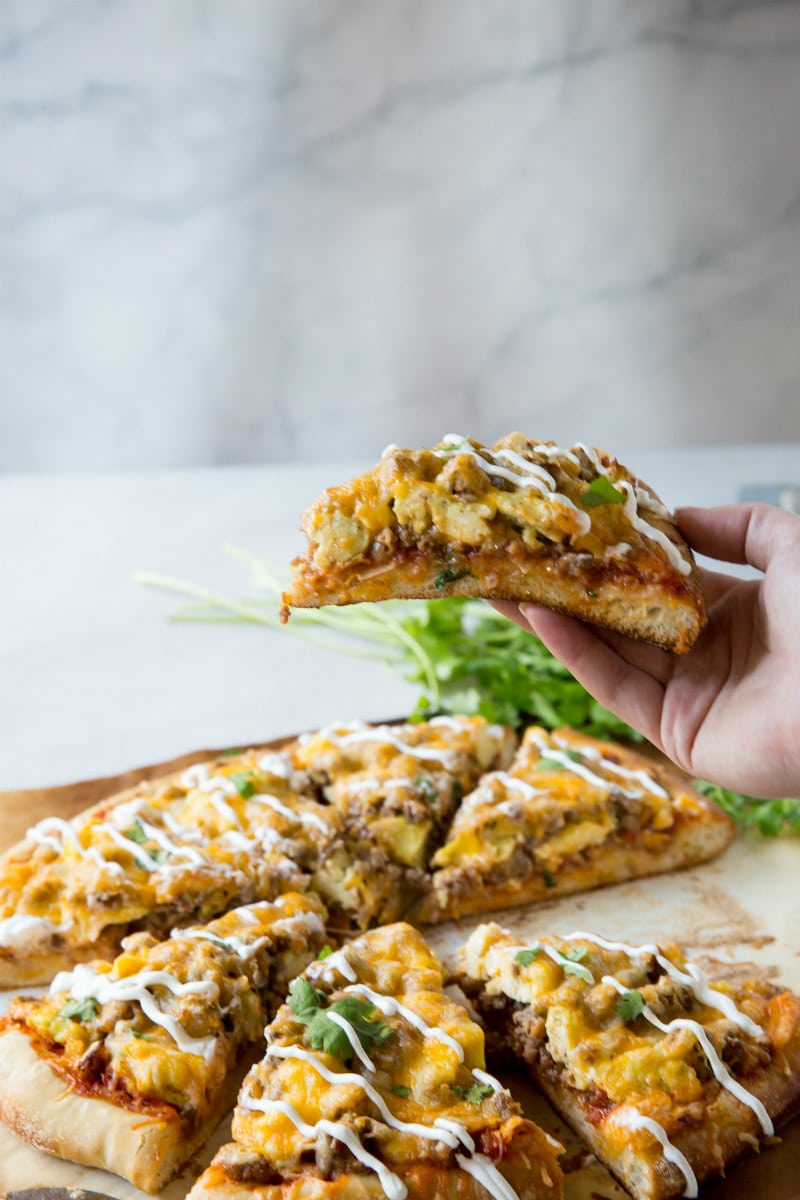 I suggest you try making this breakfast pizza one of these weekends when you're looking for something interesting to make for breakfast or brunch. Maybe you'll love it as much as I do!
Here are a few more delicious breakfast recipes you might enjoy:
Sausage and Scrambled Egg Pizza
It's perfectly okay to have pizza for breakfast!!
Recipe Details
Ingredients
1

ball

fresh pizza dough

cornmeal to sprinkle on pizza stone

16

ounces

hot ground pork sausage

6

large

eggs,

lightly beaten

1/2

teaspoon

ground black pepper

1

16-ounce jar

salsa

8

ounces

shredded Mexican blend cheese

sour cream, for topping

(optional)
Instructions
Preheat oven to 425 degrees F. Place pizza stone on bottom rack of oven and heat for 30 minutes.

Brown the sausage in large nonstick skillet over medium heat, stirring until it crumbles and is no longer pink. Drain and pat dry with paper towels; set aside. Wipe the skillet clean. Whisk together the eggs and pepper; set aside.

Roll out the pizza dough onto a nonstick cutting board. Sprinkle some cornmeal onto the pizza stone and slide the pizza dough onto the stone. Bake for about 4 minutes.

While the crust is baking, cook the eggs in a lightly greased skillet over medium heat, without stirring, until the eggs begin to set on the bottom. Draw a spatula across the bottom of the skillet to form large curds. Continue cooking until the eggs are thickened but still moist (do not stir constantly). Remove the skillet from the heat.

After the crust has baked for about 4 minutes (just until lightly browned and bubbling). Open the oven and carefully spoon and spread the salsa evenly over the partially baked crust; top evenly with the sausage, scrambled eggs, and cheese.

Bake for 8 to 12 more minutes- until crust is deep golden brown. Serve drizzled with sour cream, if desired.
Notes
To lighten-up this recipe, try using reduced-fat sausage, egg substitute, reduced-fat shredded cheese, and low fat sour cream.
If you do not have a pizza stone, use a pizza pan or cookie sheet instead. Just be sure to sprinkle the pan with cornmeal before placing the dough, and don't preheat the pan in the oven as you would the stone.
Nutrition
Serving:
1
slice
,
Calories:
490
kcal
,
Carbohydrates:
31
g
,
Protein:
25
g
,
Fat:
29
g
,
Saturated Fat:
11
g
,
Cholesterol:
225
mg
,
Sodium:
1427
mg
,
Potassium:
384
mg
,
Fiber:
1
g
,
Sugar:
6
g
,
Vitamin A:
730
IU
,
Vitamin C:
1.5
mg
,
Calcium:
233
mg
,
Iron:
3.3
mg