Here's a unique breakfast or brunch recipe for you:  Baked Italian Egg Pastries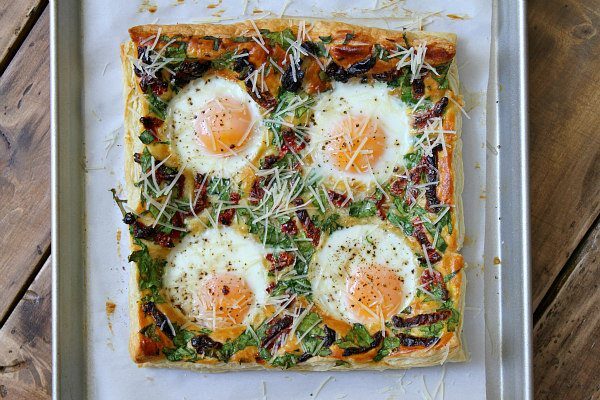 This is a fancy way to get your fried baked egg- bake it within a pastry!  I added some extra goodies like sundried tomatoes, spinach and Parmesan cheese to give this breakfast its extra flavor boost.
I used my usual Eggland's Best eggs for this recipe.  They recently released some exciting news too:  Eggland's Best eggs now have 6X more vitamin D than ordinary eggs, and are now an excellent source of Vitamin B2 (Riboflavin) and B5.  That's very cool because Vitamin D is important for good bone health, and it may also aid in fighting diseases such as cancer, type 1 diabetes and MS.  Vitamin D also helps to support healthy immune, brain and nervous systems.  So be sure to eat your Eggland's Best eggs!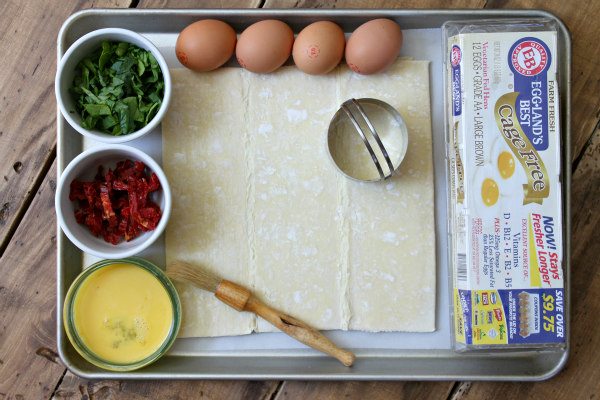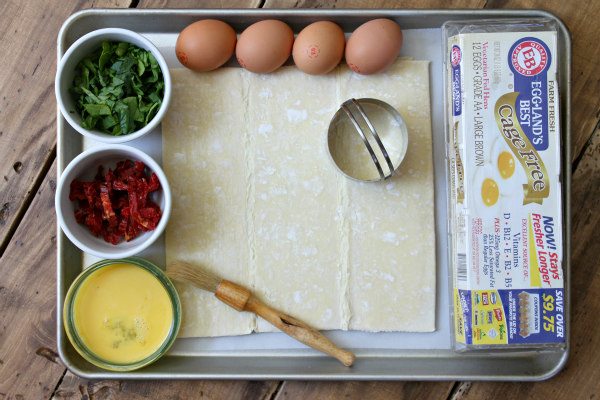 Here are all the goodies you'll need for this easy recipe.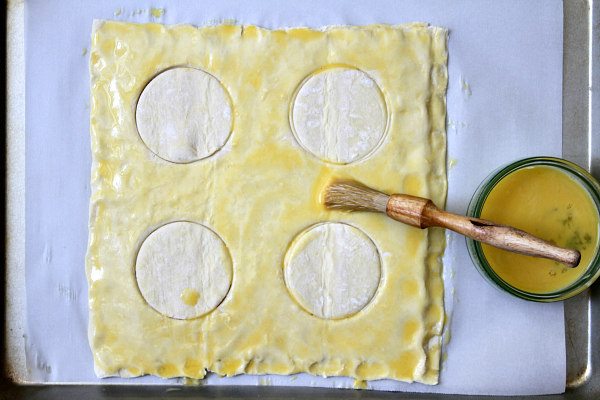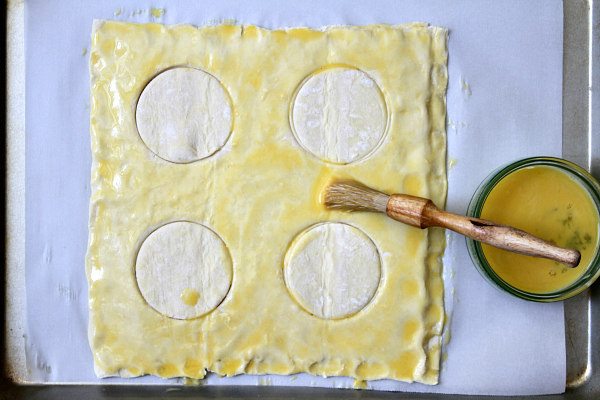 First you'll use a cutter to cut four circles in the pastry, then you're going to brush it with an egg wash.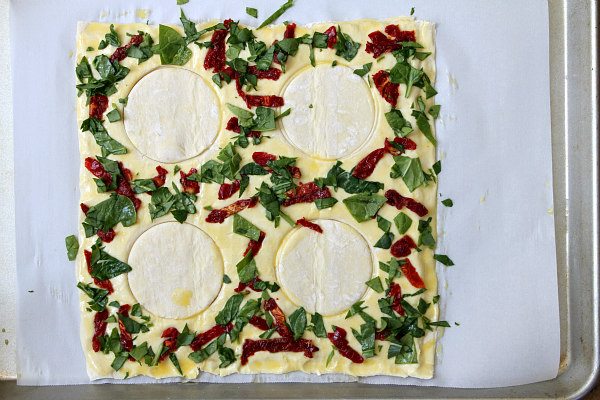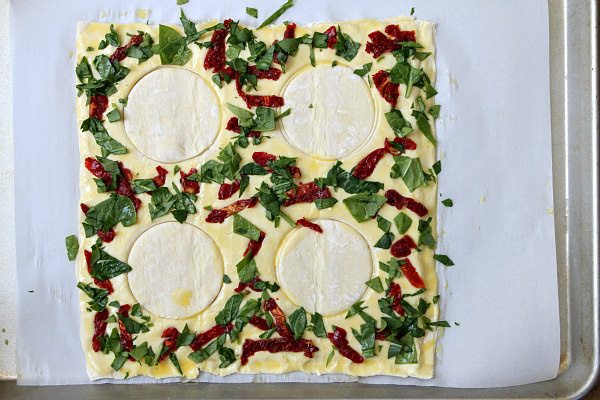 That sticky egg wash comes in handy because you'll then press some chopped spinach and sundried tomatoes into the pastry.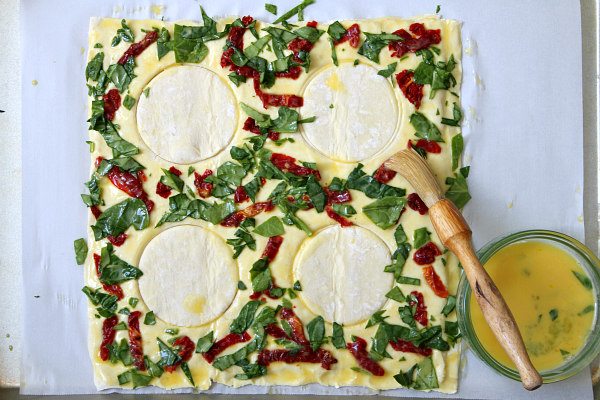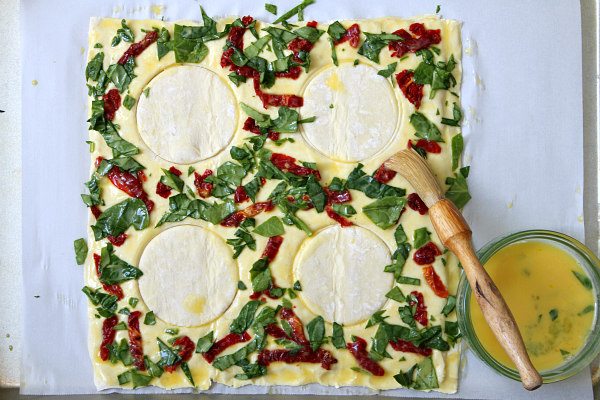 Another brush of the egg wash ensures that all of those goodies stay put while baking.  Then bake!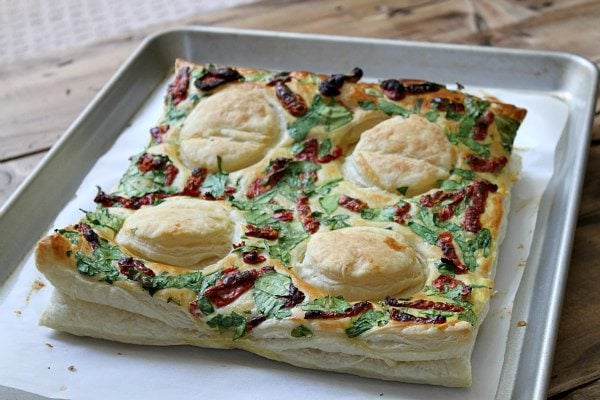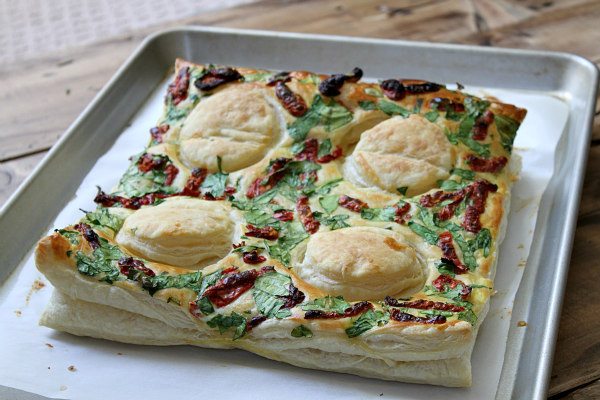 When you bake, the pastry will puff up like this.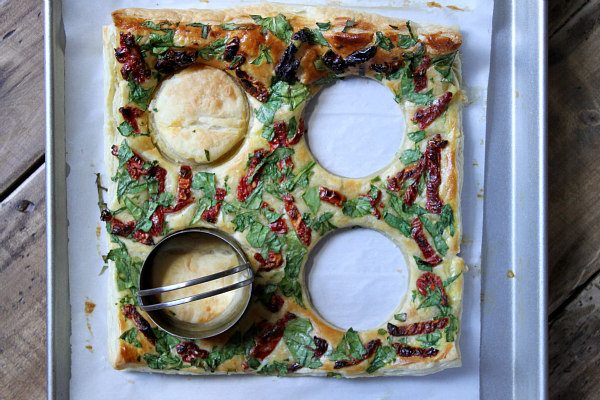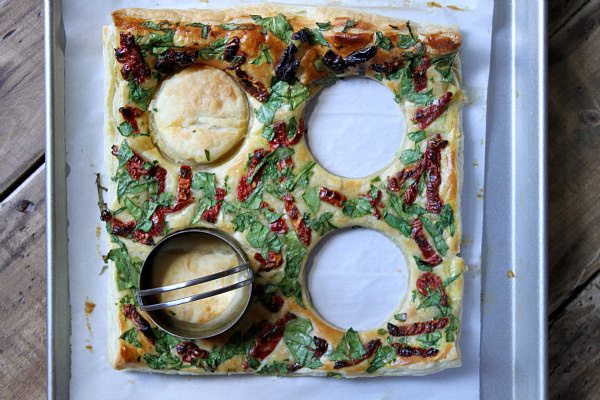 Grab your cutter, cut out those pastry circles that you previously pre-cut and toss them out.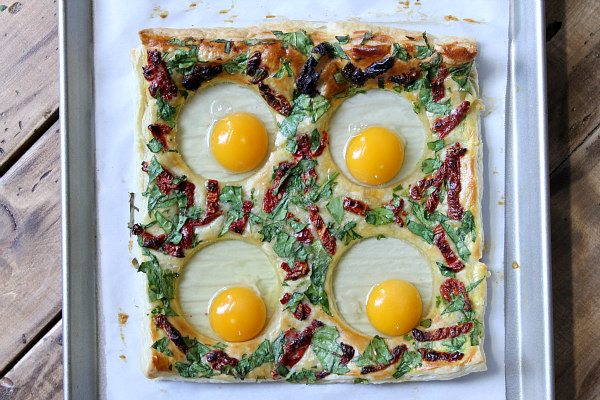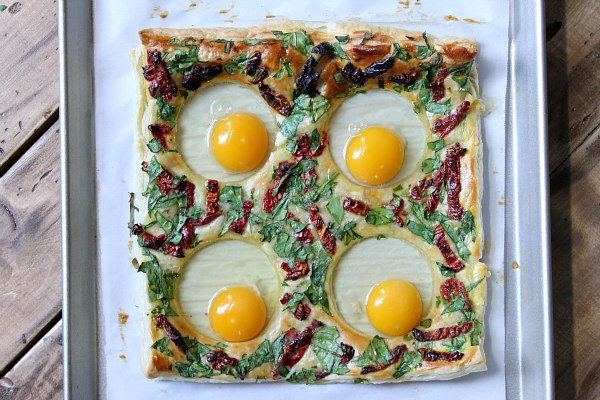 Here's the fun part!  Crack an egg into each circle.  Bake again!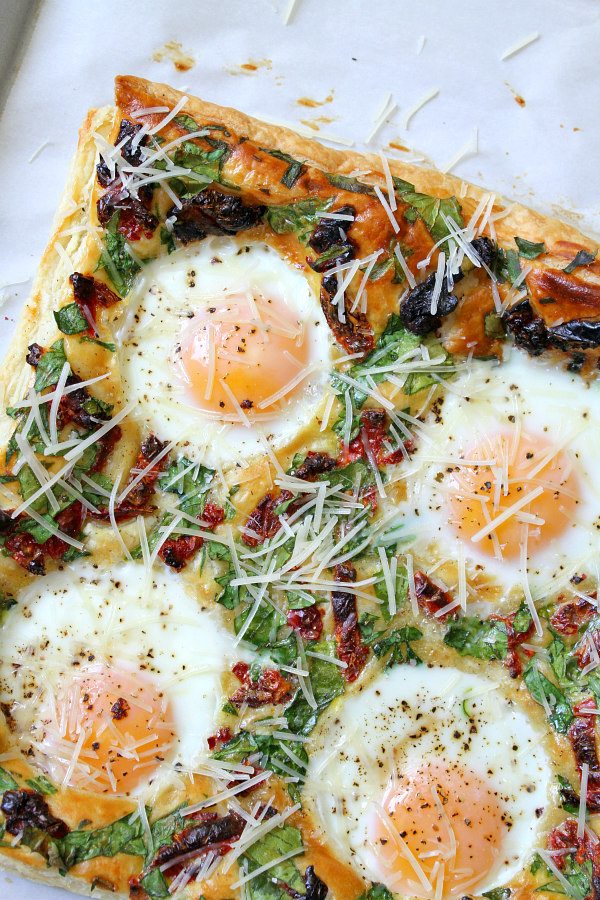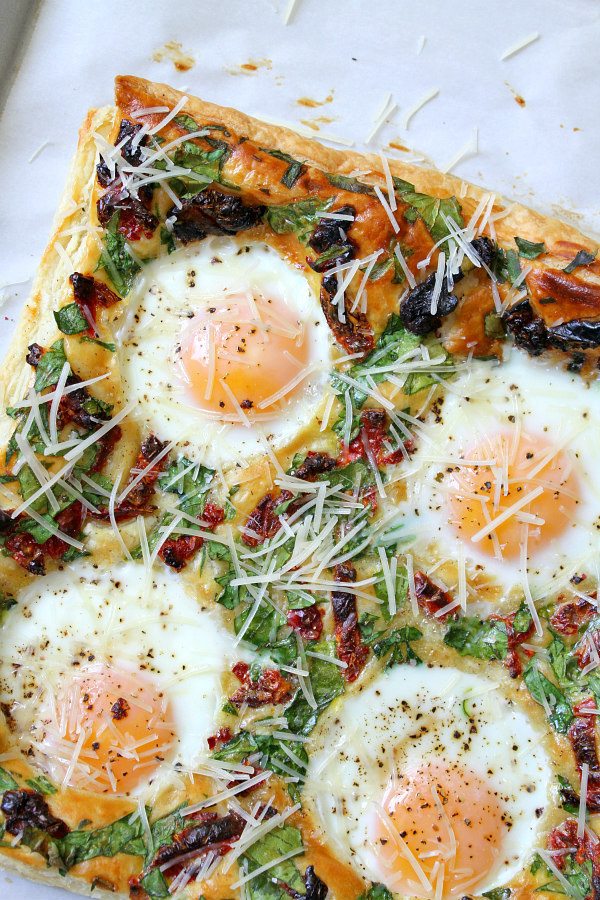 When it comes out of the oven a second time, your eggs will be baked to perfection.  Sprinkle Parmesan, salt and pepper… and these Italian Egg Pastries are ready to eat!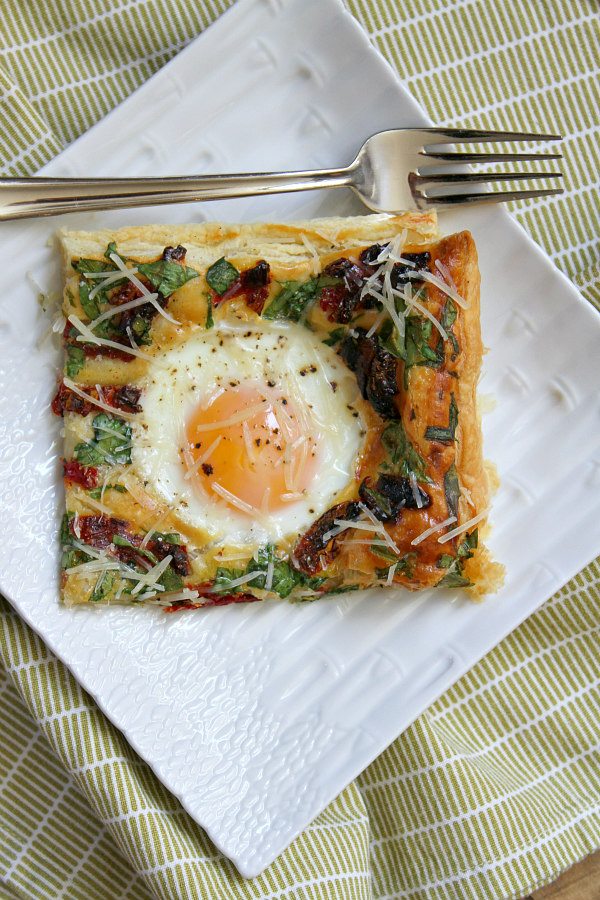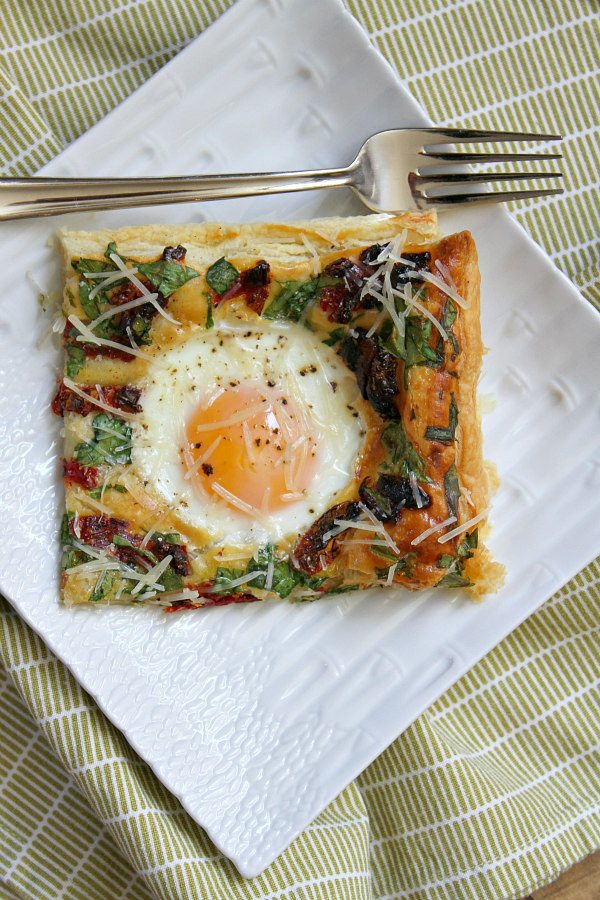 Cut the pastry into four neat slices.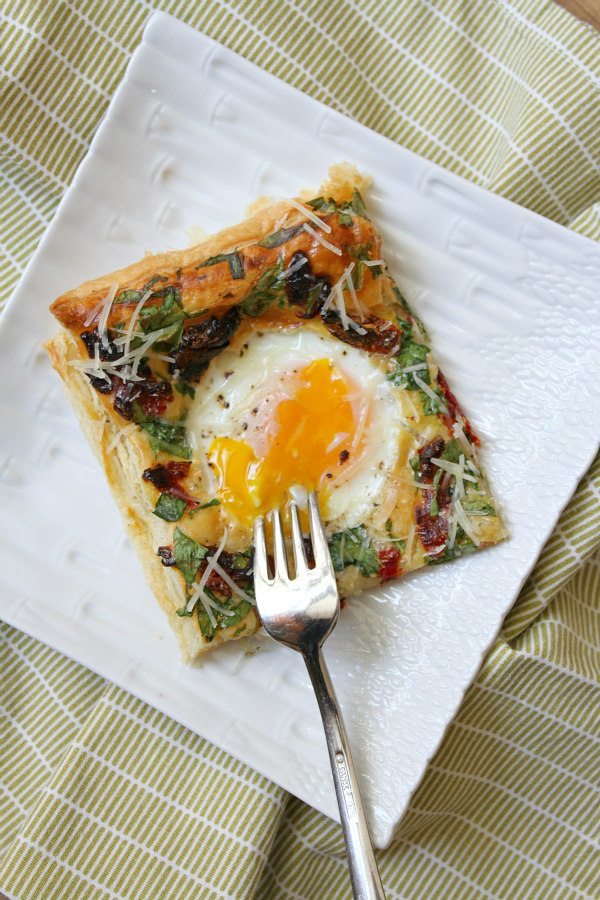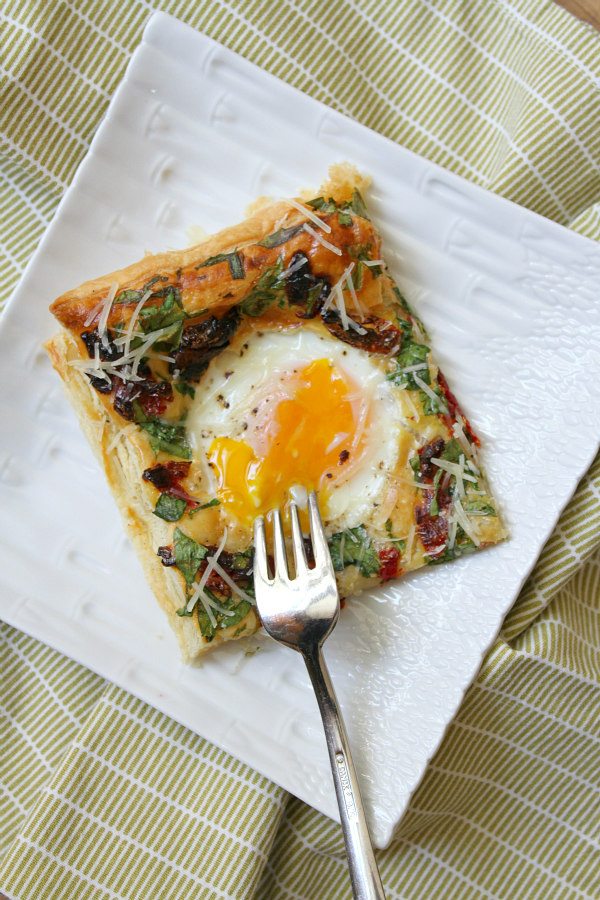 And dig in!
For more information, you can visit EgglandsBest.com or Eggland's Best Health and Nutrition Information.  Follow Eggland's Best on Facebook, Instagram, Pinterest and Twitter.
Baked Italian Egg Pastries
Yield:
4 servings
Prep Time: 25 minutes
Cook Time: 17 minutes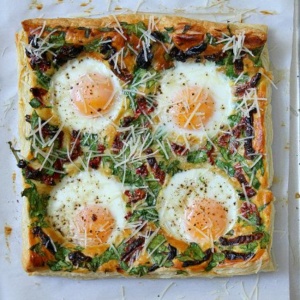 Ingredients:

1 sheet puff pastry, thawed
1 large Eggland's Best egg
1 tablespoon water
1/2 teaspoon Dijon mustard
1/4 cup julienne cut, ready-to-eat sun-dried tomatoes (packed)
1/4 cup chopped fresh spinach (packed)
4 large Eggland's Best eggs
1/4 cup shredded Parmesan cheese
salt and freshly ground black pepper

Instructions:

Make sure you have a rack in the bottom level of the oven.  Preheat the oven to 400 degrees F.  Line a large baking sheet with parchment paper.
Lay a sheet of puff pastry on the prepared baking sheet.  Use a 3-inch cutter to cut four circles into the puff pastry (do not remove the circles).
In a small bowl, whisk together one egg, water and mustard.  Brush the pastry sheet with the egg wash- brushing around the circles.
Press tomatoes and spinach lightly into the puff pastry, avoiding the circles.  Brush again with the egg wash.
Bake the pastry sheet on the bottom rack for 12 minutes.  Remove from the oven, cut the circles with the cutter again, remove the circles of pastry and discard.  Crack 4 eggs into the four circles open on the pastry.
Return to the oven and bake 4 to 5 minutes, or until the eggs are cooked as you like them.  Sprinkle with Parmesan cheese, salt and pepper.  Use a pizza cutter to cut into four slices, and serve immediately.
SOURCE:  RecipeGirl.com
Here are a few more egg recipes you might enjoy:
Disclosure:  This recipe was created in partnership with Eggland's Best.  I only write about products that I already use in my kitchen- and this is one of them!  RecipeGirl.com maintains full editorial control of the content published on this site. As always, all thoughts, opinions, and enthusiasm for products are entirely my own.