Here's my newest creation: Cauliflower Crust Bacon and Egg Pizza!  This is a great idea for a breakfast-for-dinner that you can make during the holiday season. It's something a little bit lighter to eat when you're surrounded by so many other things that are not so good for you!
I'm forever obsessed with cauliflower.  And eggs.  So this is just about the perfect pizza!
I'm working with Eggland's Best eggs on this post.  They're my favorite eggs!  I ran into an elderly gentleman at the store the other day, and he had a carton of Eggland's Best eggs in his hands.  He was obviously up for conversion because he offered the fun fact that EB eggs are his favorite eggs.  "They're all I ever buy," he said.  True story!  I can relate… since they're the eggs I buy too!
Eggland's Best is committed to continuously improving their eggs to ensure they remain the leader in nutrition, taste and freshness. Their eggs have 6X more vitamin D than ordinary eggs, and are now an excellent source of Vitamin B2 (Riboflavin) and B5.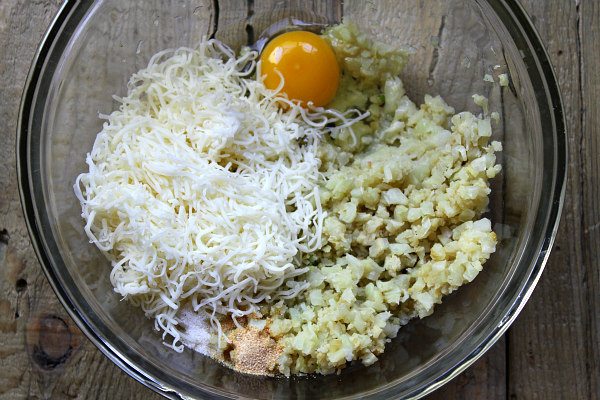 The (gluten free) crust is made up of a simple list of ingredients:  cauliflower crumbles, mozzarella cheese, egg, garlic powder and onion salt.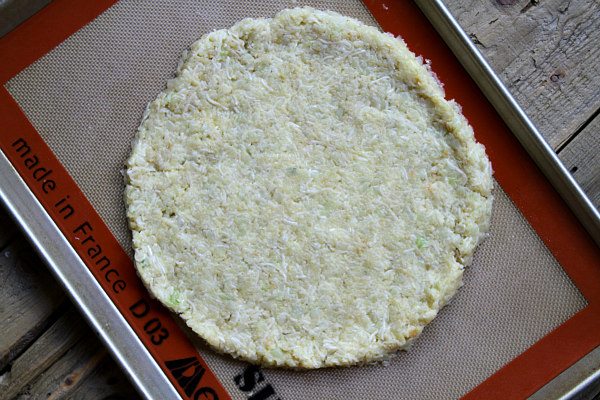 No rolling is necessary.  Just pat it into a circle on a silpat or parchment-lined baking sheet, and bake for 15 minutes.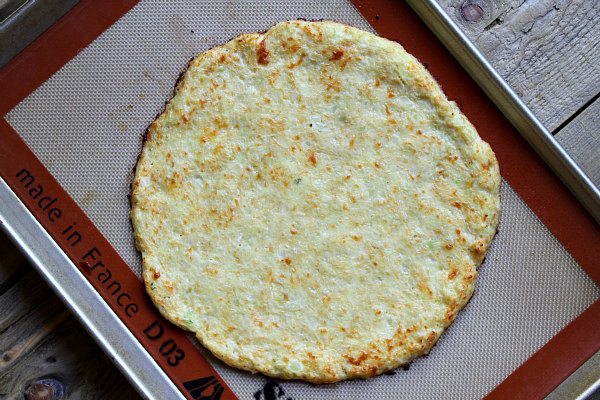 After 15 minutes, remove the crust from the oven and flip it over.  Now it's ready for the toppings!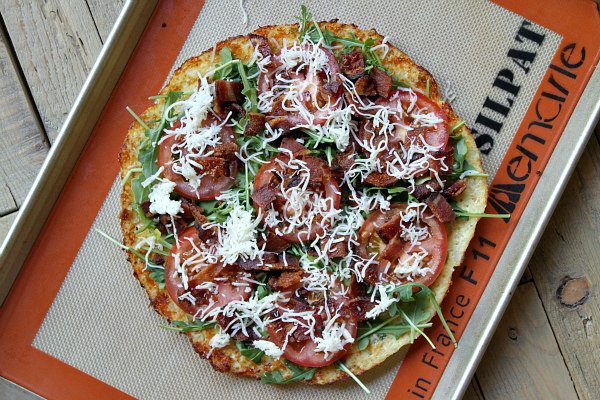 I added arugula (you can also use spinach), tomato, a tiny bit of mozzarella and cooked bacon.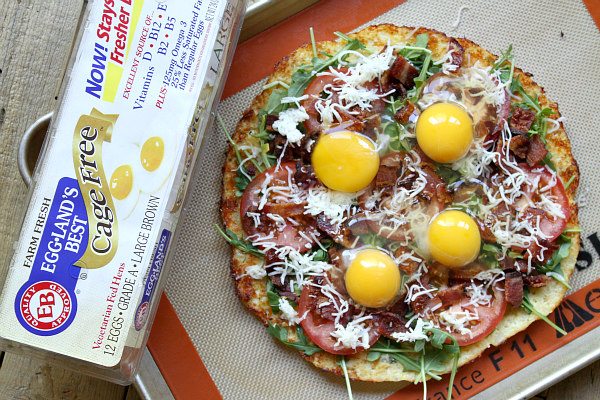 Crack four eggs on top of all of that!
I used my usual Eggland's Best eggs for this recipe. Eggland's Best eggs is celebrating 25 years of providing the only egg with better nutrition, taste, variety and better freshness.  In total, Eggland's Best has sold more than 30 billion nutritionally superior & better tasting eggs. That's enough EB eggs to circle the earth 38 times!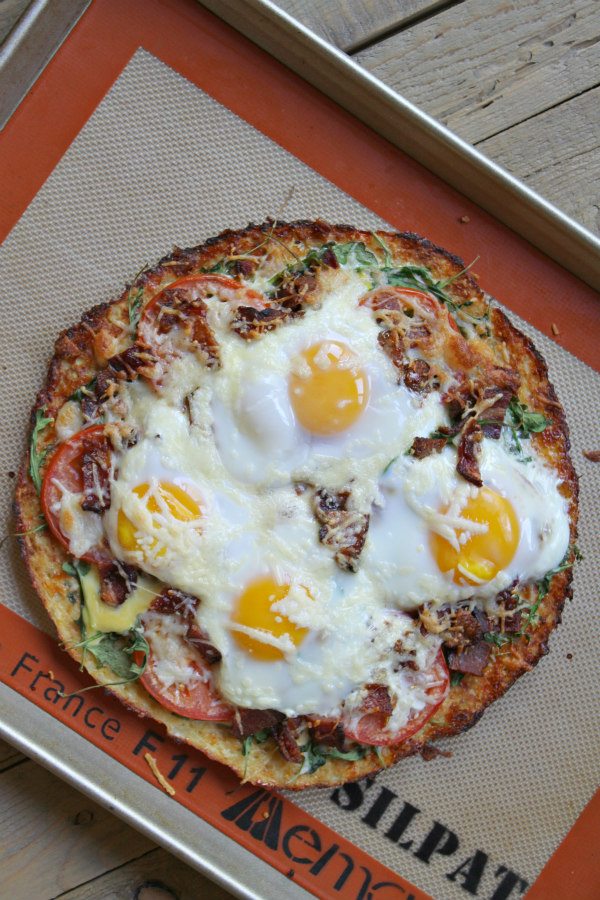 It goes back into the oven again for about 8 minutes to cook the eggs through.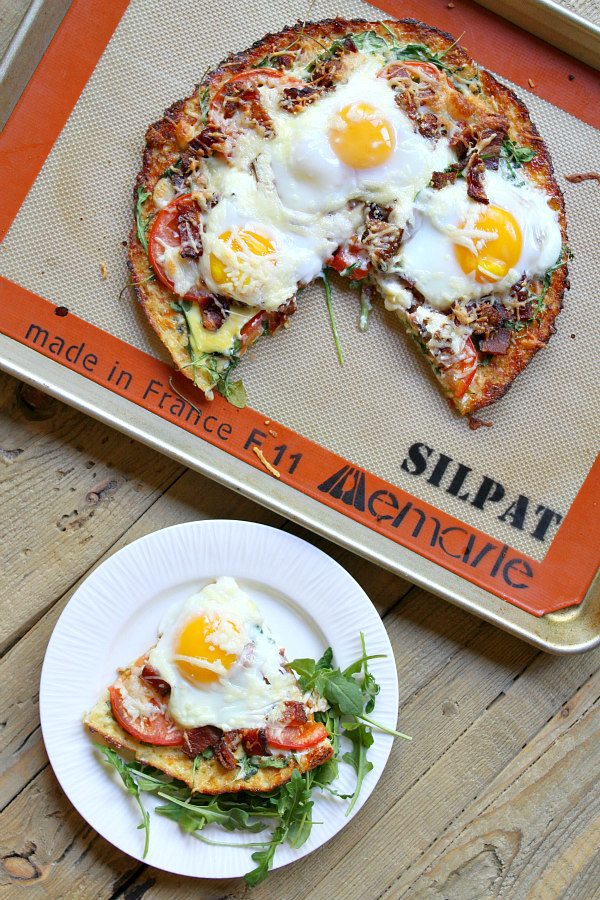 This pizza serves four.  Everyone gets a slice with a whole egg on it!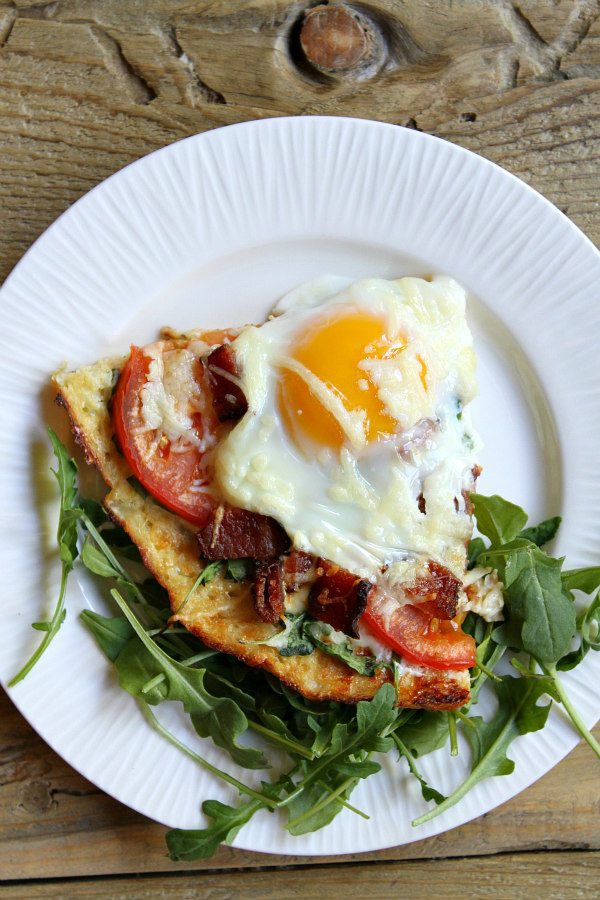 Bake your egg-topped pizza as long as you'd like… it depends on how you prefer your eggs.  I like them to be a little bit runny when you break into them.  This is such a great, gluten-free, healthier way to make pizza with plenty of protein on top with the bacon and eggs.  Enjoy!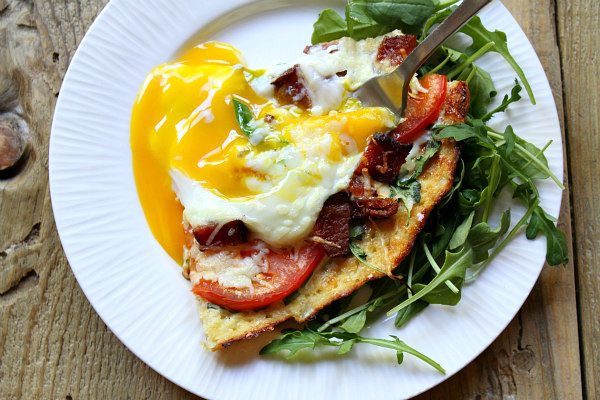 From now until December 22, EB is calling on fans across the U.S. to enter their city to win a visit from the EB Better Egg Truck. Fans can enter once per day, and share on Facebook or Twitter for an additional bonus entry. One lucky fan will also be selected at random from the winning city to receive an exclusive Better Brunch from the EB Better Egg Food Truck for them and their closest friends.  You can visit the Eggland's Best website to find more information on how to enter and for official rules: http://www.egglandsbest.com/foodtruck
For more information, you can visit EgglandsBest.com or Eggland's Best Health and Nutrition Information.  Follow Eggland's Best on Facebook, Instagram, Pinterest and Twitter.
Cauliflower Crust Bacon and Egg Pizza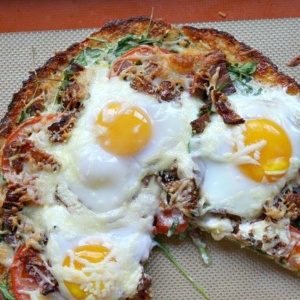 Yield:
4 servings
Prep Time:30 minutes
Cook Time:30 minutes
Ingredients:
CRUST:
4 cups cauliflower crumbles (see *tips below)
1 large Eggland's Best egg
1 cup finely shredded mozzarella cheese
1/2 teaspoon garlic powder
1/2 teaspoon onion salt
TOPPINGS:
handful of arugula or chopped spinach
thin tomato slices
4 to 5 slices cooked bacon
4 large Eggland's Best eggs
1/4 cup shredded Parmesan cheese
Directions:
Prepare the crust:  Place the cauliflower crumbles into a microwave-safe bowl and microwave dry for 8 minutes (see tips below if you do not have a microwave).  Let the cauliflower cool for a bit.  Preheat the oven to 450 degrees F. Spray a cookie sheet or pizza pan with nonstick spray (or use a nonstick surface). In a medium bowl, mix the cooked cauliflower crumbles with the remaining crust ingredients. Pat the "crust" into a 9 to 12-inch round on the prepared pan. Bake for 15 minutes (or until golden). Remove the crust from the oven, and reduce the oven temperature to 400.
Add the toppings:  Carefully flip the crust over (if you have it on parchment paper, you can just use the parchment to help flip it over!  Sprinkle arugula or spinach over the crust.  Top with tomato slices and sprinkle bacon on top.  Carefully crack 4 eggs on top of it all, and sprinkle with Parmesan.  Put the pizza back into the oven and bake for 8 minutes, or until the eggs are cooked through as you like them. Cut into 4 slices and serve immediately.
Nutrition:
WEIGHT WATCHERS POINTS PER SERVING (1/4 of the pizza): 4 Freestyle SmartPoints
You can now buy cauliflower crumbles in most markets.  Look for them with the other pre-cut packaged veggies.  Ask the produce manager if you don't see them.  Alternately, you can grate a head of cauliflower with a cheese grater to create crumbles.
For those who don't have a microwave: You can steam the florets just until they are tender (not mushy) on the stove and then let them cool before grating them. The texture/consistency won't be the same (It will be more like a puree) but it still works fine once you mix all the ingredients together.
If you are preparing this recipe as gluten-free, just be sure to use a brand of bacon that is known to be GF.
SOURCE:  RecipeGirl.com
Here are a few more cauliflower crust pizza recipes you might enjoy:
Disclosure:  This recipe was created in partnership with Eggland's Best.  I only write about products that I already use in my kitchen- and this is one of them!  RecipeGirl.com maintains full editorial control of the content published on this site. As always, all thoughts, opinions, and enthusiasm for products are entirely my own.